China's number of nurses increasing but still insufficient
BEIJING, May 12 (Xinhua) -- The number of registered nurses in China have increased over the years but are still insufficient, with much room for further growth, according to officials.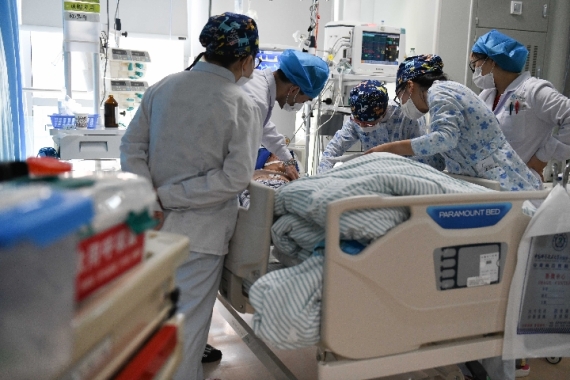 Nurses cooperate with doctors to provide medical treatment for a patient at the intensive care unit (ICU) of the First Affiliated Hospital of University of Science and Technology of China in Hefei City, east China's Anhui Province, May 9, 2019. (Photo: Xinhua)
The number of registered nurses in China exceeded 4 million at the end of 2018, rising to 3 nurses per 1,000 people, the National Health Commission announced at a recent press conference ahead of International Nurses Day, which falls on May 12.
China still lags behind developed countries in terms of human resources indices on nurses and has much room for development in the regard, Jiao Yahui, an official with the commission, said.
According to an official document on promoting reform and development of the nursing service sector issued by multi government agencies in 2018, China aims at considerable growth in the nursing workforce by 2020, with the numb
er of registered nurses to exceed 4.45 million, more than 3.14 registered nurses per 1,000 people.
With an increasingly aging society, China is stepping up efforts to cultivate more nursing workers to meet the growing elderly care. Meanwhile, the country also encourages senior registered nurses to work part-time at community-based clinics, among efforts to expand the coverage of high-quality nursing service in communities.
According to Jiao, China needs to strengthen the cultivation of nurses and improve nursing practice management system to broaden the path for nurses' career development.
China is piloting an "Internet plus nursing program," under which patients who are too old or restricted by their diseases to move can book nursing services via the internet, and then approved medical institutions send their nurses to communities or homes to serve patients.