Hehe culture promotes global cooperation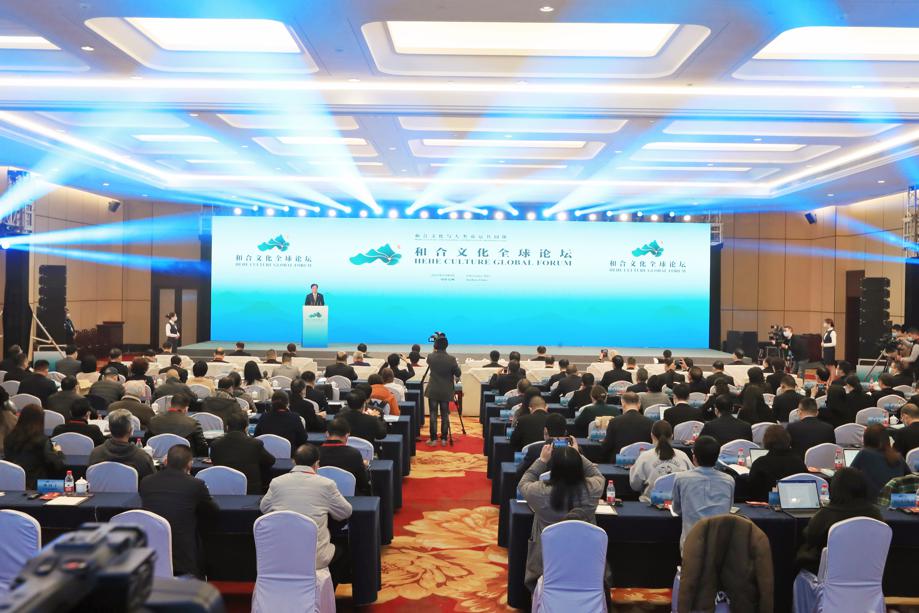 The opening ceremony of Hehe Culture Global Forum kicked off both online and offline on Thursday in Tiantai county, Zhejiang province, which is believed to be the birthplace of Hehe culture.

The forum features the essence of Chinese Hehe culture, advocates concepts of peace and harmony and promotes global cultural development with the theme "Hehe Culture and A Community of Shared Future for Mankind".
Hehe culture, which originated in the Tiantai mountains in Taizhou, Zhejiang, embodies the concept of harmony but not uniformity. It asks people to practice multilateralism, respect differences between different civilizations, support different countries to choose their development paths, insist on win-win cooperation and adhere to humanism, Du Zhanyuan, head of the China Foreign Languages Publishing Administration, said in video remarks.
About 150 people including politicians, representatives of international organizations and experts and scholars from universities and research institutions in China, Japan, South Korea and France participated in the forum.
Three parallel sessions were held to provide platforms to discuss important issues and exchange ideas, such as promoting harmony and common prosperity for inclusive development, overcoming difficulties with solidarity for win-win cooperation and pursuing common development in harmony to build an eco-civilization.
"I think exchanges between people are of great importance in Hehe culture, as the spirit of harmony is rooted in the people of Taizhou and Zhejiang. Cultural development should reflect the common feelings of the people and their daily lives so they can be understood and accepted by people all over the world," said Qian Wenzhong, professor of history at Fudan University.
As the birthplace of Hehe culture, Taizhou can make use of local natural and cultural resources, such as making movies, by digging into its history to promote its tourism and culture and as well as some other methods, such as creating songs and paintings, Qian said.
According to local folklore, two monks named Hanshan and Shide once lived a secluded life on Tiantai Mountain during the Tang Dynasty (618-907). Hanshan was given the title of He God during the rule of the Emperor Yongzheng of the Qing Dynasty (1644-1911), and Shide was given the title of Ho God.
Because He and Ho are auspicious figures in Chinese culture, the two gods became a symbol of unity and harmony for hundreds of years.
Starting next year, the forum will hold international conferences and related activities annually, attracting people from all walks of life who l's philosophy of governance to jointly promote cultural exchanges and mutual learning between different civilizations.