China's computer science education wins more recognition worldwide
Global Times
1512346554000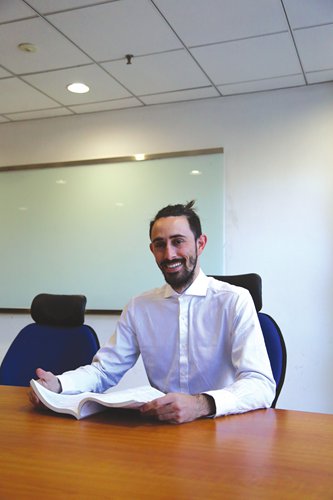 Thiago De Sousa Silveira reads a research journal in the Future Information Technology building at Tsinghua University. Photo: Chen Ximeng/GT
Thiago De Sousa Silveira, a Tsinghua University student from Brazil, has been busy interviewing for IT jobs recently. He started reading for a master's in advanced computing at Tsinghua in August 2016, and after he graduates in 2018, he plans to find a job in China.
"The reason I chose Tsinghua to learn computer science (CS) is that it is ranked No.15 among the top computer science universities in the world, according to the QS World University Rankings. Also, the IT market in China is booming, and there are lots of opportunities," said De Sousa Silveira, 26.
The QS World University Rankings is an annual ranking publication founded by British education company Quacquarelli Symonds.
On question-and-answer site Quora.com, there are lots of questions about Tsinghua's computer science program.
Tsinghua University replaced Massachusetts Institute of Technology (MIT) as No.1 in computer science for the first time this year, according to the US News and World Report's 2018 Global Universities Rankings in October. Tsinghua ranked No.2 in 2015 and 2016.
"The schools that rank the highest in the Best Global Universities rankings are those that emphasize academic research, including partnering with international scholars to produce highly cited articles," Robert Morse, chief data strategist at US News and World Report was quoted as saying in the report.
Besides Tsinghua, Huazhong University of Science and Technology and Zhejiang University were also ranked on the list in ninth and tenth position respectively.
However, the American Computing Research Association (CRA) issued a statement in November to protest the ranking and asked that it be revoked on the grounds that the evaluation indicators used were not very scientific.
Despite the controversy surrounding the ranking, the Tsinghua professors and students interviewed by Metropolitan think that China's computer science education is winning more recognition in the world, especially in supercomputer, computer network and artificial intelligence (AI) development.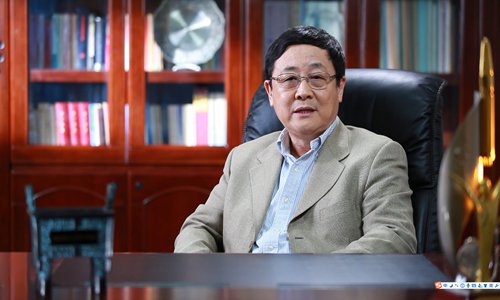 Wu Jianping, a professor and the dean of the computer science and technology department Photo: Global Times
What attracts the students?

Before he came to Tsinghua's department of computer science and technology, De Sousa Silveira completed his bachelor's in Brazil and did an exchange course in Australia. He wanted to go to another foreign country for his master's and decided on China.
He said the professors are top specialists in their field, and the courses keep up with the latest developments and hot topics in the industry. Last semester, when he took a class in machine learning, the professor introduced new, hot areas in the field.
"It is great that professors change the content of the courses based on the latest academic findings," said De Sousa Silveira.
At the same time, he found that students have a wide range of choices for their research, for example, information retrieval, big data analysis, machine learning, software engineering and so on.
De Sousa Silveira is very interested in information retrieval research. He currently specializes in recommender systems, which are highly useful for Internet companies such as JD.com, Taobao and toutiao.com. The systems make recommendations to users based on their previous purchases or likings.
Another strength is the location. Tsinghua is located in the heart of the Zhongguancun area, which is called China's Silicon Valley and is surrounded by many big IT companies such as Google and Baidu. For him, it better facilitates collaboration between computer science labs, IT companies and students looking to enter the sector.
Constantijn Molengraaf is an exchange student who came to Tsinghua in September. He studies AI and computer science in the department of interdisciplinary information sciences. "I am really enjoying it. I have learned a lot, and I am surrounded by China's best students, which really motivates me," said Molengraaf, who is from the Netherlands.
He will return home to finish his master's program at the Delft University of Technology in February 2018.
Molengraaf said the environment at Tsinghua is designed to help the students realize their full potential and challenge themselves every day. He sees this in teachers who give homework assignments, including optional readings assignments for people who are more interested.
"The optional assignments sometimes almost reach the level of research questions. It is really impressive how the students here deal with those kinds of assignments, especially considering that they are taking multiple courses all of which challenge you to go deeper and deeper into the subject," he said.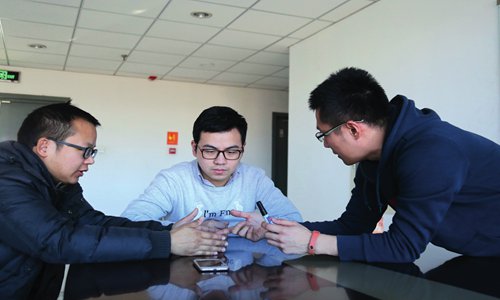 Students discuss a project outside of class hours at the Future Information Technology (FIT) building at Tsinghua. Photo: Chen Ximeng/GT
Making a difference
Sun Maosong, a professor and council chairperson in the department of computer science and technology, thinks that over the past years, computer science education and research at Tsinghua have made a great progress.
"We have published many academic papers both in international first-class periodicals and at the world's top conferences on a regular basis, every year now. Some of them are recognized internationally and are being cited by many scholars," said Sun.
Some of China's biggest breakthroughs are in areas such as supercomputer and AI development. China's Sunway TaihuLight maintained the lead as the No.1 system for the fourth time, according to a biannual ranking of the world's 500 fastest supercomputers called the Top500, Xinhua reported in November. The Wuxi-based Sunway TaihuLight supercomputer in Jiangsu Province first became the world's fastest supercomputer in 2013.
"Supercomputers have a lot of applications in areas such as biology and the environment. We have a team from Tsinghua that helps run the supercomputer with a support system. We are also involved in the development of the next generation of supercomputers," said Wu Jianping, a professor and the dean of the department of computer science and technology.
Wu, who is also an academic at the Chinese Academy of Engineering, said that a team of teachers and students from different departments at Tsinghua also won the Gordon Bell Prize, a top prize for outstanding achievement in high-performance computing applications, by using the supercomputer in November. They created a 3D simulation of a devastating earthquake in Tangshan, Hebei Province in 1976.
They are also cooperating with Carnegie Mellon University in AI research. "I think we are going to make some great achievements, for example, to develop another more advanced AI program like AlphaGo."
Few top teachers from diverse backgrounds
But despite their success, both Sun and Wu think that the school lags behind some of the world's most prestigious universities in some areas because it does not have enough top faculty members from diverse backgrounds and cannot provide an environment that has similar faculty evaluation criteria and treatment.
"It is hard to attract talented people with a PhD from universities that provide world-class computer science education, such as MIT and Harvard because they either choose top universities in Western countries or work for top companies," said Sun.
"Our current teachers are excellent, but we lack top teachers with global academic leadership who can make very theoretical, fundamental and revolutionary findings."
To make more breakthroughs on fundamental scientific theories and cultivate top Chinese talents, Yao Qizhi, a world-leading computer scientist who was also the winner of the Turing Award, founded the Yao Class at Tsinghua in 2005 to nurture promising undergraduate students to become top talents on the same level of students from MIT and other prestigious universities. Yao Class has created a model for cultivating innovative people by their aptitude and an extensive international teaching program.
Wu said a good sign is that more and more Chinese students are choosing Tsinghua for their undergraduate studies and staying for further studies although they also have offers from Western schools, including top universities.
"It is good to bring in talents from overseas, and cultivating local talents for the teaching faculty is also very important," said Wu.
How to choose?
When Chen Jianfei was a junior in the computer science and technology department, he got involved in the research of his current mentor. He then did an exchange program at Stanford University but chose to stay at Tsinghua for further studies.
Chen is now researching large-scale machine learning and Bayesian models as a PhD candidate in the computer science and technology department.
"The gap between foreign universities and Tsinghua is not as large as I imagine. The faculty here may have more time to supervise me. My mentor is an excellent teacher with some experience in machine learning both at home and abroad. I think I am more accustomed to the environment here in China," said Chen.
He thinks that excellent young teachers have brought the courses up-to-date. "I think our current research topics are very hot and cutting-edge," he said.
"Besides more Chinese and international students, more foreign-born Chinese are willing to come back to China to study computer science," said Wu.
This year, they especially founded a new international undergraduate class for foreign-born Chinese and also created some new courses such as cyberspace safety to adapt to market changes. They also recently launched an advisory council.
"Computer science is a subject that changes very quickly, especially in the era of the Internet. Now big data, the Internet of Things, AI and cloud computing are very hot and widely applied in people's lives, but they can all be attributed to the basic theory and technology of computer science. To cater to the increasingly growing demand of the country and the industries, more excellent computer science talents and teachers are needed," said Wu.