Woman reunites with family after 13 years
chinadaily.com.cn
1530618562000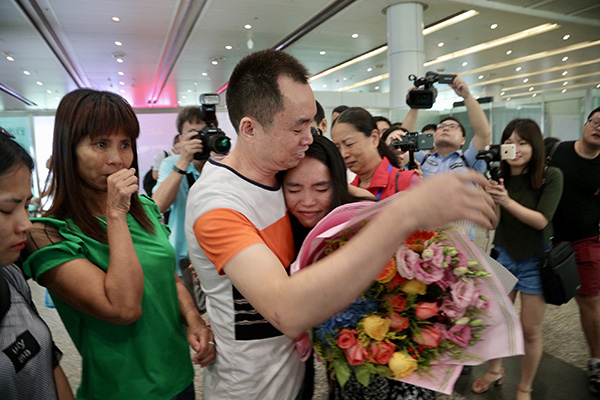 Zhong Fengmin hugs her birth father at Guangzhou Baiyun International Airport on July 1, 2018. (Photos: Public Security Bureau of Shunde District)
A young woman named Zhong Fengmin who went missing 13 years ago, reunited with her birth parents at Guangzhou Baiyun International Airport on Sunday, according to thepaper.cn.
Zhong Fengmin is the name given to her by the Zhongshan Children's Welfare Institute, where she stayed before she was adopted by an American couple in 2012. The now 18-year-old girl is a straight-A student who is about to study at the University of Illinois at Urbana-Champaign.
In 2005, Zhong came to Foshan, South China's Guangdong Province, to live with her father Liang Hua during the summer vacation. Liang lived in a staff dormitory at that time, but Zhong was not allowed to stay there. Therefore, Liang took Zhong to his brother's place in Zhongshan, Guangdong Province.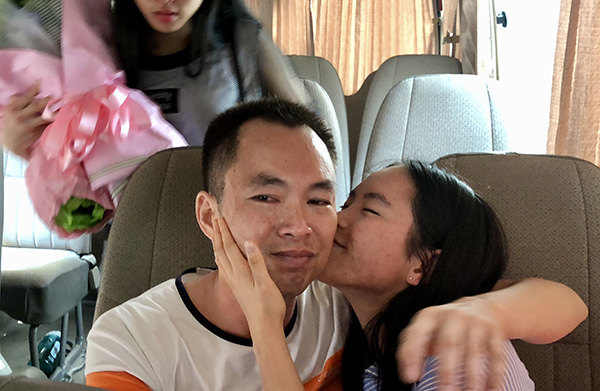 Zhong Fengmin kisses her birth father's cheek on a bus on July 1, 2018.
In the early afternoon of May 20, 2005, Liang was told that his daughter Zhong went missing. Liang reported this to the police and tried to find her but ended up getting nowhere. The only clue Liang had about his missing daughter was that the owner of the downstairs canteen said someone had seen his daughter there on May 20.
Liang rented the canteen in the hope that his daughter Zhong would come back one day. Liang waited for seven years but still didn't see Zhong return. To support his family, Liang had to leave Zhongshan for Foshan to work.
Liang, however, didn't give up looking for Zhong. At the beginning of May, Liang saw Zhong's post on baobeihuijia.com, a charity group dedicated to connecting missing children and their families. The details of how Zhong went missing were the same as Liang's missing daughter, whose real name is Liang Jinglang.
On May 3, Liang reached Zhong via WeChat, the Chinese equivalent of Twitter. Liang asked Zhong, "Do you have two hair whorls? Do you have a small mole on the tip of your nose? Did you remember you once broke your arm on the doorstep when you were young?"
Upon reading Liang's messages, Zhong burst into tears and replied to him "You are my father". On the same day, Liang had a video call with Zhong. The father and daughter finally saw each other after being apart for 13 years.
A DNA test has confirmed that Zhong is Liang's daughter. After being separated for 13 years, the family was finally reunited in Guangzhou on Sunday.