Podcast: Story in the Story (10/12/2018 Fri.)
People's Daily app
1539275711000
From the People's Daily app.
This is Story in the Story.
A series of recent effort to grant passports to overseas athletes of Chinese origin so they can represent the nation has caused heated discussions on whether the government should make the process easier.
Beijing Guoan, a professional Chinese soccer club, is reportedly ready to sign two players that are under the naturalizing process, Hou Yongyong from Norway and Nico Yennaris, an English professional soccer player.
They are expected to play in the 2019 Chinese Super League (CSL), Beijing Sports Radio reported on Thursday.
Hou, 20, immigrated to Norway from Henan Province in China when he was a young boy. He currently plays for Eliteserien, one of northern Europe's major soccer leagues. In 2014, Hou was given the youth football player award by the Norway Soccer Association.
Nico Yennaris, who is signed to Brentford Football Club, trained in the Arsenal youth system and is also regarded as talented fullback. His grandparents were from Guangdong Province in China.
They will be the first naturalized players to play in the CSL once the naturalizing process is finished and are expected to improve Guoan's performance.
Today's Story in the Story will look at why efforts to woo talented overseas athletes of Chinese origin back to the homeland are impeded by red tape.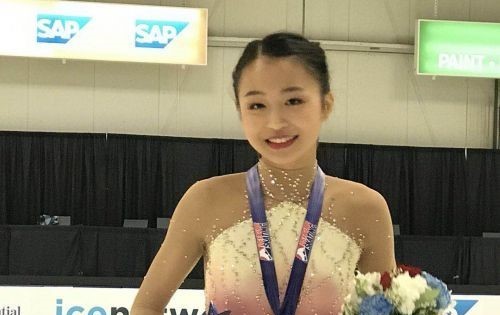 Beverly Zhu (Photo: uschinapress.com)
Beverly Zhu, who was born in Los Angeles, will train together with five Chinese ice dancers from Sunday to the end of December in three venues - two in the US and one in Beijing - for the upcoming Winter Olympic Games, the Beijing News reported on Tuesday.
Although there is no specific information from authorities on Zhu Yi's giving up her American citizenship, Chinese experts said that an athlete has to be a Chinese citizen in order to join the national training team.
Zhang Lu, who quit the top position at the Guoan club in 2017 and now is a Beijing-based soccer commentator, said that naturalizing players is a convenient and fast way to bring talent to the national team.
Zhang said that it is hard to say whether naturalizing overseas plays will be useful to promote China's men soccer team. He noted that previously a Chinese coach had tried to naturalize some African youth players, but none of them turned professional in the end.
Luo Le, a doctor in sports sociology graduated from Beijing Sport University and now works for Titan Sports Media Group, shares the same concerns with Zhang. He said that "relying on one or two naturalized players could not rescue the national men's team from a hell on earth… however, some excellent players may inspire other players in the team, which could be better for the national team."
For some individual sports, including ice skating, naturalizing athletes may improve Chinese teams' competitiveness and the success stories of some outstanding players could also encourage more children to join in the sports, according to Luo.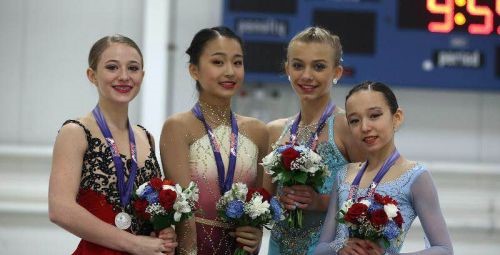 Beverly Zhu (2nd from the L) (Photo: uschinapress.com)
In addition to expressing their passion for the homeland, naturalized players may have better chance to earn better salaries in China, Luo said.
According to a report from news site thepaper.cn, Lou's mother once said that she hoped her son could wear the Chinese national team's uniform and play for the nation.
However, it is not an easy process for football clubs to naturalize players.
There are regulations on naturalized players competing in international games.
The Fédération Internationale de Football Association (FIFA) said naturalized players or their parents or grandparents must have been born on the territory of their new country, or they must have lived there for five years as an adult.
Song Quancheng, head of the Institute of Migration Studies at Shandong University, told the Global Times on Thursday that since China does not recognize dual nationality, the players, in order to play for the Chinese national teams, have to give up their previous nationalities. This has become a barrier for naturalizing talent in China.
Song said that in the science field, the Chinese government has preferential programs to recruit overseas talent to serve the country. Song believed that in sports, it is currently different and more difficult, and that should change.
"The policy for attaining Chinese nationality should be simplified for talented athletes," Song said. "Currently every country is competing to attract talent, and China should also go with the flow."
(Produced by Nancy Yan Xu, Terry Guanlin Li, Raymond Mendoza, Lance Crayon, and Grace Song. Music by: bensound.com. Text from China Daily and Xinhua.)