Feature: Chinese design legend creates stamps for Year of the Dog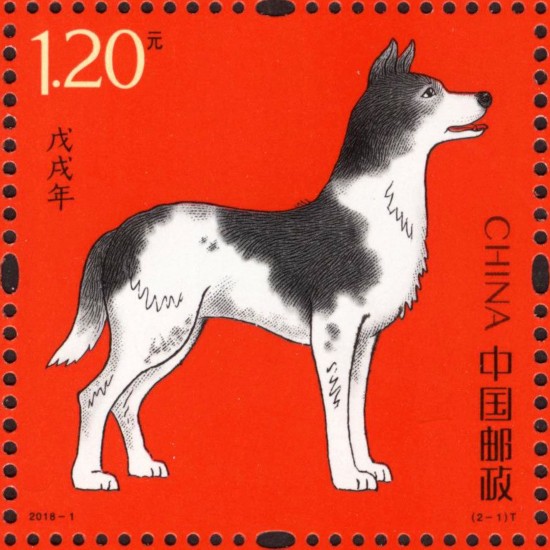 The first stamp. (File photo)
China issued a set of zodiac stamps on Friday to celebrate the upcoming Chinese Lunar New Year of the Dog.
China Post invited 99-year-old artist Zhou Lingzhao to design this year's zodiac stamps. Zhou is noted as the portraitist of Chairman Mao Zedong on the Tian'anmen Rostrum at the founding ceremony of the People's Republic of China in 1949.
Zhou is something of a legend in Chinese design circles, having led the design of China's national emblem, the emblem of the Chinese Communist Youth League and the Medal of Liberation, not to mention being the chief designer of the second, third and fourth sets of renminbi banknotes.
Han Meilin, the 81-year-old designer of the 2008 Beijing Olympic Games mascot "Fuwa" and the zodiac stamps of last Chinese Lunar Year of the Rooster, describes Zhou as his teacher.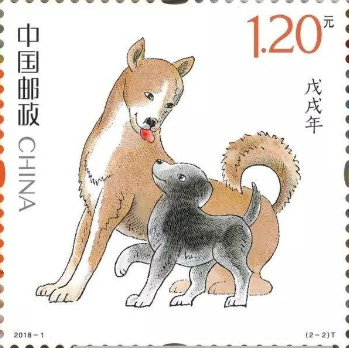 The second stamp. (File Photo)
"We have a close relationship like father and son," Han said.
At the launching ceremony for the dog stamps, the aged Zhou Lingzhao did not do anything more than simply sending a New Year's greeting.
Zhou spent about one year working on this year's zodiac stamps design.
The zodiac stamps contain two items at a total price of 2.4 yuan (about 37 U.S. cents).
The theme for the fourth round of zodiac stamps is "happy family," and the new stamps depict Chinese domestic dogs.
China Post says the first stamp depicts a male dog with its chin up and its eyes straight ahead. Its two ears point upward, while its hind legs are forcefully thrust against the ground, ready to pounce on any intruders.
The second stamp shows a brown bitch lovingly gazing at its puppy. The black puppy holds its head up high and tries to stand straight. The mother and the puppy stand side by side, demonstrating maternal love.
The two stamps are connected, signifying a peaceful, harmonious family, and a prosperous, flourishing nation.
The year 2018 marks Chinese "Wu Xu Year," the Year of the Dog.
In 1980, the Year of the Monkey, China issued its first round of zodiac stamps. Two years later in 1982, Zhou designed the dog year stamp for the first time.
There have been about 30 artists engaged in the designs until the current fourth round of zodiac stamps.
The characters on this year's dog stamps used "ink-free" carving to improve the effect of the format and prevent counterfeiting.
According to Gao Shan, distribution manager of China Post, this year's circulation of dog stamps will be 30 percent less compared with the rooster stamps last year.
"The dog stamps may have the lowest quantity of the fourth round zodiac stamps," Gao said.
The upcoming Year of the Dog begins on Feb. 16, 2018.