China's patriotic hip-hop quickly gains steam as rappers repent past deviations
Global Times
1515440467000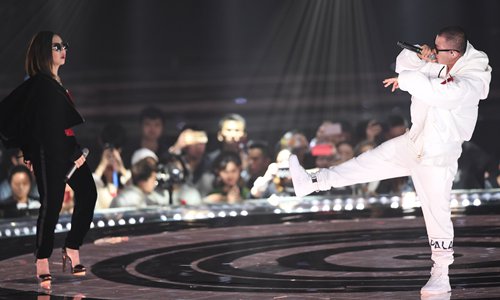 Chinese rapper Gai performs with a popular female singer at a 2018 New Year 's Eve concert on Jiangsu Television. Photo: IC
Upon hearing a web-wide condemnation of rapper PG One for promoting drug use and insulting women in his songs, Wang Zixin (aka "Chuckie") quietly logged into the official Weibo account of his rap group and wrote a post saying "The freedom of music should stand on morality and laws. Humans should restrain their lust instead of indulge endlessly …"
He also included a screenshot of a previous interview of PG One, where he commented to media that Wang's rap group Chengdu Revolution (CD Rev) has "a strong background," saying determinedly that he will never do "their kind of rap."
When PG One made that comment, he was the winner of video platform iQiyi's hit talent show The Rap of China. Starting last summer, he began receiving tremendous attention across the country along with numerous gig offers.
This all quickly changed a couple of days before New Year's Eve, when netizens found his lyrics included lines such as "pure white powder in a line" and "a shameless bitch, with restless hands."
Then came a storm of condemnation from government institutions and the media via Weibo. They each said PG One "doesn't deserve the stage" and "should be forced out." PG One apologized and said all his songs were taken offline for further review.
"I was deeply influenced by Black music in the early days when I was exposed to hip-hop culture, and I didn't have a correct understanding of core values of hip-hop culture," the singer said on his twitter-like Sina Weibo account, adding that hip-hop should be about peace and love.
Furthermore, a discussion on whether Chinese hip-hop should be restrained ensued on social media. "It is more important to think about how hip-hop culture should be guided than to criticize individual singers," the People's Daily wrote last Saturday.
In reply to PG One fans, who said the condemnation is internet violence, Xinhua News Agency replied, "As a public figure, if he has correct values and sets a positive example for fans, who would criticize him?"
In stark contrast to PG One, CD Rev came into the public's eye last year with the endorsement of the China Communist Youth League (CCYL). Controversy and suspicion never left them, as many questioned whether hip-hop, which was originally created to depict oppression and rant against injustice, can also be used to promote the government and spread "positive energy."
Rap with Chinese characteristics
Even before cooperating with CCYL last June CD Rev released controversial songs that clearly distinguished themselves from other rap groups.
At the beginning of 2016, a Taiwanese musician made pro-Taiwan independence comments, rousing widespread discontent. Outraged, CD Rev recorded "Force of Red," attacking Tsai Ing-wen, Taiwan's current leader, and the Western media.
Then in June, CCYL released a new track by CD Rev on its official Weibo account called "This is China." The four-minute English-language song claimed to restore the image of China distorted by Western media. The lyrics came from a discussion Wang had with another member, who said he felt the ignorance of Westerners toward China when he was interning in a foreign enterprise.
"This is China/We love the country/ … The red dragon ain't no evil/But a peaceful place/The beautiful land with rich culture remain," lyrics read in part.
In recent years, the Chinese government has attempted to use lighter and more fashionable means to reach out to and guide its younger generations, who easily tire from endless preaching and serious reads. CCYL, for example, started using Weibo and video site Bilibili, both where many young Chinese congregate.
Wu Dezu, head of CCYL's new media department, said in an interview with Chengdu Economic Daily, "[CD Rev members] have direct and plain feelings toward the country, it's the young people's own expression. Instead of saying this [cooperation] is government-led, you can say we mix well with young people."
Wang, 24, told the Global Times the cooperation came as a sheer coincidence. Their song This is China had already been written when a friend leaked the track to someone at CCYL. The organization liked it and wanted to create an MV.
The rapper said he doesn't see such cooperation as "kowtowing" to the government, as their songs all stem from their hearts. "Our values match a part of the government's mainstream values, so we are willing to cooperate on some levels," he said.
"We don't participate in all their events, we are not an art troupe and we are not hired by them. We never received a cent for 'This is China,'" Wang clarified, adding that CCYL even agreed to leave in some "negative parts" such as pointing out China's pollution and food and drug safety issues, making him feel the cooperation was built on friendly grounds.
Shortly after PG One's downfall, rapper Sun Bayi released a music video called Magnificent China on Weibo. The song opens with the lyrics, "We all know the original aspiration and mission of the Communist Party of China (CPC), they work endlessly for people's happiness and for national rejuvenation."
Even though the song had been in the works prior to the 19th CPC National Congress, Sun told the Global Times that he was criticized by some for "sucking up to government," which he found ridiculous, because he was merely reciting passages from the congress report, he said.
Sun believes that one of the core values of hip-hop is "keeping it real." "If American rappers want to talk about oppression in their society, they have every right ... But I've never personally experienced oppression, instead I want to focus on the opportunities and advantages I've experienced living in China," he said.
"I don't care about labels. I see something, I write something. There's nothing wrong with that," he said. He paused, then added, "Even if it is propaganda for my country, so what?"
Many others certainly don't think the same way. CD Rev has been labeled "Red song army." After an interview with BBC last year, the reporter wrote on his Twitter account: "Trying to make blind nationalism cool … what a naff idea."
Harmonizing hip-hop
Perhaps one part of opposition to these young rappers stems from the question how far should there be government guidelines of an artform that seemed unhinged in its place of origin.
The Rap of China arrived at a sensitive time. A few weeks prior to its debut in June 2017, China's State Administration of Press, Publication, Radio, Film and Television released strict regulations for visual internet programs, saying some have distorted values, language and taste and needed to be reviewed.
IQiyi took obvious precautions to ensure their new program ran smoothly. The word "laozi" - a slang literally translated as "your daddy" - was dubbed with a simple "I" in captions; "shit" was dubbed as "things." What netizens found to be a more ridiculous example was that the word "butthole" had been dubbed as "dermatitis," a Chinese word with similar pronunciation.
"Come on. You really expect us to believe a rapper would talk about dermatitis?" one commenter wrote.
This led many Chinese hip-hop fans to believe The Rap of China's content had been carefully curated and its rappers' lyrics self-censored to avoid upsetting authorities, which tends to go against the rebellious origins of rap. Netizens even joked that the program's name should be changed to "China has no rap."
After journey, a Chinese hip-hop artist who won top four in The Rap of China's battle, confirmed to People Magazine in an interview that "The rules of the game are here, there are some bottom lines you can't touch, such as government or social rank, and you can't have dirty words."
Indeed, in 2015 China's Ministry of Culture released a list of 120 songs that had been officially banned because of "bad influence," most of which were rap. Former Beijing rap group In Three claimed 17 songs on the list.
The act, however, is applauded by many Chinese, as hip-hop culture is still considered foreign and even inferior to them. "We cannot import American gangster culture and their tradition of bragging about organized crime in songs," one netizen wrote on popular entertainment forum Tianya.
From underground to commercial
Sun Bayi knows the importance of government support in China. Last September, he held a concert at a basketball court in Kaili, Southwest China's Guizhou Province. In trying to obtain approval for the gig, he told local government officials that his songs focus on caring for rural China's left-behind children and also promotes Kaili tourism.
Wang agrees, telling the Global Times, "If you want to do something related to politics, it's best to gain [government] support. It's helpful."
Following "This is China," CD Rev and CCYL continued to cooperate on other songs, including "This is Our Generation." The group soon found itself receiving multiple government invitations.
They went on a trip to the South China Sea hosted by the Central Military Commission. They went to universities lectures organized by CCYL and even became friends with Zhou Xiaoping, a famous nationalist writer.
Some attitude shift can be observed from other rappers. The attitude of Gai, who tied with PG One for first place, has been the center of discussion these days to offer contrast.
One of his old songs included vivid descriptions of his rough upbringing in China, with undisguised lyrics such as "I've been to prison, but never admitted wrong." In the music video, he poses shirtless, with a gold chain around his neck, shouldering a machete. The video was later removed from most Chinese video platforms.
In recent years, however, Gai has reflected on and even regrets his past deviations. In a new song, "Trash Talk," released last year, he admits, "Men shouldn't do bad things, you need to correct your wrongdoings."
"If you really want to be underground and write violent and lewd songs forever, nobody will bother you. But you can't do that while wanting to be a big star and make big bucks in the entertainment business," Wang said. "You can't have your cake and eat it too."