China opposes US defense bill over negative China-related content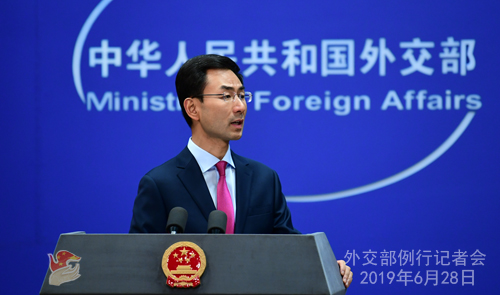 Chinese Foreign Ministry spokesperson Geng Shuang. (Photo: fmprc.gov.cn)
BEIJING, June 28 (Xinhua) -- China on Friday voiced opposition to a U.S. defense policy bill over negative China-related provisions.
The U.S. Senate on Thursday passed the National Defense Authorization Act, which includes China-related provisions such as a ban on cooperation between the U.S. Federal Funds and Chinese state-owned enterprises.
"China firmly opposes the passage of relevant bill containing negative China-related content," Foreign Ministry spokesperson Geng Shuang said at a press briefing. "China has lodged solemn representations with the U.S. side over this."
He said once the bill becomes law, it will undermine China-U.S. relations, and disrupt bilateral cooperation in some important fields.
Geng urged the U.S. side to abandon outdated Cold War mentality and zero-sum game mindset, and view China and China-U.S. relations in an objective and rational manner.
"The U.S. side should grasp the general trend of China-U.S. relations, and never allow a bill with negative China-related content to become a law, to avoid undermining the big picture of bilateral ties," Geng added.