Boy falls from 13th floor, saved by quick-thinking downstairs neighbor
Global Times
1606222553000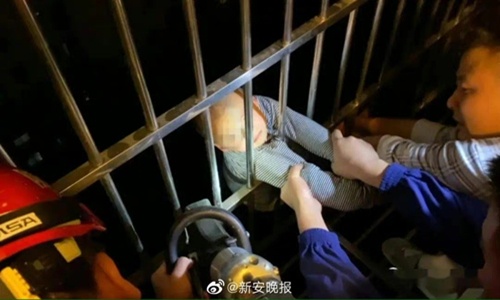 A 2-year-old boy in Hefei, East China's Anhui Province, had a lucky escape after falling from the 13th floor and being caught by a downstairs neighbor, Toutiao News reported on Monday.
The boy's father had gone out after he fell asleep on Sunday evening, but the little boy woke up and climbed onto the balcony, and accidentally fell from the 13th floor.
Fortunately, a couple living on the 12th floor saw the boy. The man quickly grabbed the boy's arm while the woman called the police.
After firefighters arrived, they used electric shear pliers on the anti-theft window, then broke it open with their hands and successfully rescued the boy.
It turned out that the man living on the 12th floor used to be a forest firefighter. Netizens praised his quick response and criticized the father's carelessness.
"It's really lucky he was caught by the neighbors in time. Parents must not leave such a small child at home alone," a netizen commented on China's Twitter-like Sina Weibo.