School-related cases account for one third of total in Beijing's new COVID flare-up
Global Times
1651066660000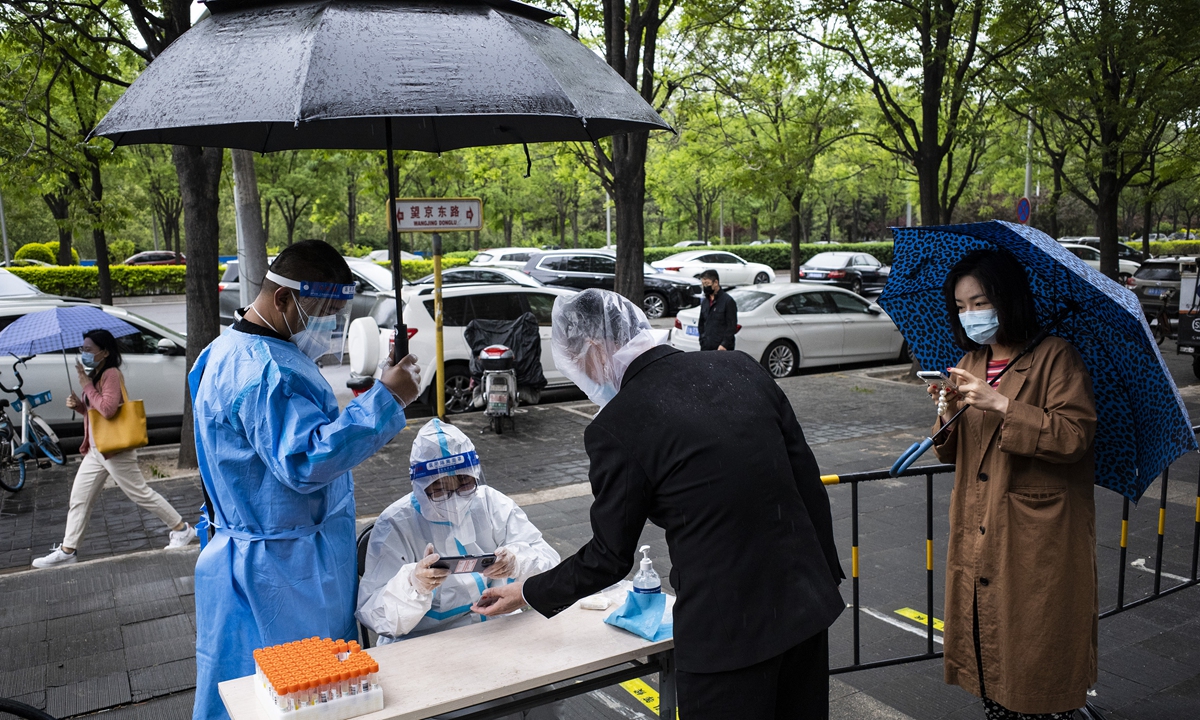 School-related COVID-19 cluster cases accounted for one-third of the total tally in Beijing's latest flare-up since April 22, the Beijing health authority said on Wednesday, highlighting the importance of epidemic prevention on campus.
Beijing's schools have started weekly nucleic acid testing for faculty members and students as a precaution, and a Chinese health professional advised that this should be combined with regular antibody testing to further improve the detection of the virus.
Pang Xinghuo, deputy director of the Beijing municipal disease prevention and control center, said at a media briefing that Beijing reported 46 new cases from Tuesday afternoon to Wednesday afternoon, bringing the total to 138 in six days and covering eight of the city's 16 districts.
The Beijing health commission classified five high-risk areas and 16 medium-risk areas for COVID-19 as of Wednesday.
Among the new cases, 14 were students, including nine from Chaoyang district and three from Tongzhou district.
So far, the capital reported 46 infections involving pupils from six schools and two kindergartens, or 31 percent of the total.
Thirty-six cases were reported in one middle school in Chaoyang.
After Tongzhou reported three students' infections, the district, which is the capital's subsidiary administrative center and home to the offices of key municipal government organs, announced on Wednesday plans to suspend face-to-face classes for all primary and middle schools and kindergartens and turn to online courses.
At Wednesday's media briefing, a spokesperson of Beijing Municipal Public Security Pan Xuhong announced an illegal off-school training case, which had resulted in five people testing positive for COVID-19 in Tongzhou.
The 28-year-old man who organized the off-school tutoring is under criminal investigation, Pan said.
Beijing police also detained two people for spreading rumors that Beijing was about to impose a citywide COVID-19 lockdown, Pan said.
Tongzhou is the first district in the capital to suspend face-to-face classes in all primary and middle schools.
On Tuesday, many schools in Haidian district, which has the capital's largest number of colleges and schools, said they would stop providing services from training agencies inside or outside of schools, and employees from outside training agencies would be banned from entering the schools.
A residential community in Haidian issued a notice telling residents who had visited or worked in two local schools to stay at home for 14 days.
A Beijing-based immunologist told the Global Times on condition of anonymity that epidemic prevention and control in schools is the priority in the fresh wave of the outbreak in Beijing, and Tongzhou district adopted strict measures partially considering the government operations at the subsidiary administrative center.
Amid the rise in daily cases, 12 of Beijing's districts including Tongzhou began three rounds of nucleic acid testing from Tuesday, covering 90 percent of the capital city's 21 million residents.
On Wednesday, Beijing finished collecting samples of 19.8 million residents and 12 tubes of mixed samples showed positive results.
Before the large-scale testing, the Global Times learned that the city's kindergartens, primary and middle schools, and universities had started regular testing as early as one month ago.
A kindergarten teacher surnamed Jiang in Chaoyang told the Global Times that her kindergarten conducted weekly nucleic acid testing for all teachers and children for two weeks as precautionary measure.
A student from Renmin University of China surnamed Yang told the Global Times that the university has organized weekly testing for all faculty members and students, and they can book a time period from an app in advance to avoid risks of cross-infections due to gathering.
The immunologist whose daughter is in a Haidian district middle school said that her daughter's school began weekly testing a month ago.
A senior expert from the Chinese Center for Disease Control and Prevention told the Global Times that apart from nucleic acid testing, there is no way to find out how widely Omicron has spread and who has been infected, especially considering that the stealthy variant is harder to track.
The immunologist said that the upcoming five-day May Day holidays may offer a buffer period for the spread of the virus, as all schools and off-school tutoring services will suspend classes.
He said that after about two weeks of class suspension at some schools that have reported cases, the cluster infections may be put under control.
The immunologist advised schools to perform antibody tests on students, apart from regular nucleic acid testing, to help improve the detection rate of the virus.
Nucleic acid testing can yield false negative or positive results, but antibodies are highly stable in the blood, so such tests have a low error rate.
Antibody tests can help identify people who may have been infected with the virus or have recovered from COVID-19.
As for long-term epidemic prevention on campus, the immunologist said that testing and available vaccines cannot protect students from future infections by new diseases, and students should boost their immunity through sports and exercises.