China's solar expressway meets light of day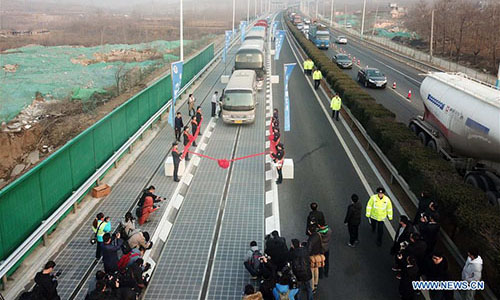 Vehicles run on a solar expressway in Jinan, capital of east China's Shandong Province, Dec. 28, 2017. China on Thursday opened a 1-km section solar expressway for testing. Solar panels are laid beneath part of a ring road surrounding Jinan. The road surface is made of a transparent, weight-bearing material that allows sunlight to penetrate. The panels, covering 5,875 square meters, can generate 1 million kwh of power in a year, enough to meet the everyday demand of around 800 households.(Xinhua/Zhu Zheng)

China on Thursday opened a 1-km section solar expressway for testing.

Solar panels are laid beneath part of a ring road surrounding Jinan, capital city of Shandong Province in east China. The road surface is made of a transparent, weight-bearing material that allows sunlight to penetrate.

The panels, covering 5,875 square meters, can generate 1 million kwh of power in a year, enough to meet the everyday demand of around 800 households, according to Qilu Transportation Development Group, the project developer.

"The project will save the space for building solar farms and shorten the transmission distance," said Xu Chunfu, the group's chairman.

Electricity produced by the test section will be used to power highway lights, signboards, surveillance cameras, tunnel and toll gate facilities. Surplus power will be supplied to the state grid, Xu said.

Future functions to be developed include mobile charging for electric vehicles and providing internet connection.

Xu did not reveal the cost but said it was half of similar projects in foreign countries.

"With the development of solar power in China, the cost can be further reduced," he said.

China leads the world in solar power development. Its annual increase of new installed generation capacity has been the largest in the world since 2013. As of the end of September, China's installed photovoltaic capacity hit 120 gigawatts.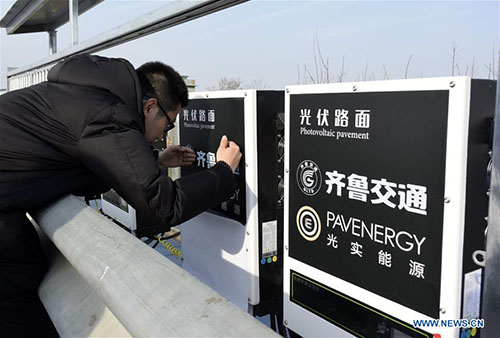 Power-generating equipments of a solar expressway are seen in Jinan, capital of east China's Shandong Province, Dec. 22, 2017. China on Thursday opened a 1-km section solar expressway for testing. Solar panels are laid beneath part of a ring road surrounding Jinan. The road surface is made of a transparent, weight-bearing material that allows sunlight to penetrate. The panels, covering 5,875 square meters, can generate 1 million kwh of power in a year, enough to meet the everyday demand of around 800 households.(Xinhua/Zhu Zheng)