New independent college enrollment plan piloted in China
chinadaily.com.cn
1579086431000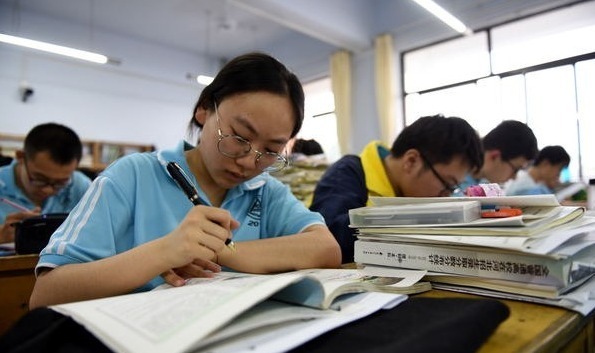 Graduating students prepare for the national college entrance examination, or gaokao, at a high school in Zhangjiakou, Hebei province, June 5, 2019. (Photo: sipa)
China has launched a new pilot enrollment plan for high school graduates on Wednesday to replace independent enrollment, said the Ministry of Education.
The plan is to be piloted at 36 top universities, so they can admit students that have special talent majoring in basic disciplines including math, physics, chemistry, biology, history, philosophy and ancient characters.
The plan aims to enroll students that can help alleviate talent shortages in high-end chips and software, intelligent technology, new materials and advanced manufacturing, the ministry said.
High school graduates in China normally need to take the national college entrance examination, or gaokao, to be admitted to a university. Independent enrollment was added as an alternative admissions method in 2003 to allow some key universities to enroll students based on subjective criteria.
Under the new plan, students can sign up for the plan in April. After the students take the gaokao, the 36 universities will release the list of students qualifying for the plan based on gaokao scores. They should conduct written tests, interviews and physical tests on the students and release the final enrollment lists before July 5, the ministry said.
Student evaluation will be based on the combination of gaokao results, basic discipline test results conducted by universities and comprehensive quality results provided by the high schools. Gaokao scores remain the most important criterion, accounting for more than 85 percent of the final result, it said.
Students admitted through the pilot plan will be allocated into small and independent classes, with the best teaching resources and learning environments. They can also enjoy preferential treatment in pursuing postgraduate studies, government-sponsored overseas study and scholarships, the ministry added.
Previously, 90 universities were allowed to conduct independent enrollment that was held before the gaokao. They used to allocate 5 percent of their enrollment slots to students who signed for independent enrollment and more than 20,000 such students were admitted every year.