Chinese calligraphers shock public with lewd, bizarre writing skills
Global Times
1531865852000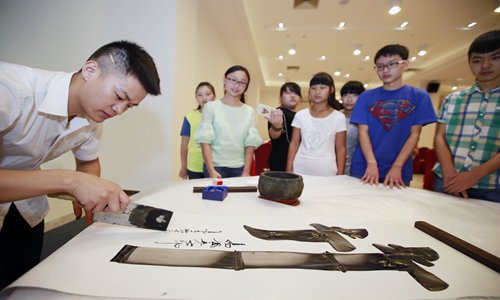 A young calligraphy enthusiast in Chongqing "writes" a work with a knife on September 17, 2015. His calligraphy works also include those finished by leeks.(Photo: Global Times)
More Chinese calligraphy "masters" using bizarre ways to create artworks have been emerging recently, with netizens and experts calling it a violation of traditional art.
A WeChat post called "How wild can Chinese calligraphy masters be?" went viral since last week, showing around 20 "masters" doing artworks in brutal and surprising ways.
In one instance, a "master" combined calligraphy with Shaolin kung fu and jumped around on a giant paper while writing wildly. Some "masters" put unnecessary rage and power while writing calligraphy, that they even break the rice paper.
They use anything but brushes for writing, including knives, needle tubes or even their own body.
An art show in Venice, Italy in 2013 witnessed a female Chinese artist engaging in calligraphy by putting the brush in her private part, the post showed.
However, the characters the artist wrote was unrecognizable.
The post gained over 100,000 reads
"The mass is being misled by these demons and monsters. Ugly calligraphies rule today," a netizen said. "The way they do calligraphy makes me feel disgusted," another said.
"Such behavior is not art, but a bizarre combination of performance art and calligraphy that actually violates the art," Zhu Wei, a professor at the China University of Political Science and Law, told the Global Times on Tuesday.
Zhu said that most of the "masters" are doing it for commercial gain, and they are supported by a paying audience.
Zhu also urged art critics in China to be less commercial and more diverse. "We should hold a bottom line on art."
With a history of more than 3,000 years, Chinese calligraphy is often considered a high art and is also very influential in Japan and Korea.