China unlikely to see hard landing on infrastructure investment: CICC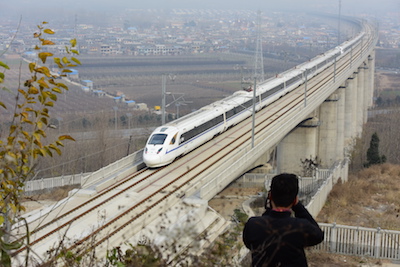 High-speed trains linking Xi'an and Chongqing begin operation on Dec. 6, 2017. (VCG)
BEIJING, Dec. 6 (Xinhua) -- China will not have an infrastructure investment "hard landing" in 2018 as project execution by central government will accelerate, according to an investment report Wednesday.
The market has become concerned over a potential hard-landing as the central authority tightens regulation on PPPs, and local governments called off projects to contain PPP-related risks.
A report by the China International Capital Corporation (CICC) argued that although growth of project execution has lagged with a project backlog since 2016, there is room for project execution to accelerate next year judging from activity growth this year.
"Although policies towards PPP have tightened, qualified projects continue to be supported. Local government cash reserves have grown substantially in the past year, which helps cushion the funding of qualified projects," the report said.
Local government-led project backlog growth may slow next year, the report argued, adding that there is room for central government infrastructure investment to accelerate.
"Looking forward, while we foresee a more rigorous process of PPP project approval and financing, we believe it is unlikely for overall infrastructure investment growth to 'collapse' in the coming year," it said.
China is pushing the public-private partnership model to reduce government debt burdens and improve efficiency, but has only seen a tepid response from private businesses, partly due to low returns and difficult risk control.
As of the end of September, 6,778 PPP projects were under construction with total investment of around 10 trillion yuan (around 1.5 trillion U.S. dollars).