Innovation key to city's success, say entrepreneurs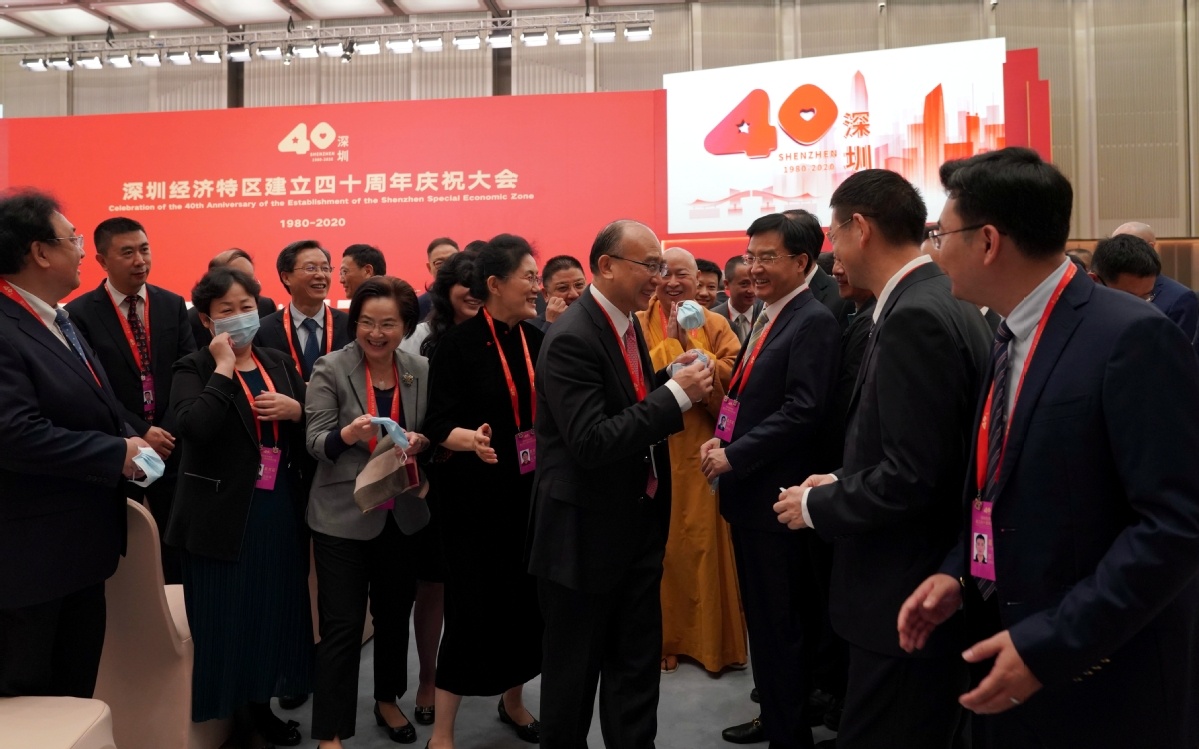 Guests greet each other at a gathering on Wednesday celebrating the 40th anniversary of the establishment of the Shenzhen Special Economic Zone in Guangdong province.(Photo: agencies)
Shenzhen's success is inextricably linked with advances in science, technology and innovation resulting from reform and opening-up and its adoption of a market-oriented economy, officials and entrepreneurs said.
Chen Zhilie, board chairman of EVOC Intelligent Technology, said he was drawn to Shenzhen in 1992 by the promise of entrepreneurial opportunities and supportive policies.
A year later, he and four friends founded EVOC Intelligent Technology, one of China's major companies dedicated to creating specialized computers for industrial applications, automation, aerospace and defense.
"One must go without hesitation with the trend of the time in order to find true value," he said in a speech at a grand gathering on Wednesday celebrating the 40th anniversary of the establishment of the Shenzhen Special Economic Zone.
"For a high-tech private company to succeed in this world, innovation is the only way," he said.
Innovation is deeply embedded in Shenzhen's DNA thanks to 40 years of reform and opening-up, Chen added.
The city is an "ideal place to focus on research and innovation "because it is highly market-oriented and has a culture of encouraging trials and tolerating errors.
"We're not satisfied with just being the industry leader in China. We want to be the number one company for specialized computers in the world," he said, adding that this will require the company to keep growing and contribute to the nation's development.
Wang Weizhong, Party secretary of Shenzhen, told Xinhua News Agency on Saturday that the city has the most robust and optimized socioeconomic system to support innovation in China, characterized by an ecosystem consisting of basic research, technological breakthroughs, industrial clusters, finance and talent training.
As of last year, the city had over 17,000 national high-tech companies, second only to Beijing. These companies included globally recognized brands such as tech conglomerate Tencent, telecommunications giant Huawei, medical instrument developer Mindray and drone manufacturer DJI.
Last year, the gross domestic product of high-tech companies in Shenzhen rose by 10.08 percent year-on-year, reaching 2.63 trillion yuan ($390 billion), Wang said in an interview with China Central Television. Moreover, Shenzhen boasted 2,642 scientific institutions, engineering labs and research centers.
Shenzhen's economic and policy support for innovation is also enormous, Wang said. For example, the local government can grant up to 100 million yuan for each lab created by a Nobel laureate. Highly skilled and much sought-after talents could also enjoy a 15 percent tax break on their personal income tax.
Thanks to more reforms and greater protection of intellectual property, the city is gradually becoming a global hub for innovation, with over 94,000 foreign investment projects as of June and more than 290 of the world's top 500 companies establishing a branch in the city, according to official data.
Frank Meng, chairman of Qualcomm China, told China Central Television that by bringing the latest and best equipment to Shenzhen, this enables the company's engineers and clients to jointly create top-quality cellphones.
According to a long-term development plan released last year, Shenzhen will strive to become a national model of high-quality development, as well as a hub of innovation, entrepreneurship and creativity with international influence by 2035.
By the middle of the 21st century, the city will become one of the top cosmopolitan metropolises in the world and a global pacesetter with outstanding competitiveness, innovative capacity and influence.