China's BYD, US Hybrid to develop first-ever hydrogen electric bus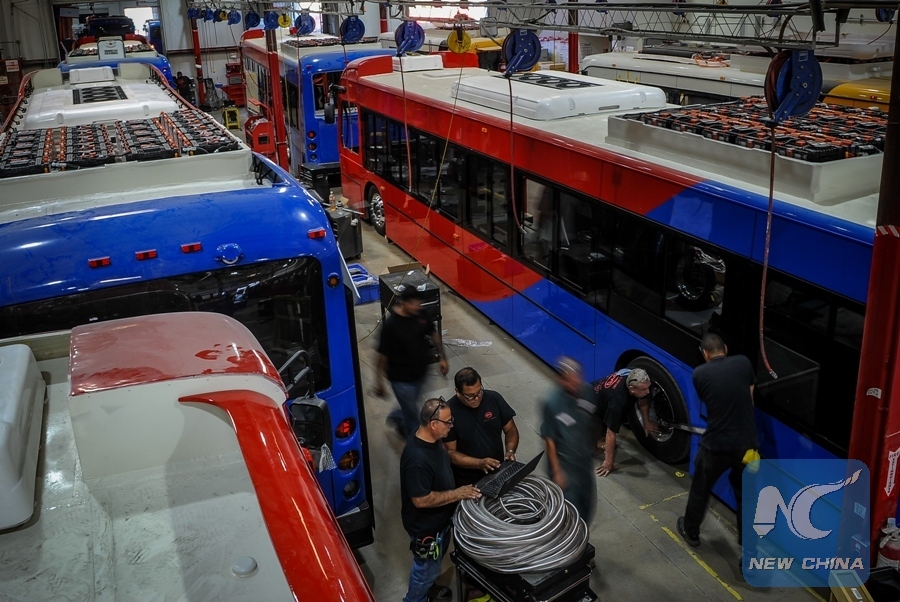 People working at a BYD electric vehicle plant in Lancaster, California, the United States.(File Photo: Xinhua/Zhang Chaoqun)
China's leading electric vehicle maker BYD announced Wednesday to team with US Hybrid Corporation to develop a hydrogen fuel cells battery-electric bus.
According to a press release of BYD (Build Your Dreams), this bus, the first kind of electric bus using fuel cells technology, will serve Honolulu's Daniel K. Inouye International Airport in Hawaii, one of the busiest airports in the United States with more than 21 million passengers per year.
Hydrogen fuel cells, which creates electricity by splitting hydrogen electrons from the protons, is believed by experts better for trucking than the battery cells used in most electric cars like Tesla because the system is much lighter.
The new bus is being developed as part of Hawaii's Clean Energy Initiative (HCEI) to meet sustainable energy objectives of decreasing dependency on imported oil and reducing greenhouse gas emissions.
The initiative is a central component of the Hawaii state's goal to be powered 100 percent by renewable energy by 2045.
"We are ecstatic to partner with US Hybrid. Together, we can bring innovative ideas to the state of Hawaii and deliver clean, renewable transportation solutions," Macy Neshati, Senior Vice President of BYD Heavy Industries said in the statement.
US Hybrid founder Abas Goodarzi was quoted as saying that in light of the state aggressively pursuing clean power, his company is glad to showcase "the most efficient zero emission technology in the industry."
"The fusion of US Hybrid's fuel cell technology and BYD's electric bus platform will shape the future of Hawaii and ultimately, change the world."
The bus will be manufactured by BYD's factory in Lancaster of California, 785 kilometers northeast of Los Angeles downtown, and fuel cell will be made in South Windsor of Connecticut.
BYD is the largest electric bus manufacturer in North America and the largest electric vehicle company in the world. California-based US Hybrid Corporation is a 20 year industry leader focusing on designs, manufactures, and markets integrated power conversion systems for electric and hybrid vehicles.