China to launch first recycled rocket in 2020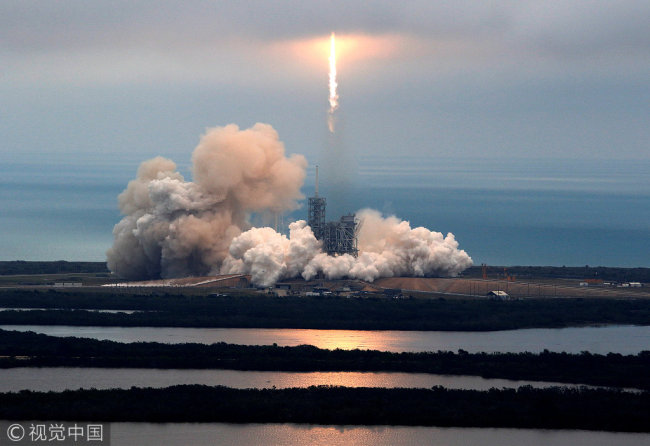 A SpaceX Falcon 9 rocket disappears into clouds on a supply mission to the International Space Station from historic launch pad 39A at the Kennedy Space Center in Cape Canaveral, Florida, February 19, 2017. File Photo: VCG
Chinese space authorities have announced plans to launch the country's first recyclable carrier rocket by 2020, according to the China Academy of Launch Vehicle Technology (CALT).
"The reusable craft is designed for over 20 repeat flights. It's expected to drive down our current costs by 80% and even 90% in the future," said Chen Hongbo, a director from CALT's research and development center.
Standard boosters, which are the most expensive part of a rocket, end up falling in the ocean after the separation procedure takes place.
This has prompted space agencies from around the world to work on how lower costs through reusable booster rockets.
US-based SpaceX has successfully launched and re-landed its Falcon 9 rocket over a dozen times.
However, only the first stage of the two-stage rocket is reclaimed with a vertical landing.
"CALT is working on retrieving not only the first stage but also the second stage through a design using plane-like 'wings' to create a horizontal landing," said Yang.
If successful, the plan could dramatically increase the number of space launches, with turnarounds potentially as short as 24 hours.