Conflicts of animals with humans addressed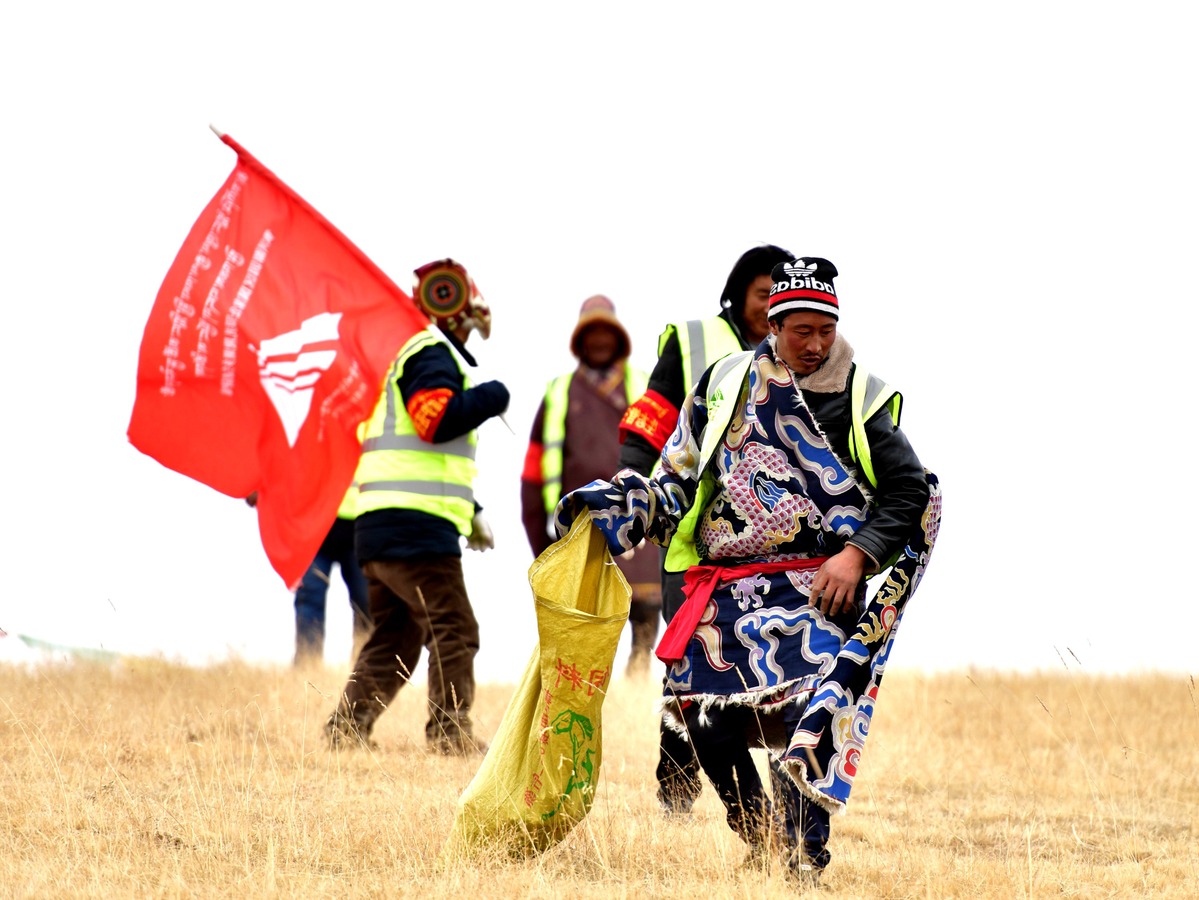 A patrol team picks up trash near Ngoring Lake in Madoi county, Qinghai province. The lake, at the source of the Yellow River, is part of Sanjiangyuan National Park, Dec 2, 2018. (Photo: Xinhua)
XINING - Last month a rampaging brown bear went on a spree and killed a herdsman named Kunga in Sanjiangyuan National Park in Qinghai province.
Within 15 days of Kunga's death, China Pacific Property Insurance paid his family 300,000 yuan ($44,700) - a considerable sum, as the average family income in the mountainous region is around 20,000 yuan per year.
It was the first loss of life to be covered by commercial insurance in the national park's efforts to address human-animal conflicts. The park is home to 270 species of vertebrates, of which 69 are under State protection.
The management committee of the park purchased the insurance in October for more than 17,000 herdsmen hired as ecological conservators.
"In addition to the loss of human life, wild animals killing livestock is also a big issue in the area," the head of the ecological protection office of the committee said.
The official, identified as Gyushe, said the number of such conflicts has risen because of the need to protect both the area's ecology and the population of rare animal species.
Last year, a snow leopard and a coyote killed 20 yaks owned by a herdsman in Yushu Tibetan autonomous prefecture.
"They are beautiful wild animals and protected species. We don't want to hurt them, but we don't want to be hurt either," said Anam, the herdsman.
He said the local government has taken many measures to increase compensation to people who lose livestock to wild animals.
From 2012 to the end of 2017, the Qinghai provincial government paid compensation of 30.5 million yuan to local people in 5,850 cases, mainly in the Sanjiangyuan area.
The park's management committee recently teamed up with the Beijing-based Shanshui nature protection center to create a fund for livestock insurance in Sanjiangyuan. Herdsmen pay a one-time fee of 3 yuan to insure one yak. They can get up to 1,500 yuan in compensation if yaks are killed by wild animals.
With the compensation and insurance benefits, the herdsmen have become more tolerant of wildlife.
To better protect humans in the area, the local government has invited experts from institutes, including the Chinese Academy of Sciences and Peking University, to explore protective methods that won't harm wild animals.
Based on research since 2013 in Hashul township, the Yushu government built a 2-meter-high solar-powered electric fence to protect 100 households from attacks by predators.
"More efforts are on the way to address human-animal conflicts," said Xiao Lingyun, a postdoctoral researcher at the Center for Nature and Society affiliated with Peking University.
He said they hope the methods will help local people reduce and avoid encounters with predators.
Sanjiangyuan National Park started trial operations in 2016 and is set to be officially inaugurated in 2020.
Climate change and human activities have caused environmental degradation in the watershed area since the 1970s, but the local ecology has gradually recovered, thanks to several protection efforts in effect since 2005 that have received more than 18 billion yuan of government funding.
According to the park committee, the population of endangered snow leopards is now around 400 to 700. They have appeared in a wider area and have been spotted more frequently than before.
According to an assessment by the National Development and Reform Commission in 2018, grassland vegetation coverage in Sanjiangyuan increased by about 2 percentage points, and forest coverage has increased from 4.8 percent to 7.4 percent since the end of 2013.