Health official: All efforts vowed to prevent 2nd Wuhan
A senior national health commission official has vowed on Saturday to do everything to prevent the specter of another Wuhan, the epicenter of the novel coronavirus outbreak, in Hubei province while calling for more containment efforts within communities.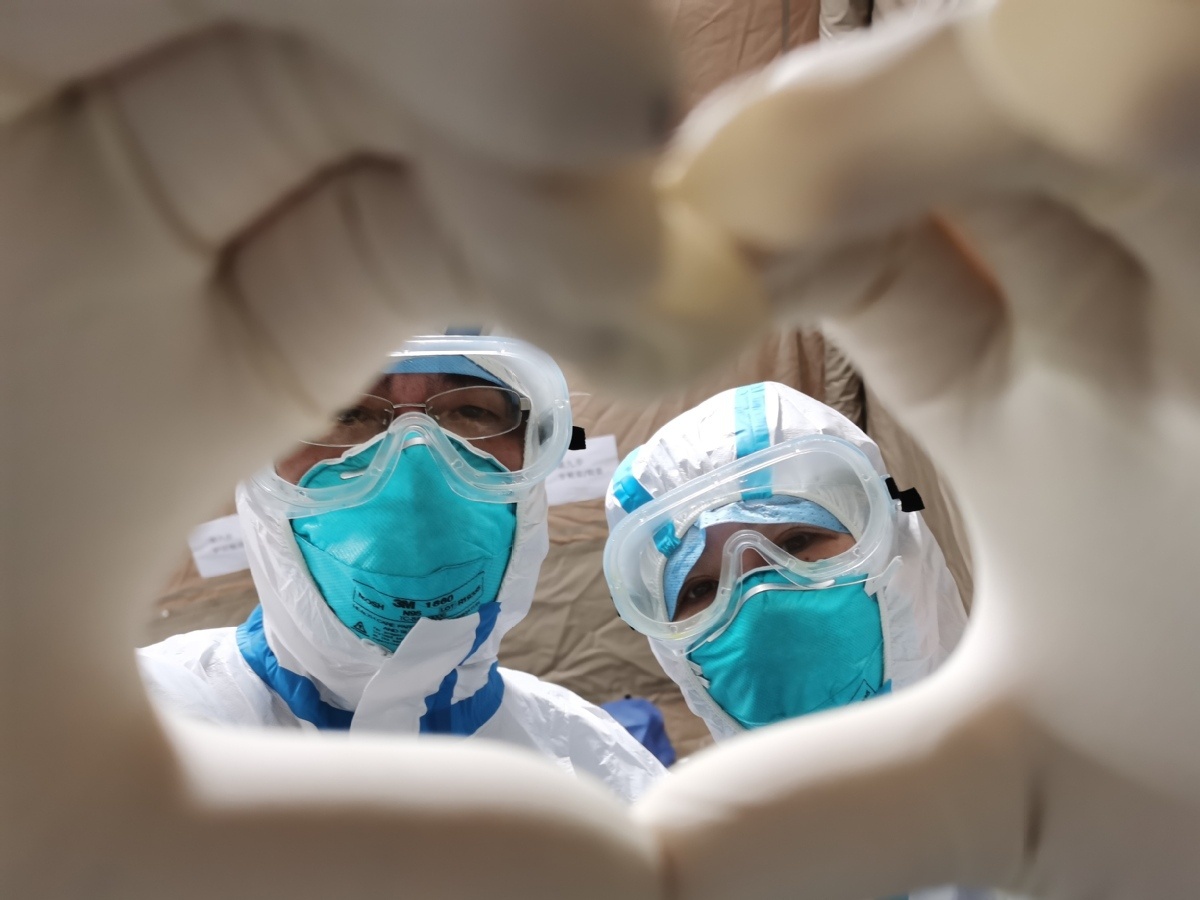 The couple Gao Yongzhe and Huang Wenli make a heart shape with their hands in Wuhan's Fang Cang makeshift hospital on Feb 14, 2020. (Photo: China Daily)
Wang Hesheng, vice-minister of the National Health Commission, told a news conference organized by the State Council Information Office in Wuhan that the prevention and control work has entered the most critical stage, with Wuhan still being the main battlefield.
"The top priority is to increase the rate of patients received and recovered and also reduce the rate of infection and mortality," he said.
Wang emphasized that the entire province of Hubei, especially its capital city of Wuhan, should enact and implement prevention and control measures in line with actual conditions and launch more forces for communities in order to prevent the specter of another Wuhan.
He revealed that more than half the confirmed novel coronavirus cases in Hubei province have received traditional Chinese medical treatments.
Three TCM medical teams and another 2,220 traditional Chinese medics have been sent to the province to help combat the epidemic.
Wang called on local authorities to embrace TCM in the containment efforts sooner and to tap the potential of the mixed therapy methods of TCM and its Western counterpart.
"The combined use of two kinds of treatments is a highlight in the containment effort," he said, adding that herbal medicines have been handed out to residents in need across Hubei and proved effective in community-level disease control.
The remarks came as China has moved to shift the best medical resources to critically ill patients in an attempt to seek a cure for the infection and to slash the fatality rate.
A guideline compiled by the commission has advised the medical community in China to employ TCM in the treatment of the coronavirus patients. The regularly updated document also recommended antiviral treatment, oxygen therapy, and the use of invasive respirators and the plasma from recovered patients.
Wang said they are considering designating more hospitals for novel coronavirus patients, and will convert gymnasiums and other public facilities into cabin hospitals in an effort to round up all sources of infection.