Kazakhstan's first president meets with Chinese state councilor on bilateral ties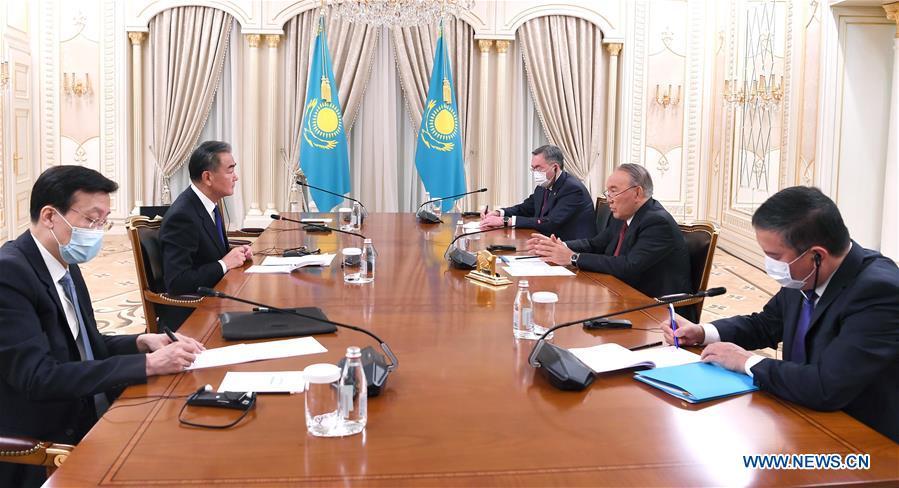 Kazakhstan's First President Nursultan Nazarbayev (2nd R) meets with Chinese State Councilor and Foreign Minister Wang Yi (2nd L) in Nur-Sultan, Kazakhstan, on Sept. 12, 2020. (Photo: Xinhua)
NUR-SULTAN, Sept. 13 (Xinhua) -- Kazakhstan's First President Nursultan Nazarbayev met with Chinese State Councilor and Foreign Minister Wang Yi here on Saturday, with both sides reaffirming commitments to strengthening ties and deepening cooperation in the construction of the Belt and Road.
During the meeting, Wang conveyed a verbal message from Chinese President Xi Jinping to Nazarbayev.
Wang said that the achievements of China-Kazakhstan relations today are a result of endeavors and wisdom of Chinese leaders and President Nazarbayev. As the world is undergoing changes unseen in a century, the lasting and steady development of China-Kazakhstan ties with rich connotation are closely linked with the future of our two countries and two nations.
No matter how the international situation changes, China will always give priority to its relationship with Kazakhstan with regard to its neighbourhood diplomacy. China will not waver in its confidence and resolve to deepen cooperation and friendship with Kazakhstan, Wang said.
Wang recalled that when President Xi proposed the initiative of jointly building the Silk Road Economic Belt at the Nazarbayev University seven years ago, President Nazarbayev expressed his support at the scene.
China and Kazakhstan have taken the global lead on the joint construction of the Belt and Road. The two nations have aligned their development strategies, started production capacity cooperation, and launched a series of cooperative projects with strategic significance, which generates a guiding and demonstration effect for other countries, Wang said.
Wang noted that China and Kazakhstan are both committed to the great cause of realizing prosperity and national rejuvenation. To achieve the end, the two sides should deepen political mutual trust, follow the development path in line with their own situations, and support each other's stability and development.
Wang added that President Xi has set out the goal of fostering a dual-cycle development architecture with the domestic cycle as the mainstay and with domestic and international development reinforcing each other. The move will provide Kazakhstan with broader market and more opportunities.
China will continue to support Kazakhstan in it fight against COVID-19 and give priority to the needs of Kazakhstan and other neighbors after COVID-19 vaccines are successfully developed, said the state councilor.
Nazarbayev, for his part, thanked President Xi for his verbal message and asked Wang to convey his sincere greetings to the Chinese president.
Nazarbayev said that he cherishes the friendship with President Xi, adding that he was much touched when Xi awarded him the Friendship Medal during the second Belt and Road Forum for International Cooperation in Beijing last year.
Wang is the first foreign minister to pay a formal visit to Kazakhstan after the outbreak of COVID-19, which shows that China attaches great importance to its relations with Kazakhstan and the high level of political mutual trust between them, Nazarbayev said.
Kazakhstan speaks highly of the successful fight against COVID-19 by China, the only major country that has achieved positive economic growth, Nazarbayev said, adding that China's new dual-cycle development model will provide broad opportunities for bilateral cooperation.
Nazarbayev expressed the belief that under the leadership of President Xi, China will surely achieve its grand development goals. Kazakhstan firmly supports the domestic and foreign policies put forward by China and appreciates its endeavors in safeguarding multilateralism and preserving international fairness and justice, Nazarbayev said.
Kazakhstan will continue to support, as always, the joint construction of the Belt and Road, and push forward the development of the permanent comprehensive strategic partnership between the two countries, he added.