Revived river enriches life of Beijing residents
Biking through the crisp air along the riverbank or taking photos of various waterfowl -- urbanites in China's densely populated capital now enjoy more options to spend their free time thanks to a recently revived river.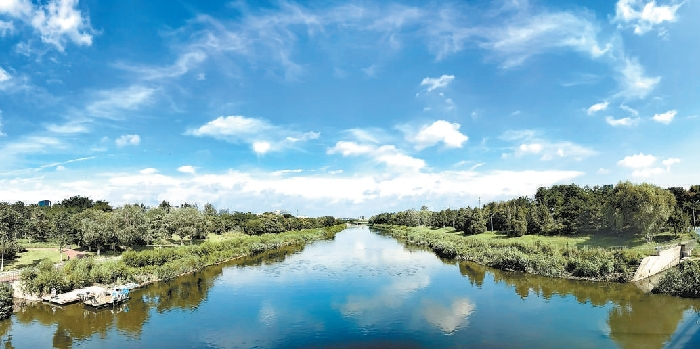 The Liangshui River, a water artery winding through seven districts of Beijing, has been brought back to life as part of the city's efforts to improve and restore its aquatic ecosystem.

A resident surnamed Huang has gotten used to cycling along the riverside every day. "A few years ago, it was a stinky ditch that always kept us at a distance," Huang recalled.
Back then, people living near the river complained that they couldn't even open the window at night because of the bad smell.
The megacity has blazed a new path to water conservancy in recent years, bringing about fundamental changes in its water quality and ecological environment, according to experts.
Throughout history, Beijing has been a city crisscrossed and nourished by watercourses. Converging into a section of the Grand Canal, the Liangshui River once played an active role in transportation, drainage and irrigation.
Between the 1970s and 1990s, however, due to urban expansion, population growth and climate change, Liangshui and other main water bodies in Beijing began deteriorating. Some became severely polluted while others dried up.
Since 2013, Beijing has made continuous efforts to tackle water-related issues, combating pollution by strengthening sewage disposal capacity while restoring its aquatic ecosystem.
Over the past decade or so, 86 major sewage outlets in the basin of the Liangshui River were shut down, along with the renovation of pipelines and the upgrading and building of sewage treatment plants.
The municipal government also took a slew of measures to alleviate water resource shortages.
Thanks to these concerted efforts, all the 142 murky and stinky rivers in Beijing have become clear once more, according to official data.
"Guess what? It isn't stinky any longer," said a resident surnamed Wang, who has lived near the Liangshui River for about 14 years. "Now it looks like the Yangtze River seen from afar, so to speak."
Today's Liangshui River is home to different kinds of wild birds, and has become a paradise for photography lovers. A survey conducted last year by the biodiversity protection and research center of Beijing found that there were 43 species of birds inhabiting a section of Liangshui, including 23 species of waterfowl.
There are teams that watch and take pictures of the birds on a regular basis, said Gong Jingbo, Party chief of a community along the river, who also serves as a "river chief." Now every river in China has a river chief in charge of its ecological protection.
China has acted on the idea that lucid waters and lush mountains are invaluable assets, and is committed to a path to modernization featuring harmony between human and nature.
A key report to the recently concluded 20th National Congress of the Communist Party of China said the country will "make concerted efforts to improve aquatic environments, water resources and aquatic ecosystems, strengthen ecological conservation of major rivers, lakes and reservoirs, and generally eliminate black, malodorous water bodies in cities."
With an improved water ecosystem, citizens in Beijing have more opportunities to get close to nature. They can exercise along the riverbank, just as residents near Liangshui do, or even take a boat to enjoy the beautiful scenery.
According to a blueprint for city development, Beijing will have largely resolved its sewage issues and restored its aquatic ecosystem by 2035 to become an eco-friendly metropolis with blue skies and lucid waters surrounded by forests.