Podcast: Story in the Story (1/11/2019 Fri.)
People's Daily app
1547142248000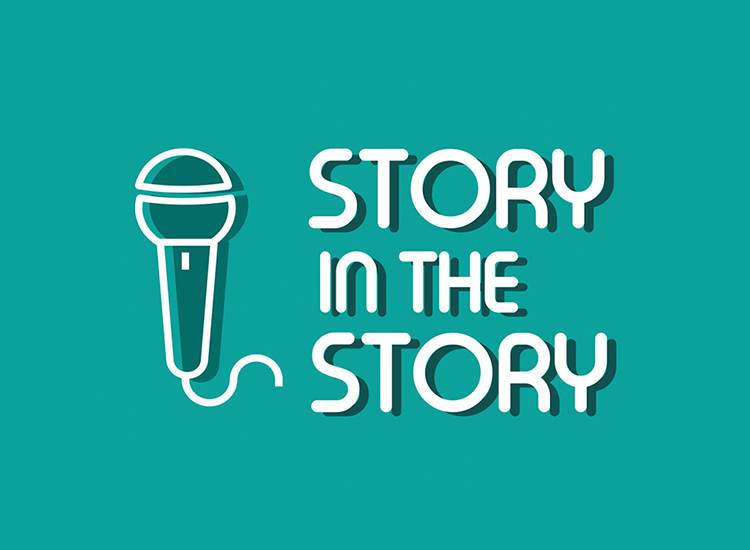 From the People's Daily app.

And this is Story in the Story.
There is no doubt that tourism is becoming one of the biggest industries in China.
The national tourism authority released figures showing that in 2017, 139 million tourists from overseas visited China, but according to the China Tourism Academy that number could have been even higher.
Some substandard domestic travel services and the world's political and economic environment are slowing its development, said Dai Bin, president of the China Tourism Academy.
A relatively tight visa policy, high visa expenses and environmental concerns deter many visitors, Dai said, but he remained optimistic about the future of China's inbound tourism, as there are many possible ways to expand the market.
"The growth-the increase of 0.8 and 3.6 percent-may not be that significant compared with the growth of the outbound tourism market," Dai said, "but it's the third consecutive year of positive growth since we were hit by the Asian financial crisis, SARS and the global financial turbulence in the 1990s."
Today's Story in the Story looks at which industries and destinations are leading tourism's massive growth.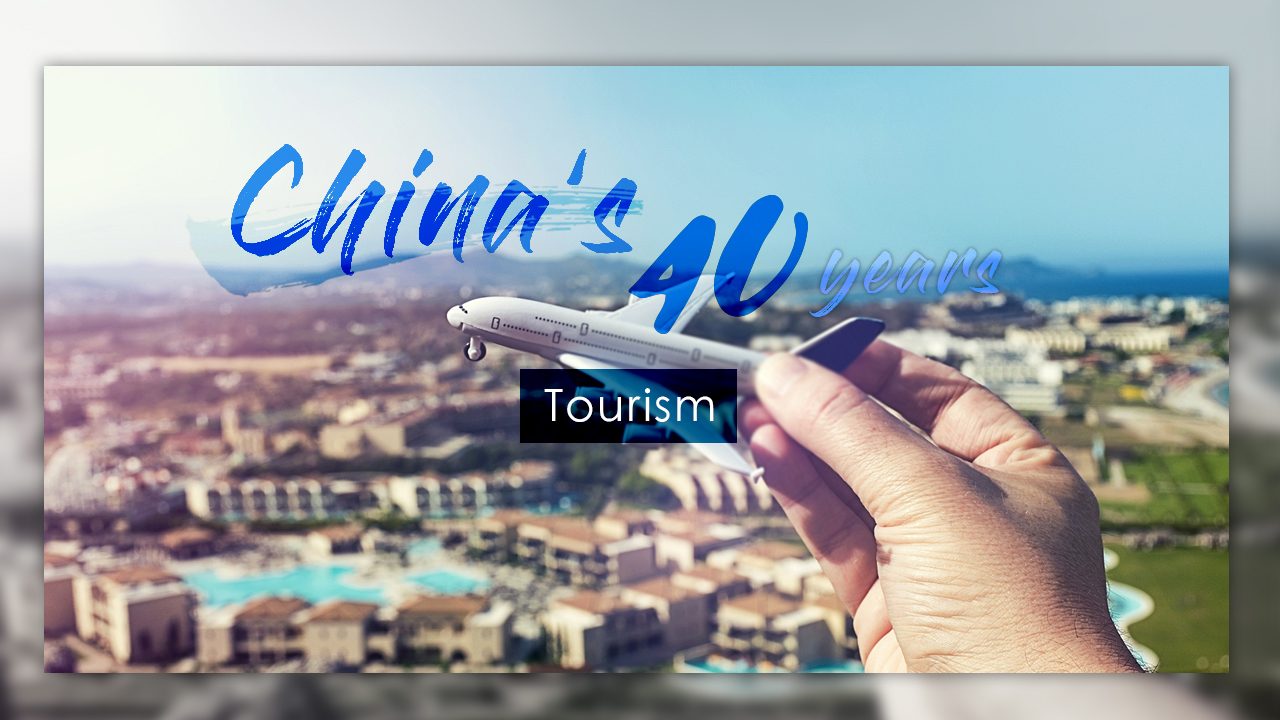 (Photo: CGTN)

Technologies and cultural industries have dramatically changed the landscape of China's tourism industry and are likely to serve its booming development.
More culture-related tour packages codeveloped by travel agencies and high-tech companies will be available at domestic travel destinations to help improve tourists' travel experiences and boost the growth of inbound tourism.
Hong Kong, Shanghai, Beijing, Macao and Guangzhou are the top five China travel destinations, Travel China Guide reported.
China ranked second in the world for travel and tourism's contribution to GDP ($1,349 billion) in 2017, and first in the world for travel and tourism's total employment contribution at 79.9 million jobs.
Chinese tourists visited domestic attractions over 2.8 billion times in the first half of 2018, up 11.4 percent year-on-year, according to a report by the China Tourism Academy.
The report said urban residents accounted for almost 2 billion visits, an increase of 13.7 percent compared with the same period last year, while residents from the countryside paid about 800 million visits, up 6.3 percent.
The revenue generated by domestic tourism was 2.45 trillion yuan ($358 billion), a rise of 12.5 percent.
Red tourism, which refers to activities and locations related to the Communist Party of China, has seen a boom over the past six months, according to the report.
Li Chuangxin, a researcher at the China Tourism Academy, said: "China plans to build the country into a tourism power in the next 15 years. Inbound tourism, which is regarded as a key indicator measuring the nation's competence in the sector, will be further stressed."
He said that travel agencies should draw on the country's rich cultural and natural resources to develop competitive travel products and establish a comprehensive promotion system.
"Transportation systems, including airlines and high-speed railways, are also important," he said. "It's also necessary to simplify visa application procedures to lure more tourists from foreign countries."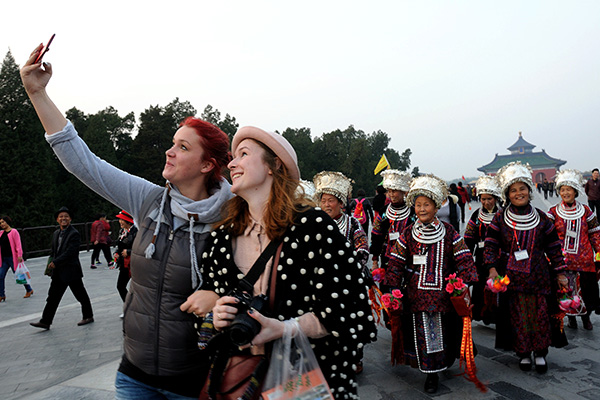 Two foreign tourists take pictures in Beijing's Temple of Heaven. (File photo: China Daily)

While more and more tourists are visiting China, so too the number of Chinese tourists going abroad is growing exponentially.
In 2017, Chinese tourists made 145 million cross-border trips according to the China Outbound Tourism Research Institute.
Today, more than one in 10 international travelers carries a Chinese passport, and they have deep pockets. Chinese tourists spent $261 billion in 2016 according to the research institute, more than twice as much as US travelers, second on the big-spender ladder.
The main destinations for Chinese travelers were Hong Kong, Macau and Thailand. The institute predicts that overseas trips by Chinese citizens will increase to more than 400 million by 2030.
"The first time I went abroad was to Australia as part of a delegation authorized by the Ministry of Justice in 1999," said Tong Xirong, former vice-president of East China University of Political Sciences and Law in Shanghai.
He said that in the 1980s and '90s, policy constraints meant overseas visits were mostly limited to people employed by the government or State-owned institutions, and they were usually for academic purposes or work.
Tong is pleased to see the rapid development of China's economy and tourism. "My friends who had the chance to go abroad in the early 1980s always talked about how beautiful and modern foreign countries were. That left me with a sense of loss because I believed our nation was backward," he said.
"But now traveling overseas is not a big deal-it's more like dropping by to see the neighbors-and foreign foods such as milk candies and steaks are common in Shanghai."
(Produced by Nancy Yan Xu, Brian Lowe, Lance Crayon, and Da Hang. Music by: bensound.com. Text from China Daily and CGTN.)