Qingdao reports no spread of COVID-19 outbreak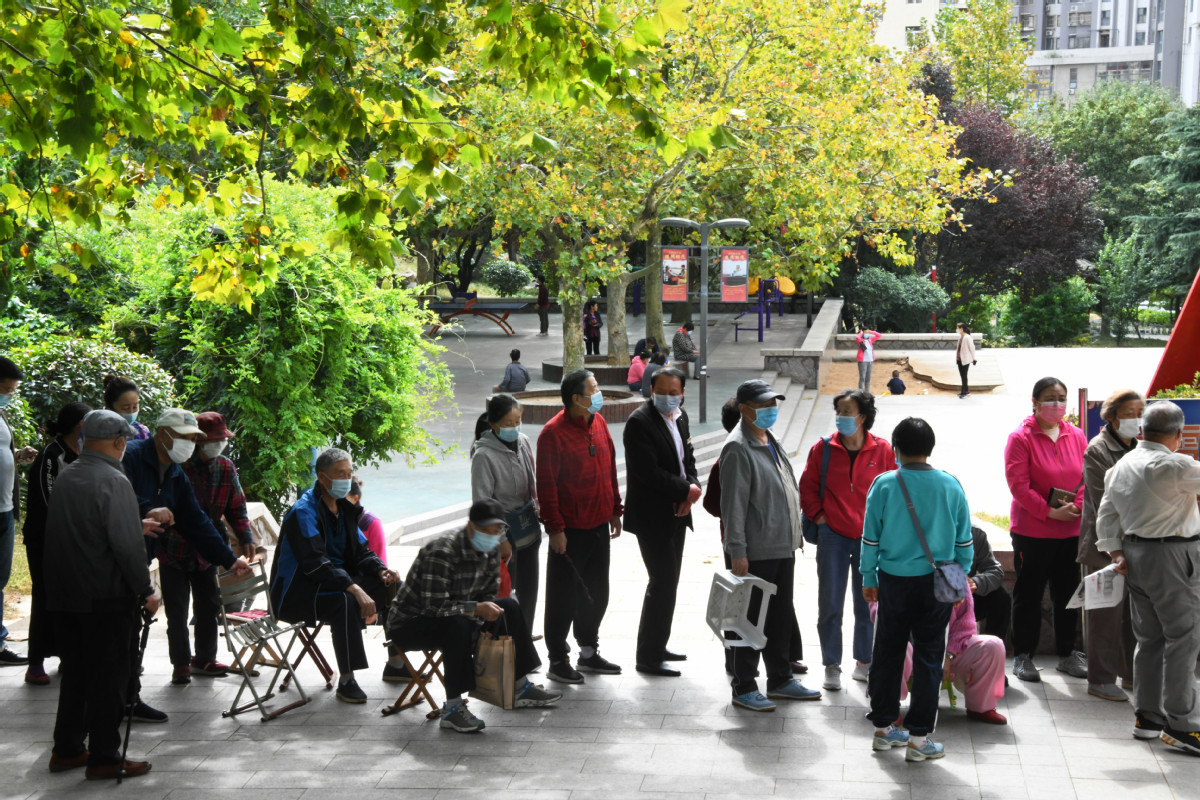 Residents of Qingdao, Shandong province, line up for COVID-19 tests on Tuesday. Over 4 million nucleic acid test samples had been collected as of 3:30 pm on Tuesday after the city activated a plan on Monday to conduct citywide testing, officials said. (Photo: Xinhua)
No additional cases of COVID-19 had been identified in Qingdao, Shandong province, as of midafternoon on Tuesday, following an outbreak of new cases that appeared over the weekend, the city's health authorities reported.
As of 3:30 pm on Tuesday, the city had collected and tested more than 4 million samples and released more than 1.9 million results, officials said.
At noon on Monday, the city reported 12 new cases, six of them asymptomatic, though officials said that night that the city as a whole was at low risk of a community-level spread of the virus.
Further testing and investigation have shown that the confirmed and asymptomatic cases are closely linked to the city's pulmonary hospital and there was no evidence of community-level spread, according to Jiang Fachun, deputy director of the city's disease prevention and control center, who spoke at a news conference on Tuesday afternoon.
Of the six patients with confirmed cases, three have developed serious symptoms and have been isolated and treated by specialists at the Affiliated Hospital of Qingdao University's West Coast campus, said Chen Wansheng, deputy director of the general office of Qingdao government.
The city also has administered a second round of testing of all 740 close contacts of patients with confirmed cases as well as their contacts, and all those produced negative results, Chen said.
One of the confirmed cases is a taxi driver, but his 52 contacts were traced, and after two rounds of tests, the results were negative, Chen said.
City officials said they planned to complete free coronavirus tests in five districts by Wednesday night, and the entire city of 9 million people is to be tested within the week, the municipal health commission said.
Free testing on campuses is provided for all students in universities, middle and primary schools and kindergartens. Some student group activities, such as trips to rural areas to learn about agriculture, have been temporarily suspended.
At the Second Experimental Middle School in Qingdao, all students, teachers and other staff members had undergone testing by 3 pm on Monday, according to Tian Ke, vice-principal of the school.
"We must guarantee absolute safety at the every corner of the schoolyard," Tian said.
Shandong province sent seven medical teams that included 210 people to help with processing tests and another 1,050 people to handle sampling work, Chen said.
More than 10,000 medical workers have already been engaged in fighting the outbreak in the city, officials said.