Brotherly help takes sports-loving Senegal closer to it goal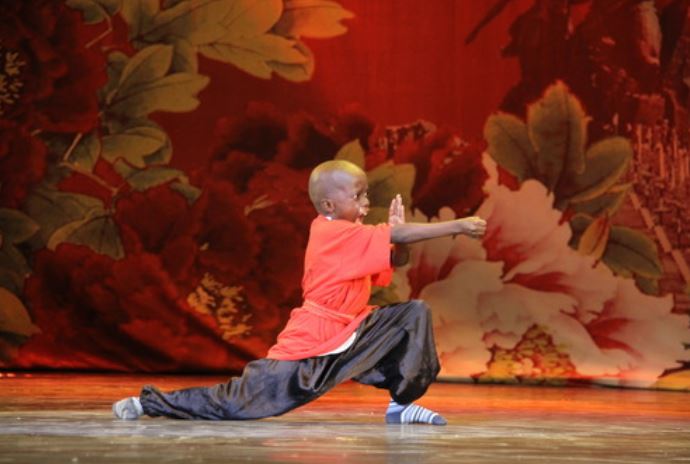 A boy from Senegalese martial arts team performs Kung Fu during a performance by China Henan Art Troupe in Dakar, Senegal. (File photo: Xinhua/Tai Jianqiu)
Fann Beach located west of Darkar is a sight to gladden the hearts of sports and fitness lovers.
The golden beach is lined with workout benches, pull-up bars and exercise bikes painted in bright yellow and blue, and scores of exercisers are busy working out, to the accompaniment of chants and cheers.
Fatoumata Sane, an accountant, is doing sit-ups vigorously. She comes here twice a week to work out. "I face the sea as I work out and breathe in pure air," she said. "China has done a marvelous thing for us."
The equipment that Sane is using was made in China and installed by the Chinese government as a gift to the sports-loving Senegalese two years ago.
The Senegalese love for fitness is embodied by the bronze statue perched on a hill a few minutes' drive from the beach-turned gym. It depicts an athletic man, a woman and a child emerging from a volcano.
The 50-meter African Renaissance Monument, inaugurated in 2010, symbolizes Africa reclaiming its place, throwing off the shackles of colonialization and racism.
The retrieval of Africa's own place and strength is displayed in the field of sports. Several African countries have achieved fame in track and field events and the Senegalese football team is one of the three African teams to reach the World Cup quarter finals.
CHINESE SPORTS EMBRACED
Sports-loving Senegal has also embraced kung fu and shadowboxing from China, two of the most popular Chinese culture legacies abroad.
Shadowboxing is one of the most popular courses in the University of Dakar, where every semester more than 100 students sign up for the course.
Su Jiaming is one of them. Though he is Senegalese, he has adopted a Chinese name and prefer to use that. The college student has been practicing shadowboxing for over two years and says he got to know China and Chinese culture through the martial art. Now he plans to study in China.
At the east end of the capital, another monumental structure is under construction. It is an arena for traditional Senegalese wrestling, designed by Chinese companies and being built by them. It will be the largest of its kind in Africa.
Senegalese have been following the construction closely since it broke ground in 2016, as wrestling, a symbol of athletic strength and ability, is a national sport.
"We have been dreaming of owning an arena like this since the founding of our country," said Amadou Cisse, a surveyor for the project.
The 50-meter-high and 200-meter-wide structure is being built on marshland. "It is very challenging," Cisse said. "We learnt a lot of advanced techniques from our Chinese counterparts."
The Senegalese have benefited from the project in many other ways, Cisse said. It has created more than 3,000 jobs locally.
"The Chinese trained me," said Abdoulaye Diop, an electrician. He said it will make him in demand in the labor market after he finishes his work at the arena.
"The project is a result of China-Senegal exchanges and cooperation," Cisse said.
CREATING PEOPLE-TO-PEOPLE LINKS
The Chinese engagement in Senegal's sports is part of the larger picture of growing China-Africa cultural and people-to-people exchanges.
When Chinese President Xi Jinping visited South Africa in 2015, he said China and Africa, both of which boast an ancient and splendid civilization, should learn from each other in culture, and focus on boosting people-to-people exchanges, creating links between their youths, women, think tanks, media organizations and universities.
Greater momentum to the engagement is anticipated as Xi arrives in Dakar on Saturday, the second stop in his first overseas trip after being re-elected president in March.
"It is good news for China-Senegal cooperation and for their mutually beneficial partnership," Sane, the sports-loving accountant, said.