Brands eye youth with new generation of craftsmen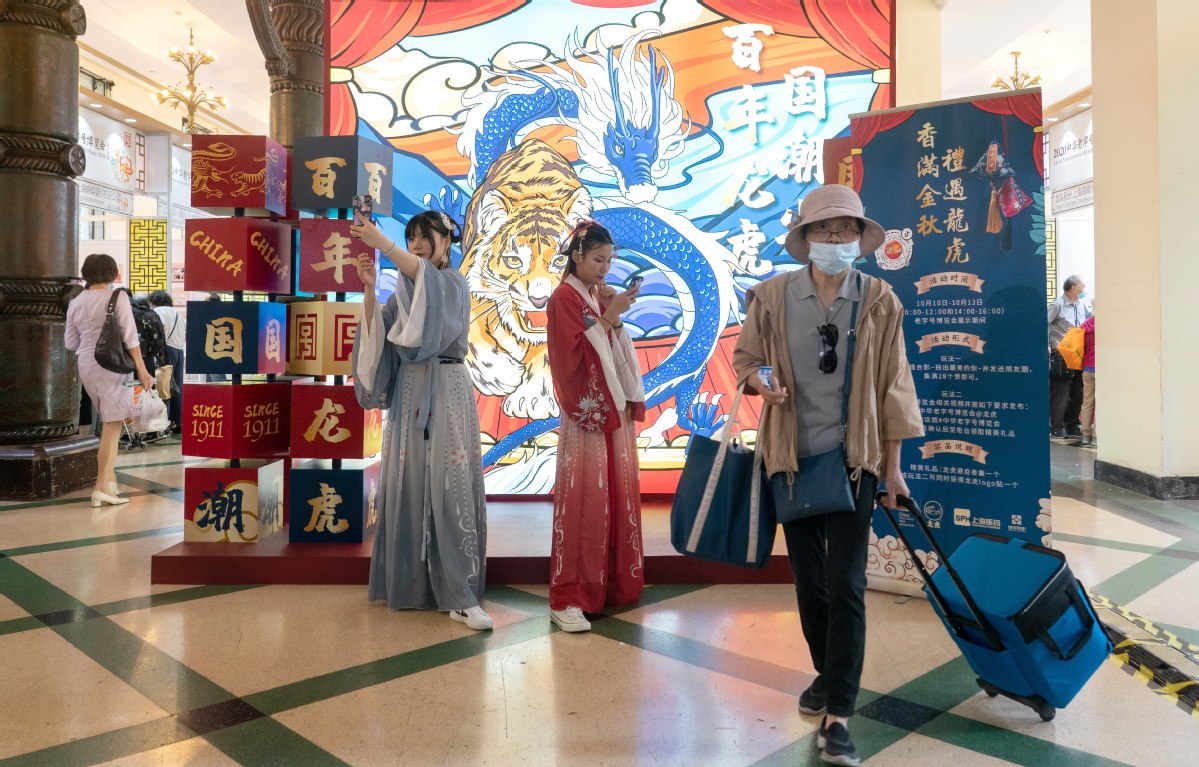 Costume-clad exhibitors from pharmaceutical company Shanghai Pharma wait for visitors at the exhibition for time-honored brands in Shanghai on Saturday.(Photo: VCG)
Shanghai's time-honored brands are being propped up by younger elements to attract a new generation of customers with innovative and tailor-made products and services, discarding their stereotyped image of silver-haired senior craftsmen.
At the time-honored brands exhibition that began on Saturday, 28-year-old Yao Jiawei, wearing a traditional Chinese garment, sliced various traditional Chinese medicine materials into ideal thicknesses by hand.
Each slice of astragalus should be 2 millimeters thick, and ginseng is cut thinner than a piece of paper, said Yao, a seventh-generation successor of tradition of medicine slicing craftsmanship at the 237-year-old Tonghanchun Pharmacy.
Yao spent about four months learning how to sharpen knives and three years practicing slicing.
"This is worthwhile, as we need this craft to carry on," Yao said.
Ma Weiguo, Yao's master and the fifth-generation successor of the pharmacy's craftsmanship, said the program now has eight young people willing to go through the tedious and arduous learning process who are well on their way to becoming qualified successors.
The beauty of the craft lies not only in the continuation of the special technique, but more importantly, proper processing maximizes the effectiveness of the medicine-the accurate thickness of the slices of various TCM products helps patients to better absorb the nutrients, said Ma, who has been in the profession for 43 years.
Ma said most young people found the slicing process boring in the past and were reluctant to devote themselves to lifelong craftsmanship.
"I am really glad that we now have young people like Yao joining our profession," Ma said. "With their participation, we can make a change for good."
Li Qiang is also training two generation Z successors, Jiang Xinyao and Ma Jun. Li will mark her 50th year in the Shanghai woolen needlepoint tapestry industry next year.
Li, an expert in creating vivid needlepoint portraits, is eager to pass on the intangible cultural heritage skill to the new generation. But she has to strike a balance between artistic technique and popularity, said Guo Jianchen, director of the all media interaction center at Hengyuanxiang Group, a textile company.
Their efforts materialized into a souvenir tapestry, called The Woolen Romance in Shanghai, that combines the national intangible cultural heritage of woolen needlepoint tapestry with the city's intangible cultural heritage of the Shanghai-style wool knitting skills. It is created by Li's original wool work workshop at Hengyuanxiang.
The company displayed the souvenir at the time-honored brands exhibition. Featuring Shanghai's symbolic landmarks and cultural elements, the company hopes it will become a preferred gift for tourists wanting to remember modern Shanghai in addition to local products such as White Rabbit candy or spiced beans, Guo said.
More than 200 Chinese time-honored brands from Shanghai and the provinces of Anhui, Shandong, Guangdong, Fujian and Jiangxi are being showcased at the four-day exhibition, which will close on Tuesday.
Taking up an exhibition area of 8,000 square meters, the brands range from food, clothing and accessories to jewelry, arts, healthcare, household products and services. The products are also being livestreamed to attract more customers.
Gu Lu, a 38-year-old fourth-generation successor of cloth shoemaker Dameihua, is also taking advantage of the event.
"Following my grandfather's and aunt's steps, I am accepting my duty to retain the classic craft of handmade cloth shoes," Gu said.