China, Dominican Republic establish diplomatic relations
People's Daily app
1525134788000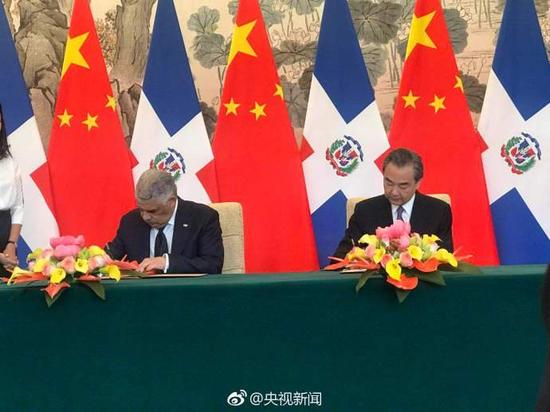 China and the Dominican Republic signed a joint communique in Beijing Tuesday on the establishment of diplomatic relations.
According to the communique, the People's Republic of China and the Dominican Republic, in keeping with the interests and desire of the two peoples, have decided to recognize each other and establish diplomatic relations at the ambassadorial level effective.
Chinese State Councilor and Foreign Minister Wang Yi and Dominican Foreign Minister Miguel Vargas held a brief event marking the establishment of ties on Tuesday morning. The two Governments have agreed to develop friendly relations and to exchange Ambassadors as soon as practicable.
The joint communique also said the Dominican Republic severs its "diplomatic relations" with Taiwan as of the date of signature.
The Dominican Republic recognizes that there is but one China in the world, that the Government of the People's Republic of China is the sole legal government representing the whole of China, and that Taiwan is an inalienable part of China's territory.