Chinese cities dangle perks for young talent
Global Times
1516043834000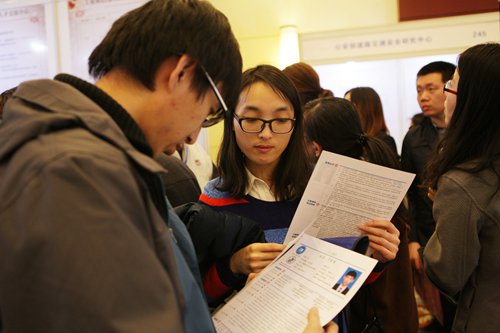 The Chinese Service Center for Scholarly Exchange under the Ministry of Education holds a job fair, offering positions for over 3,000 returned overseas talents. Photo: IC
Cities across China are competing to attract young talent, promising large research grants and housing subsidies to those who can help drive innovation and economic upgrades.

At least 16 second-tier cities, including Xi'an, Chengdu and Wuhan, have released preferential policies to attract talent from abroad and major Chinese cities such as Beijing and Shanghai.
Foshan from South China's Guangdong Province released a new document on Friday, promising to inject no less than 500 million yuan ($77.66 million) per year to attract talent.
The city also promised to invest at least 250 million yuan per year to help boost scientific and technological innovation and vowed to give out cash bonuses of up to 4 million yuan to help each selected top-notch talent buy property.
The document said the top talents are free to choose whichever school they like for their children and the city government will help arrange jobs for their spouses.
"Foshan must be willing to invest in talent to gain an advantage in the region," said Huang Yongyao, deputy head of the organization department of the Communist Party of China's Foshan committee, Nanfang Daily reported.
Foshan is already late in the game of attracting talent.
Xi'an from Northwest China's Shaanxi Province in November 2017 established a special committee to attract talent, vowing to attract a million college graduates in the next five years to work and set up businesses in the city. To do so, the city promised to give a 20 percent discount on property prices and help resolve household registration issues.
Wuhan from Central China's Hubei Province announced it would build 3,605 apartments for college talent, and designated renowned entrepreneurs, such as Lei Jun, founder of Xiaomi, who graduated from Wuhan University, to help the city government achieve its goals.
"In the 1980s and early 1990s regional governments were competing for investments to boost GDP, and now Chinese cities have shifted to the competition for talent," said Miao Lu, secretary general of the Center for China and Globalization, a Beijing-based think tank.
"It is possible that such competition may drain the talent pool in remote areas, but in general, it is a good thing to create competition among different regions. It will force local governments to improve their business environment and living conditions. As long as the competition is benign, it will help boost the overall competitiveness of our country," Miao said.
Many inland Chinese cities are becoming less populated, fearing they would become ghost towns and lose their competitiveness. According to a paper in Scientia Geographica Sinica, more than 1.36 million people have emigrated out of Northeast China, casting a shadow on the region's development.
Priority shift
Analysts said another reason behind the competition for talent is the aging population. They say the change has forced regional governments to speed up economic upgrades from labor-intensive to innovation-oriented industries, which requires more talent to form industry chains.
Wen Xiaogang, a physics professor from MIT and a member of China's Thousand Talents Program, said the rapid increase in research funds and salaries to international-level talent has increased China's attractiveness to scientists.
"What China needs are young or middle-aged scientists, who can help with the country's innovation," Wen told the Global Times.
"Many are at a stage of raising children, which made good schools a prerequisite for them to choose employers. China's exam-oriented education could be one obstacle in attracting top-notch scientists," Wen said.