Chinese ambassador calls for building "closer China-ASEAN community of shared destiny"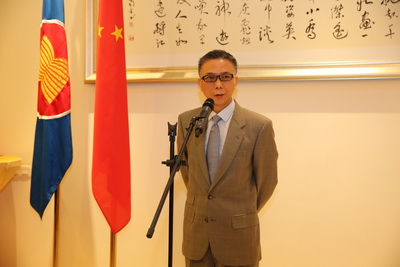 Xu Bu, Chinese ambassador to ASEAN(File Photo)
China and ASEAN should strive to broaden consensus and deepen cooperation so as to build a higher level of China-ASEAN strategic partnership and a even closer China-ASEAN community of shared destiny, said Xu Bu, Chinese ambassador to the Association of Southeast Asian Nations (ASEAN).
In an interview with Xinhua ahead of the 31st ASEAN summit and related meetings that are taking place here, Xu said the relations between China and ASEAN is currently at a key point that is "dynamic and enriched" but "needs an upgrade."
As close neighbors, China and ASEAN began talks in 1991, and established the Strategic Partnership for Peace and Prosperity in 2003. During a visit to Indonesia in 2013, Chinese President Xi Jinping expressed China's willingness to work with ASEAN countries to jointly build the 21st Century Maritime Silk Road and the China-ASEAN community of shared future.
"With joint efforts for this goal, China-ASEAN ties have developed into the most dynamic and enriched among ASEAN's relations with its dialogue partners, leading to fruitful achievements in cooperation in various areas," Xu said.
In the area of politics, political dialogues between China and ASEAN have been increasingly enhanced, Xu said, offering examples that "top leaders of the two sides are in frequent contact and continuously visit each other."
China and ASEAN countries have made significant progress in implementing the Declaration on the Conduct of Parties in the South China Sea, stabilizing regional situation and showing a good will of countries in the region to jointly maintain peace and stability of the South China Sea, Xu noted.
Economic and trade cooperation between the two sides have also been developing rapidly, Xu said, pointing out that China and ASEAN have set up the world's largest free trade agreement (FTA) for developing countries and have finished negotiations on upgrading the FTA.
Bilateral trade volume between China and ASEAN reached 452.2 billion U.S. dollars in 2016. China has been ASEAN's top trade partner for eight consecutive years, while ASEAN being China's third largest trade partner for six consecutive years. Two-way investment has also scored rapid increase, with a total of over 178 billion U.S. dollars.
Besides, the past few years have witnessed a "continuous deepening" of people-to-people exchanges between China and ASEAN, Xu said.
In 2016, more than 38 million trips were made between the two sides, reaching ahead of schedule the goal of 30 million trips in 2020. China has become ASEAN's largest source of foreign tourists, with more than 2,700 flights flying between the two sides every week.
However, despite the achievements of cooperation in various areas, Xu pointed out that China-ASEAN relations are facing some challenges, including lack of mutual trust, cooperation at bottleneck and low level of people-to-people exchanges.
As China and ASEAN wait to mark the 15th anniversary of the establishment of strategic partnership next year, the ambassador suggested the two sides continue deepening political mutual trust as a prerequisite and guarantee for friendly cooperation.
He promised that "China will, as usual, steadfastly support the development of the ASEAN Community, back ASEAN's central role in regional cooperation, and support ASEAN in playing a greater role in international and regional affairs."
Xu also suggested China and ASEAN make long-term planning for the overall development of their relations, including pushing forward the formulation of the China-ASEAN Strategic Partnership Vision 2030 and drawing a blueprint for the development of their relations in the next 15 years.
For bilateral pragmatic cooperation, Xu urged the two sides to seek "new dynamism", including jointly implementing the Initiative on Promoting Unimpeded Trade Cooperation and promote the comprehensive and early realization of the upgraded version of China-ASEAN FTA, and accelerating regional infrastructure development to realize four-pronged connectivity that covers land, sea and air transport as well as communication network.
Besides political and economic cooperation, Xu also expected further strengthened people-to-people bonds as a "third pillar" in China-ASEAN relations.
Xu expressed China's willingness to support ASEAN countries' efforts in social development areas such as medicine, health and poverty reduction, to realize the implementation of the 2030 Agenda for Sustainable Development of the United Nations.