Marine protection pays off in Zhejiang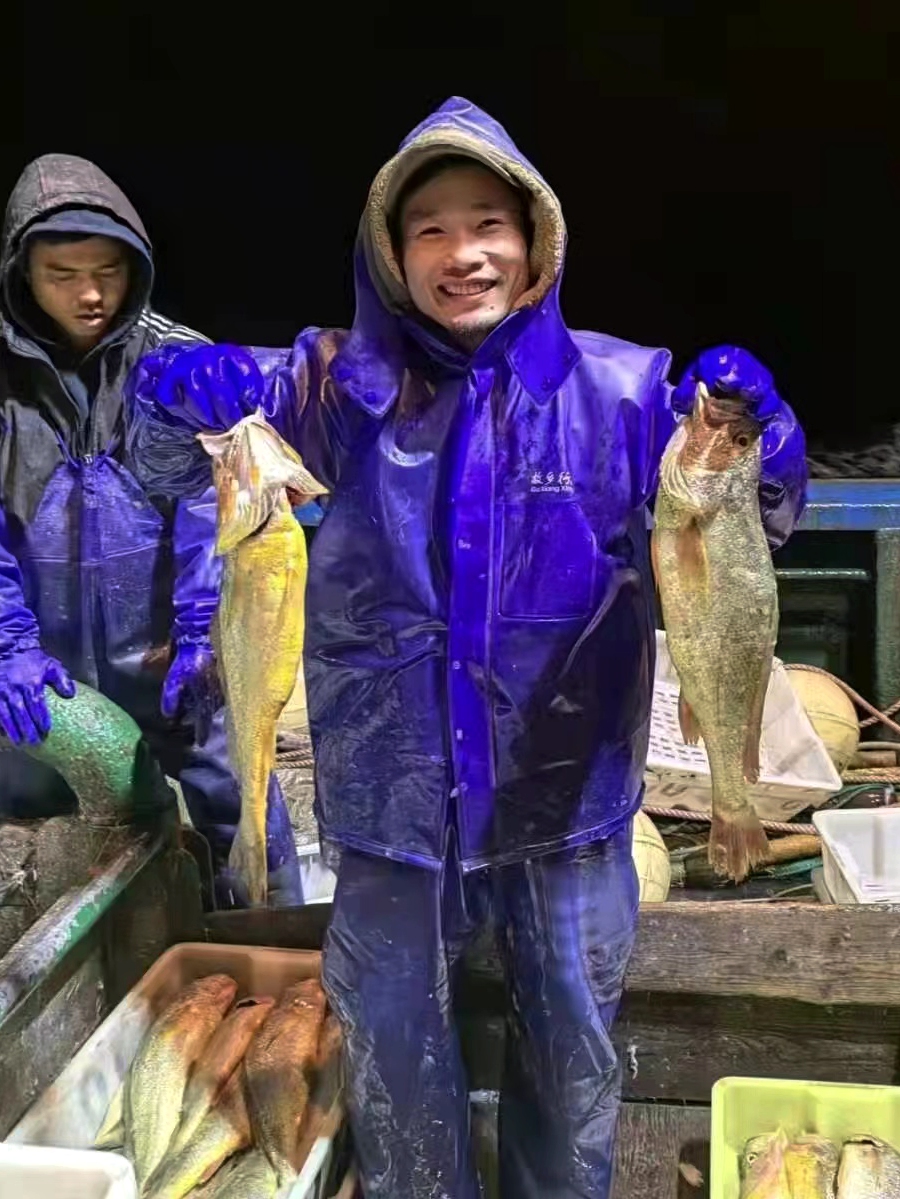 For fisherman Yang Tiansheng in Xiangshan county, Zhejiang province, the deep sea will always be filled with treasure, as long as it is well-protected and aquatic products are harvested in a scientific manner.
He told with excitement on Saturday about finding such a treasure.
"We hauled over 2,450 kilograms of large yellow croakers in a net on Friday," Yang said. "And the heaviest one weighed more than 2 kilograms."
Lin Haiping, the owner of the fishing boat on which Yang works, was immediately swarmed by buyers when he brought back the fish, the sales of which totaled 9.57 million yuan ($1.5 million).
"I've been fishing for 28 years but never caught so many yellow croakers of this size before," said Lin.
Fang Yue, chief engineer at the Xiangshan Water Resources and Fisheries Bureau, said, "It is the first time that fishermen have caught so many wild yellow croakers in the East China Sea in over three decades."
The yellow croaker, native to the western Pacific Ocean, is generally found in temperate waters such as the East China Sea and the Yellow Sea, and has long served as a local specialty in coastal Ningbo, Zhejiang.
Most yellow croakers available in markets have been farm-raised and sell for between 30 and 60 yuan per kg, while those harvested from the ocean can be quite expensive, with larger ones selling for as much as 8,000 yuan per kg.
Large wild yellow croakers used to be abundant in the East China Sea, but the number has been dropping since about 45 years ago due to overfishing.
In 1979, Zhejiang launched an annual seasonal moratorium on fishing. It has been updated and promoted nationally since 1995, as part of efforts to promote sustainable fishing and improve the marine environment.
Fang said that the resurgence in the number of wild yellow croakers has resulted from the marine protection efforts.
According to the Ministry of Agriculture and Rural Affairs, the moratorium, which begins every summer and lasts more than three months, covers the Bohai Sea, the Yellow Sea, the East China Sea and waters north of 12 degrees north latitude in the South China Sea.
During this period, safety inspections of fishing gear and a cleanup of illegal fishing vessels are carried out in these areas.
"The local authorities have released more than 10 species of fish in the East China Sea over the past five years. According to the monitoring data, the number of fish larvae is rising every year," said Fang.
He also emphasized the great contribution that fishermen from Xiangshan have made.
In 2000, 21 fishermen in Xiangshan founded China's first volunteer organization to better protect the seas and oceans around the world.
To date, more than 10,000 people have joined the organization.
In 2002, three fishermen from the county wrote to Kofi Annan, then secretary-general of the United Nations, calling on people around the world to protect the seas together.
Huang Genbao, head of the Xiangshan Fishing Association, said that although harvesting more than 1,000 kg of large yellow croakers doesn't happen often, he hoped that marine resource protection efforts will continue and more fishermen will have big hauls in the future.