Chinese experts return from medical aid in Russia
HARBIN, April 19 (Xinhua) -- A 10-member expert group returned to Harbin, capital of northeast China's Heilongjiang Province, on Sunday, after finishing a week-long mission in Russia, assisting the country's efforts in the prevention and control of novel coronavirus.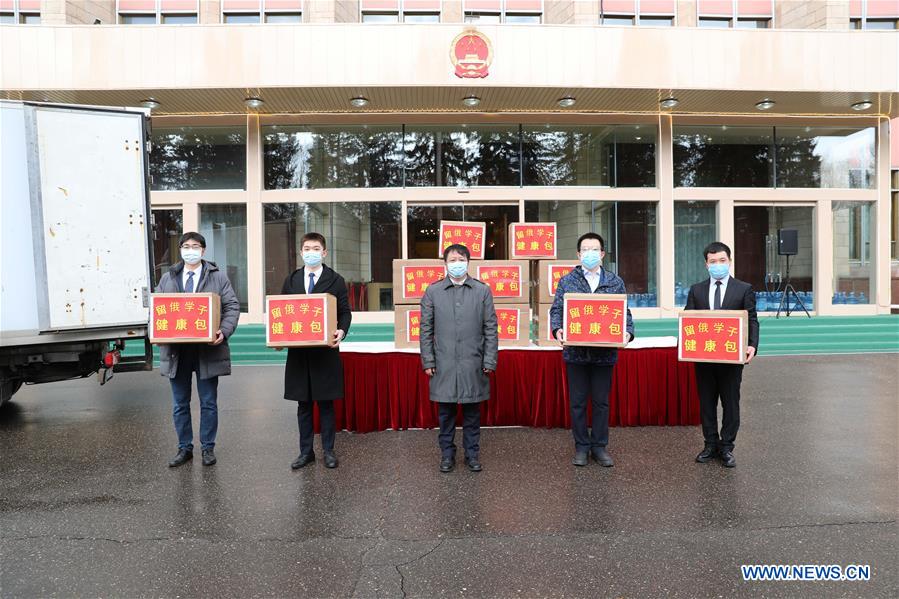 Chinese Ambassador to Russia Zhang Hanhui (C) distributes health kits consisting of protective gears and epidemic prevention manuals to the overseas Chinese students in Moscow, Russia, April 16, 2020. (Photo: Xinhua)
Entrusted by the National Health Commission, the experts were selected and sent by the Heilongjiang provincial health commission.
The experts said they shared their experience in COVID-19 prevention, control, diagnosis and treatment with the Russian side, and provided guidance and training to Russian medical staff.
The team also provided medical assistance to Chinese living in Russia through video conferences on the epidemic prevention knowledge and methods.
By April 17, the experts had visited 12 medical institutions and held 14 meetings, 10 training sessions and 12 medical counselling sessions during their stay in Russia.
Russia has registered a new daily record of 6,060 COVID-19 cases over the last 24 hours, raising the total number to 42,853 as of Sunday, official data showed. Enditem