What you need to know to watch Chinese film 'Legend of the Demon Cat'
Global Times
1514921786000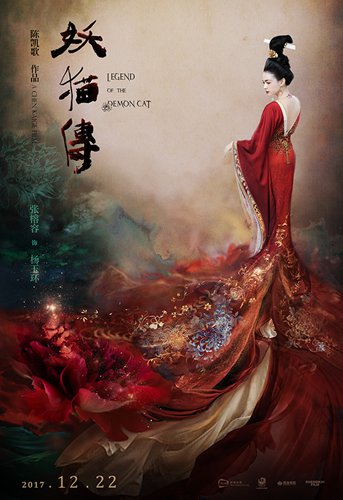 Promotional material for Legend of the Demon Cat Photo: IC
Aside from director Feng Xiaogang's much-talked-about film Youth, Chen Kaige's Legend of the Demon Cat was also one of the most anticipated films that hit Chinese mainland theaters in late December.

A Chinese-Japanese coproduction with a budget of around 250 million yuan ($38.5 million), Legend of the Demon Cat is set during the reign of the Tang Dynasty (618-907) Emperor Dezong. The movie kicks off with a series of mysterious murders committed by a cat that once belonged to Yang Guifei, or the Esteemed Concubine Yang, the beloved consort of Emperor Xuanzong of Tang until he ordered she be strangled to death during the An Lushan Rebellion (755-63).

The movie mixes actual history with a fictional setup as Bai Juyi - the Tang Dynasty poet who wrote "A Song of Everlasting Sorrow," a poem based on the romance between Emperor Xuanzong and Yang Guifei - teams up with Kukai, a Japanese monk who has arrived at the Tang capital of Chang'an (today's Xi'an), to track down the demon cat and uncover the truth behind the imperial consort's tragic death.

Adapted from Japanese fantasy writer Baku Yumemakura's four-volume novel Master Kukai: Ghost Banquet in the Tang Dynasty, Legend of the Demon Cat combines Japan's ghost culture with ancient Chinese history to create a pure fantasy production that is not without its historical roots.

Cultural exchange

Many characters depicted in this movie are true historical figures, including the two Japanese characters Kukai (774-835) and Abe no Nakamaro (698-770) - also known by his Chinese name Chao Heng - a Japanese envoy sent to the Tang court during the reign of Emperor Xuanzong.

To enhance diplomatic relations as well as cultural exchanges, Japan started sending envoys to China to study Chinese culture and collect information as early as the Sui Dynasty (581-618). The number of Japanese envoys to China peaked during the Tang Dynasty, one of the world's most advanced and prosperous nations at the time. During Japan's Nara period (710-794) and the Heian period (794-1185), a total of 19 groups of envoys were sent to Tang Dynasty. Each group consisted of hundreds of Japanese officials, scholars and students.

Abe no Nakamaro was one of these travelers. The then 19-year-old traveled to Chang'an in 716 with his colleagues, attended the imperial college and later passed the imperial exam to become a court official - a rare honor for a foreigner at the time. A close friend to famous Chinese literati including Li Bai and Wang Wei, the respected Japanese scholar returned to his homeland at the age of 56 as a special envoy appointed by the Emperor Xuanzong. Years later, Nakamaro returned to Chang'an, where he stayed until his death.

Different from officials such as Nakamaro, who sometimes had to shoulder certain diplomatic duties, Japanese monks and students who were free of such duties, such as Kukai, were also important envoys that contributed to cultural exchanges between the two nations. Aiming to study Chinese institutions as well as Buddhist classics, many of them funded their own trips. They also helped to bring more Chinese classics and technology back to Japan since they were less bound by the Tang government ban on the export of Chinese books and rare items to which Japanese diplomatic envoys had to adhere.

Poetic license

Poems that appear in the Legend of the Demon Cat include well-known Tang poems dedicated to Yang Guifei - considered one of the four great beauties in all of Chinese history.

Among all these works, "A Song of Everlasting Sorrow" provides a relatively detailed description of Yang's life from her teen years to her romance with the emperor and eventually her tragic death. The 840-character poem so vividly depicted the love between the couple and the emperor's deep sorrow after his lover's death that it became one of the most popular and influential ancient literature works in Chinese history.

According to official historical records, giving in to pressure from his military leaders, Emperor Xuanzong ordered the eunuch official Gao Lishi to strangle Yang Guifei to death while the court was in exile during the An Lushan Rebellion.

In "A Song of Everlasting Sorrow," Emperor Xuanzong is also depicted as a desperate husband who had no choice but to sacrifice his loved one for a bigger cause.

However, based on lines in this poem that mention an island in middle of the sea, some historians also theorize that Yang was actually not killed, but secretly transported to Japan, where she lived out the rest of her life.