Tech start-ups look to Shenzhen
Global Times
1512849255000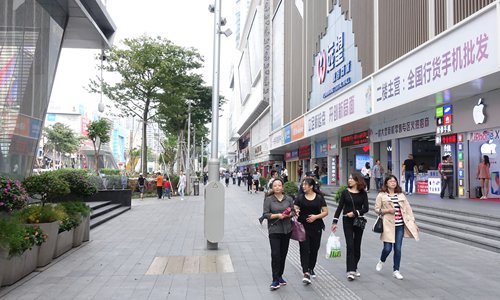 Shoppers walk on the Huangqiangbei electronics street in Shenzhen, South China's Guangdong Province on November 20. Photo: IC
Adriana Vazquez grew up in Mexico City, studied in Pennsylvania and worked in New York. But it was Shenzhen, South China's Guangdong Province, known as the "Silicon Valley of China," that made her dreams become a reality.

The young Mexican entrepreneur is so excited by the thought that her little start-up could take the world of working mothers by storm.

Vazquez's firm has devised an improved breast pump for lactating mothers that she says will be able to extract more milk from women who cannot be present to breastfeed their babies due to reasons like work.

The pumps currently available on the market use only suction to extract milk, but a baby does more than just suckle to stimulate the flow of milk, Vazquez explained. While breastfeeding, the baby creates a physical and emotional bond with the mother, which the pump cannot achieve, and therefore, it cannot extract all the milk.

"So what we are doing is making a product that stimulates the production of milk like the way a baby does while breastfeeding," she said.

Only time will tell if Vazquez's product will revolutionize the natal care market or not, but there is one thing that is certain: She would not have been able to achieve what she has had she not come to China.

In March, she set up her store in the Huaqiangbei area of Shenzhen, a sprawling marketplace of electronic goods and components that attracts buyers in daily droves.

On the eighth floor above the stalls, there is the Shenzhen workshop of HAX, a US company investing in hardware start-ups based in Shenzhen and San Francisco.

The workshop is broken up into open-plan offices where young entrepreneurs like Vazquez are hard at work developing their first prototypes, using components from the electronic market downstairs.

Each year, HAX offers around 30 start-ups a free office in Shenzhen, expert support and seed funding worth $100,000. Nearly 1,000 startups vie to be chosen. Vazquez was among the lucky few.

But why Shenzhen?

Because, said Cyril Ebersweiler, founder of HAX, Shenzhen is like the US' Silicon Valley.

Shenzhen is known for its hardware expertise, thanks to its huge number of factories and resellers. It also has one of the world's most developed hardware industry chains and abundant intellectual capital.

Huaqiangbei, dubbed "China's No. 1 electronics street," is home to a wide range of electronic components that bolster and inspire innovation.

"We got inspiration from headphones, from speakers, from things you would not necessarily think about, and I think that is how a unique place is able to do that," Vazquez said.

Asif Khan, another HAX protégé from Canada who is working on a new molding technology that will help manufacturers adjust their moldings quickly and easily, pointed out that the other advantages of Shenzhen lie in fledgling firms.

"It takes seven weeks to make a prototype in Canada, while in China, they could finish it in less than a week, [at] one-fifth the cost," he said. "The low cost of production means lower trial mistake costs, which allows me to fully try out new ideas."

Path to prosperity

After a four-month acceleration period for new start-ups in Shenzhen, the products they design mark the start of a new journey. It will lead to the upgrading of their first products, with the successful ones likely to catch the eye of global investors, helping them improve production and expand in the market.

OpenTrons, which makes robots for biologists, has left its start-up days in 2013. However, it still has a base in Shenzhen to conduct the hardware aspect of the business, like calibrating its pipetting robots, robots that do the liquid-handling in laboratories. It sells its robots to labs in 38 countries and regions.

The start-up's American founder Will Canine praised the spirit of "open innovation" in Shenzhen, saying it is the only way to compete globally in the 21st century.

"The Shenzhen way is to share and build on one another's designs, always striving to be the best, fastest, most innovative design," Canine said. "This open competitive environment is a great way to keep technology advancing quickly, and also ensures customers are benefiting from innovation immediately."

"I hope more people in the United States will start following Shenzhen's innovative example," he said.