China launches toughest-ever combat against pollution
Global Times
1526827488000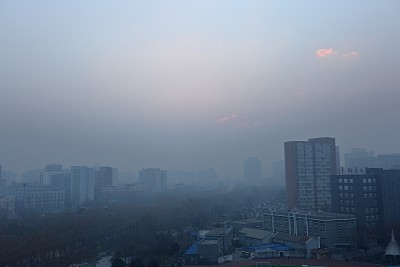 (File photo: VCG)
Ecological risk was declared a national security issue as China launched its "toughest-ever" combat against air, water and soil pollution toward a "Beautiful China" by 2035 in a move hailed by analysts on Sunday as providing strong impetus toward global governance.
The nation must speed up construction of an ecological civilization system to ensure that by 2035 there will be a fundamental improvement in the quality of the environment and that the goal of building a Beautiful China will be basically attained, Chinese President Xi Jinping said at a national conference on environmental protection that ended Saturday.
Beautiful China is part of a global mission of building a beautiful earth, and the meeting, the highest-ever for such a conference, showcased the leadership's determination with clear goals set, said Li Junsheng, deputy director of the research center for eco-environmental science at the Chinese Research Academy of Environmental Sciences in Beijing.
China has held seven national environmental protection meetings since the first in 1973 and the latest in 2011, according to the website of the Ministry of Ecology and Environment.
While stressing ecology and the environment is a "significant political issue," Xi also called for effective prevention of ecological and environmental risks, calling ecological and environmental security an important part of national security.
Ecological crises like smog, unregulated incinerators and fatal natural disasters can trigger turmoil as they directly relate to people's lives, Li said.
China has reached an inflection point in air, water and soil pollution control, Ma Jun, director of the Beijing-based Institute of Public and Environmental Affairs, told the Global Times.
Major achievements have been seen but the current situation is still challenging and could render previous efforts in vain, Ma said.
The surface water in 73 Chinese cities failed to reach the official national standard in a survey published on the website of the Ministry of Ecology and Environment on Tuesday.
In 2017, 99 cities out of 338 met the national standard for air pollution control, Li Ganjie, minister of the ecology and the environment, said in April.
Meeting participants vowed to protect ecology and the environment with the "toughest-ever" law and administrative measures, pledging lifelong responsibility for those Party and government officials who damaged the environment.
A two-year environmental inspection has led to 18,199 officials being punished for failing to control pollution, 1,527 detained and over 1.4 billion yuan ($219 million) in fines, according to data released by the ministry in June last year.
In the future, the market and the public will play an increasingly important role in pollution control, Ma said, citing preferential loans and capital support toward environmentally friendly business as examples.
Bigger role
China will also push forward building a fair, reasonable and win-win global climate governance system in promoting the building of a community with a shared future for humanity, Xi said.
China was expected to play a leading role in the global governance of ecological protection, especially after the US withdrew from the Paris Agreement on climate change, Ma told the Global Times.
"Efforts to tackle climate change and balance the relationship between the economy, ecology and the environment are no longer limited as a domestic issue, but also as a national strategy relevant to China's international image and role in global governance," Ma said.
China has been contributing new modes of ecological governance to the world, especially developing countries, said Li, the deputy director at the environmental research academy.
For instance, China has made huge efforts and seen progress in protecting biodiversity including national parks for pandas, Siberian tigers and the Amur leopard, he noted.