Two McDonald's branches in Shanghai probed over food health scare
Global Times
1512503459000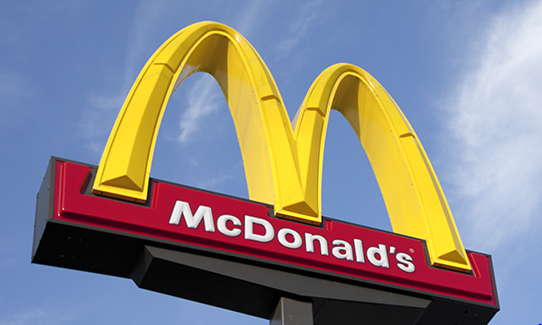 Fast food chain McDonald's denied on Monday night that its fried dough sticks contained chemical substances that could cause cardiovascular disease, after food in two of its Shanghai branches were said to contain diethylhexyl phthalate (DEHP).
McDonald's issued a statement saying that it was taking the incident seriously, and that further checks confirmed that no DEHP was added to the fried dough sticks or their packaging during the production process. It added that it would take further steps to determine the truth, the Nanfang Daily reported.
In a joint report issued by the Shanghai Consumer Council and the Shanghai Municipal Food and Drug Administration on Monday, data indicated that fried dough sticks in the Kongjiang branch were found to contain 1.35 milligrams of DEHP per kilogram, just short of the temporarily permissible limit of 1.5 milligrams per kilogram enacted by the National Health and Family Planning Commission.
Excessive intake of products with DEHP may cause children to be confused about their sex, lead to premature puberty, lower reproductive ability and an increase in cardiovascular diseases.
It is not the first time that McDonald's has had to deal with food safety problems. In July, McDonald's was forced to clarify its food safety policy after reports and photos of a moldy ice cream machine at one outlet in the US went viral on the Internet.
"The component showed in online images is used for holding the lubricant that might drop during the operation of the ice cream machine. The component is totally separate from the milk," McDonald's China said in a statement published on Sina Weibo.