Commissioner's office offers help to HK people on cruise ship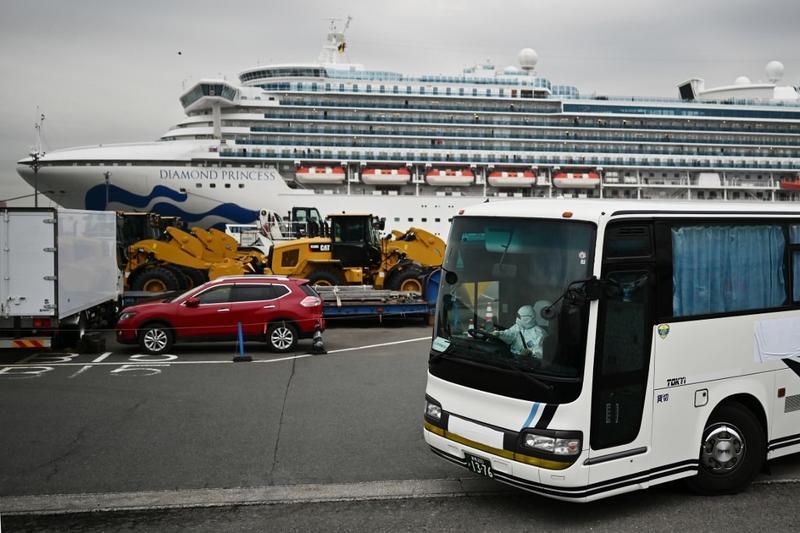 A bus with a driver wearing full protective gear departs from the dockside next to the Diamond Princess cruise ship at the Daikoku Pier Cruise Terminal in Yokohama port, Japan, on Feb 14, 2020. (Photo: Agencies)
The Commissioner's Office of the Ministry of Foreign Affairs in the Hong Kong Special Administrative Region said on Friday that it would extend full assistance to Hong Kong residents under quarantine on board the Diamond Princess cruise ship, which has been docked at Yokohama in Japan since Feb 5 for a 14-day quarantine.
As of Thursday, 218 people on board were confirmed to have been infected with the novel coronavirus, including 11 from Hong Kong. Japan's Ministry of Health, Labour and Welfare is still screening passengers on board for the virus.
In a meeting with Hong Kong legislator Vincent Cheng Wing-shun, who sought assistance on behalf of the stranded Hong Kong passengers, Deputy Commissioner Song Ru'an said his office attaches great importance to the difficulties encountered by Hong Kong compatriots on board.
Head of the office Xie Feng has given the instruction to provide full support to them, Song said. Officials from the office, together with those from the SAR's Immigration Department and the Chinese Embassy in Japan, have made extensive efforts to assist Chinese citizens, including Hong Kong residents, on board since the first day of their quarantine, Song said.
Apart from contacting Hong Kong compatriots on board, officials have also requested the Japanese authorities to protect their legitimate rights, proactively resolving their difficulties such as assess to daily medicine, and visiting infected patients, Song said.
A special task force of the SAR's Immigration Department has arrived in Japan, he added.
"They are not stuck in an isolated island," Song said. "We keep caring about their well-being. We will enhance communication and collaboration with the SAR government and the Chinese Embassy in Japan to facilitate their safe return as soon as possible."
Song hoped Cheng, and his party the Democratic Alliance for the Betterment and Progress of Hong Kong, could remain in contact with Hong Kong passengers to help put their minds at ease.
According to multiple reports, the quarantine will end on Wednesday the soonest.
There are about 3,700 passengers on board Diamond Princess, including 260 HKSAR passport holders. Japanese authorities ordered the quarantine after an 80-year-old Hong Kong resident, who was on board the ship from Jan 20 to 25, was confirmed to be infected with the novel coronavirus on Feb 1 after returning to Hong Kong.