Universities and hospitals ramp up trash-sorting efforts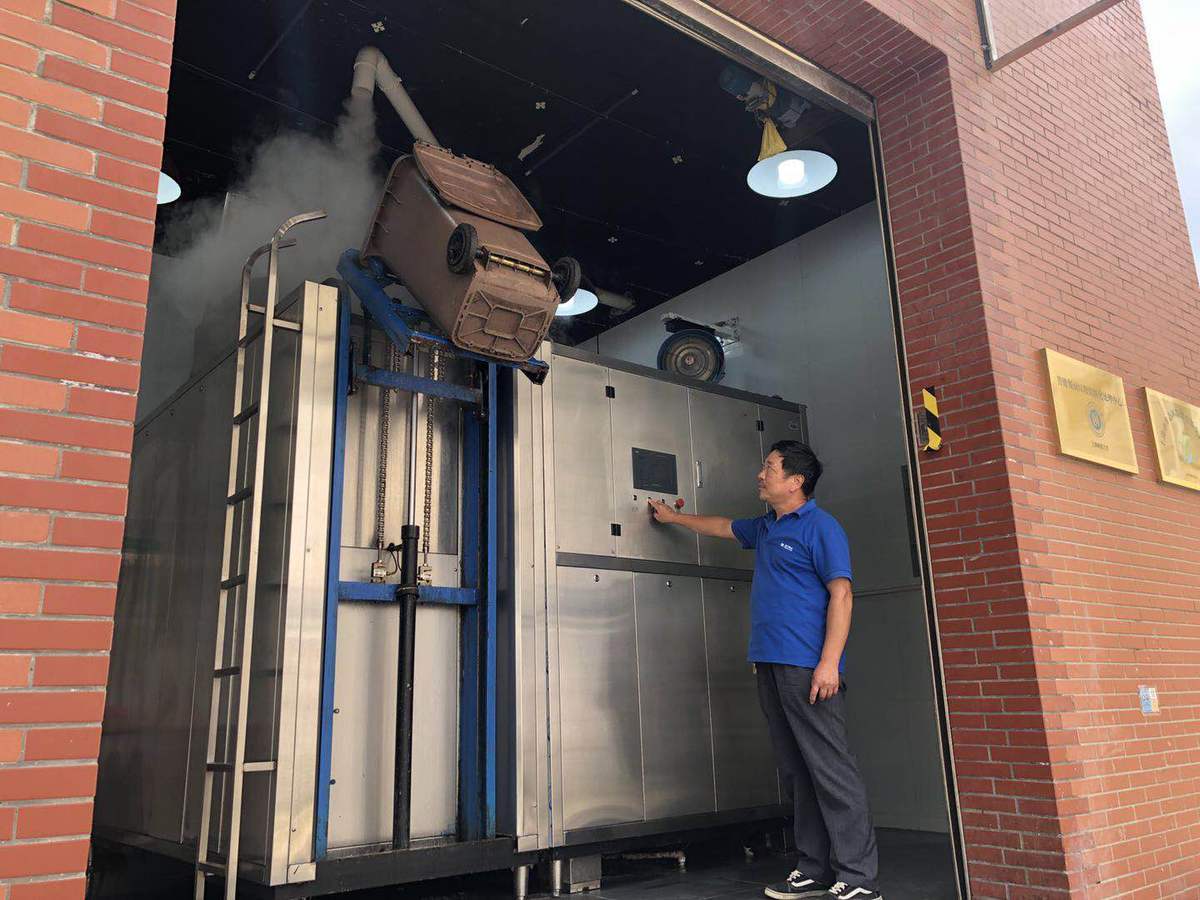 A worker operates a kitchen waste processor in Shanghai Normal University. (Photo: chinadaily.com.cn)
Universities and hospitals in the city have been making efforts to guarantee full coverage of garbage classification sites.
For example, Shanghai General Hospital in Hongkou district has set up a container for the disposal of cotton swabs beside the window for blood tests and installed a new bin with ultraviolet sterilization capability for the collection of masks.
In addition, the hospital has installed a smart screen in its lobby to show an educational video about how one should go about separating medical waste. There is also a system that people can refer to when they are unclear about where they should discard their waste.
"Trash-sorting is difficult to implement at hospitals because people don't have the sense of separating medical waste and general trash," said Shi Hui, deputy director of the office of the hospital.
At Ruijin Hospital, staff have organized sessions to familiarize themselves with trash-sorting regulations and handed out flyers to patients.
Shen Yiping, deputy director of the office at Ruijin, said that compared with June last year, the amount of food waste collected daily has increased from 440 kilograms to 2,400 kg, while the amount of recyclables collected daily has increased from 590 kg to 736 kg. Overall daily garbage dropped to 10,000 kg from 13,750 kg a day.
Meanwhile, Zhang Xu, an official with the municipal education commission, said that pamphlets containing information about Shanghai's trash sorting program have been disseminated together with university acceptance letters to incoming students.
At Shanghai Normal University, students have also devised innovative ways to incorporate trash sorting into their areas of studies. For instance, students at the College of Information, Mechanical and Electrical Engineering designed a trash bin equipped with a visual identification system that can separate different kinds of trash.
Over at the university's School of Humanities, graduate student Xu Lixun has written a 30-minute show on trash sorting which has been performed about 30 times in the city.
At the dormitories, students have designed and put up posters about environmental protection and garbage classification.
Student volunteers at the College of Education have also designed activities themed around trash sorting and encouraged the practice to students in primary and secondary schools.