China welcomes Trump's assurance of NK security
Global Times
1526681748000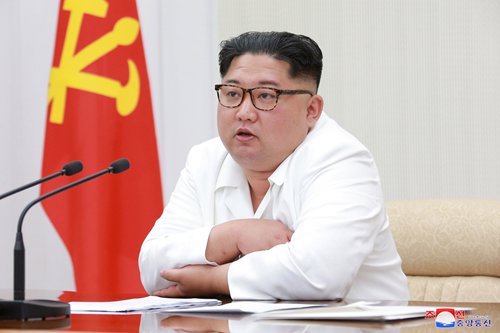 North Korean leader Kim Jong-un speaks at an expanded meeting of the seventh Central Military Commission of the Workers' Party of Korea (WPK), in this undated photo released by North Korea's Korean Central News Agency, in Pyongyang on Friday. North Korea on Wednesday threatened to suspend the summit with the US if Washington continues to demand a unilateral abandonment of its nuclear arsenal. (Photo: VCG)
China welcomes US expression of willingness to ensure North Korea's security, and urges both sides to shoulder their obligations to lead the peninsular nuclear issue toward a political solution, the Chinese Foreign Ministry said Friday.

US President Donald Trump sought on Thursday to placate North Korean leader Kim Jong-un after Pyongyang threatened to scrap an unprecedented summit, saying Kim's security would be guaranteed in any deal and his country would not suffer the fate of Libya's Muammar Gaddafi, unless that could not be reached, Reuters reported.

Chinese Foreign Ministry spokesperson Lu Kang praised the latest statement from Trump at a press conference on Friday.

Security is at the core of the peninsular issue, Lu said, and North Korea's concerns over security should be addressed during the denuclearization process.

Trump said he would not pursue the "Libya model" for North Korea's denuclearization process, and would not seek to depose Kim. The US pressured Gaddafi to give up nuclear weapons, but later supported Libyan rebels against Gaddafi's government, which led to Gaddafi's death during the civil war.

"This is the first time that Trump has made a clear statement, and it is a positive response to North Korea's unhappiness over the 'Libya model' John Bolton [Trump's national security adviser] had mentioned, and shows North Korea is not the only one begging for a summit," Lü Chao, a research fellow at the Liaoning Academy of Social Sciences, told the Global Times on Friday.

"He [Kim] would be there, he would be running his country, his country would be very rich," Trump told media.

Reciprocal action

On Wednesday, North Korea threatened to abandon the planned Kim-Trump meeting in Singapore in June if Washington insists on pushing it "into a corner" on nuclear disarmament.

A statement published by the state-run Korea Central News Agency (KCNA) said North Korea would never accept economic assistance from the US in exchange for unilaterally abandoning its nuclear program.

The KCNA statement referred to comments made by Bolton about the Libya model being a potential option for the denuclearization of North Korea. "The US was trying to make the situation look like its sanctions and military pressure caused Pyongyang to beg for the meeting. Even North Korea bent backward by demolishing its nuclear facilities and releasing US hostages," Lü said.

"Trump had made no compromise and continues to impose sanctions and conduct military drills. But both sides need the summit and a political settlement," Lü noted.

North Korea's moves toward denuclearization deserve a corresponding response from relevant parties, Lu Kang said on Thursday.

Significant moves from North Korea, including its announcement of a halt to nuclear tests and the dismantling of the Punggye-ri nuclear test site, show the country's goodwill in promoting the denuclearization of the Korean Peninsula and building mutual trust with relevant parties, Lu said at a regular press briefing on Thursday.

The moves deserve full appreciation and should be "encouraged, welcomed and supported" by the international community as well as receive reciprocal action from relevant sides, he said.

Trump won't give up the CVID (complete, verifiable and irreversible denuclearization) but for the summit to happen, he will likely show his flexibility on economic compensation and sanctions, said Cheng Xiaohe, an associate professor at the Renmin University of China's School of International Studies.
"Trump wants a summit with meaningful results, and the summit's schedule is unlikely to be affected, because if there is any delay, both sides will spend more time arranging a meeting, if they still want one," Cheng noted.