French artist explores arts in city
Shenzhen Daily
1602459161000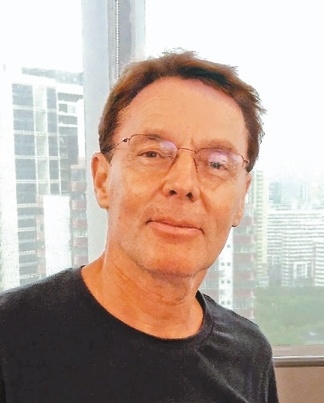 MICHEL SAJA is a familiar name to some local artists, as he is a regular participant in many local art events. This French artist's life experience in Shenzhen has not only given him the opportunity to explore his own art career, but has also enabled him to enjoy the city's art.
Born Michel Bertrand, Saja is no stranger to arts of fusion. Having lived in the city for nine years, he has done several interior designs for five-star hotels and institutions across China, taught students to create murals in local communities and has experimented with the fusion of art and music.
Inspired by Greek art and having received a formal education to become a painter, Saja prefers to draw figurative pictures with symbolic elements to express his philosophy of life. While he indulges in the link between human and nature, light and darkness, and human creation and nature creation, Saja has adopted Chinese traditional painting skills to his toolbox after relocating to the city. "I'm fond of traditional Chinese art and culture. I studied the painting skills after I moved to the city as an art director of a design company," said Saja. "The various art exhibitions in galleries and museums in the city have enriched my knowledge of Chinese art, and also helped shift my ways of creation."
Saja said the city has provided artists creative impulses and enjoyment.
"The city has provided us quality facilities. It has abundant art venues, art centers and art events around the year. Children have easy access to art education," said Saja.
"Modern art creations can also be discovered across the city. Various sculptures decorate parks, metro stations and other public spaces. Big malls also invite artists to create art installations. The city offers so much to citizens."
"I traveled to 37 countries, and I find Shenzhen is the best-designed city in the world. It is rewarding to live in the city as green belts, trees and parks are everywhere, and flowers bloom all year round. By riding bicycles on the lanes along the coast, you will revel in the beauty of the surroundings," he said.
Having enjoyed the art atmosphere in the city, Saja realized the city's art market was about to grow. He left the design company and joined an art center in Shenzhen's oil painting village — Dafen, where they offer children and adults an education in art.
Saja teaches students painting skills especially mural painting techniques during the day and plays instruments with friends at night. For him, there's no other place like the city where he can live care-free with his art.