World's only panda triplets turn four in Guangzhou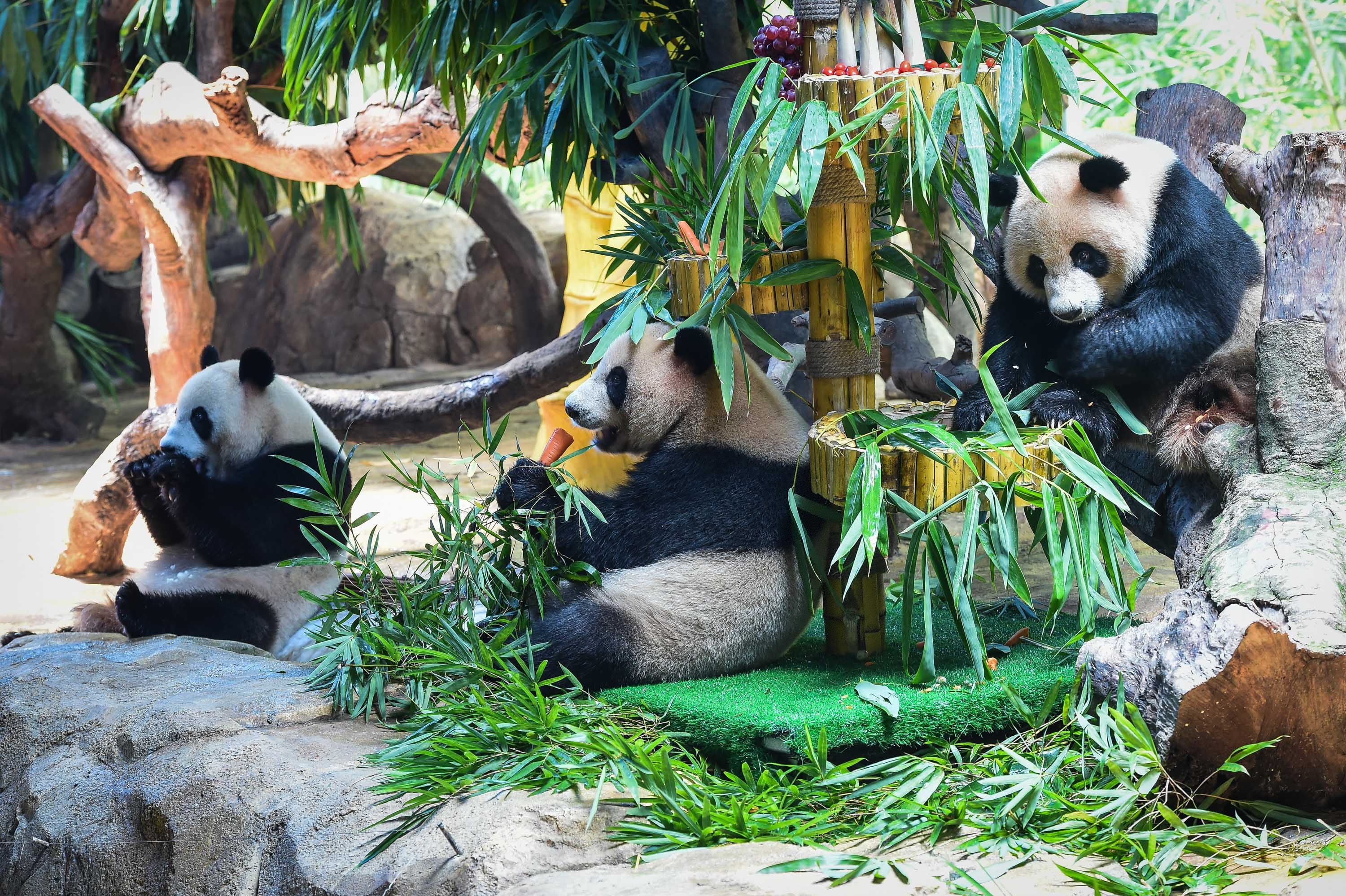 Triplet giant pandas Mengmeng, Shuaishuai and Kuku enjoy food in Chimelong Safari Park in Guangzhou, capital of south China's Guangdong province July 29, 2017. (Photo: Xinhua)
The world's only panda triplets, Mengmeng, Shuaishuai, and Kuku turned four Sunday in Chimelong Safari Park at South China's Guangzhou city, the capital of Guangdong province.

Hundreds of people, including families of triplets came for the celebration.
And the precious trio was feasted with a special birthday cake that made from bamboo shoots, apples, carrots, and grapes.
The three have gone from just around 100 grams when they were born to some 100 kilograms now.
Mengmeng, the big sister and the slenderest, is 90 kilograms, Shuangshuai weighs 123 kilograms and Kuku 118 kilograms. They are near average adult weight.
"We are constantly monitoring their growth, and all three are in a perfect shape that compared with their peers," said Chen Shuqing, the panda zookeeper, and conservation expert.
She said even though wild pandas mostly live in solitude, the three siblings are fine living in close quarters. Also if they have brawls, the fights are friendly sibling play.
And curators know how best to cut it out.
"There is a trick that never fails to stop their fight. Just give them food. They're real foodies, that's known to everyone now," said Chen.
She also makes sure they have a balanced diet. And apples, as it turns out, are guilty pleasures for the pandas.
"They like panda cakes best, of course, the apples and grapes. But these are refined foods for pandas. We make sure they stay with their staple, bamboo shoots," she told CGTN.
As human triplets have gathered to celebrate the birthday, they say pandas are real national treasures.
"It's just miraculous to see panda triplets! They are bigger than we thought," a visitor told CGTN. "It's rare enough for human triplets to be sighted, not to mention pandas."
Zookeepers also said the world's only panda triplets have their personalities now. The big sister is quiet and polite, while the two brothers are more feisty and loud.