Swindlers use fake IDs and fabricated stories to fool donors on crowdfunding sites
Global Times
1531252081000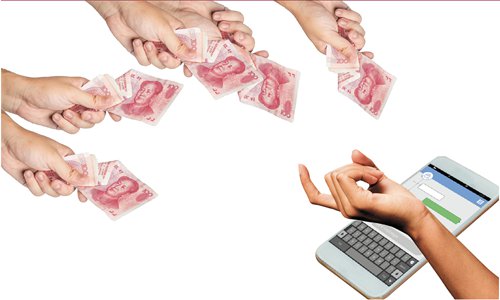 (Photo: Global Times)

An industrial chain of professional fraudsters is helping normal people use crowdfunding platforms to swindle the public
Fake identities and heartbreaking stories are carefully orchestrated and sold by unscrupulous businesses to draw public compassion

Authorities are standardizing the management of online crowdfunding to limit criminal activity

"Help save my child from fatal malnutrition." "Rescue a peasant family with financial burdens from a long-term battle with cancer." "Donate to my little brother because his life can't wait."

The first and second of these appeals from crowdfunding campaigns are real. But the third one might be fake, made up by an unscrupulous marketing team that is part of a chain of online businesses that help normal people with no special skills set up fraudulent fundraising appeals.

Convincing photos, official medical records and testimonials of friends and families - all of these elements can be purchased online. A carefully orchestrated fraud can be easily set up for less than a thousand yuan.

QFund is one of China's leading crowdfunding platforms, launched in August 2014. It provides a section for those battling against diseases and other health issues. Insurance in China often is not adequate to cover medical costs for severe conditions, so the need for help is real.

QFund was originally devoted to improving the lives of children who suffer from disabilities.

It has since expanded, and its main crowdfunding projects are categorized as medical emergencies, disaster relief, animal protection, poverty alleviation and education.

The platform has helped more than 1.6 million families raise over 20 billion yuan ($3.03 billion) in total.

QFund has an examination team that uses a rigorous disclosure and reporting system to filter out potential scams.

But with clear protocols comes clear paths to game the system, breeding an illegal industrial chain that "arranges" every single stage in the campaign applications.

Fake documents for fake stories

Step one is buying a fake ID card and fake medical certificate. QFund requires the applicants to provide the patient's identity authentication, medical diagnosis certificate and the identity card of the funding recipient, usually a relative.

Putting a keyword such as "hospital diagnoses" into the popular online shopping website Taobao can quickly find many private suppliers of false medical records.

Although disguising themselves as "translation agencies," the suppliers were very straightforward when this reporter asked for a "fake diagnosis." One supplier immediately sent over a prewritten template that includes the name, age, gender, illness description, address and telephone number.

The sample it provides looks no different from a hospital's real certificate, complete with professional descriptions scrawled just like a doctor's handwriting.

When learning of this reporter's intention to use the document for fundraising, some agencies refused and stopped the deal, while a few others sent over the bill - 360 yuan for a complete set of fake medical papers.

"You are not the first one coming to us for this purpose. I tell you that the materials I provided are enough to allow you to pass their check easily," one of the dealers nicknamed Zhangmoumou told the Global Times.

When a reporter of Southern Metropolis Daily uploaded the purchased materials to the QFund platform, they were accepted, allowing the application to proceed to the next step.

To get past the second step of the application process, users must upload their ID cards and photos of themselves holding the card. Such photos can be purchased for 20 yuan each. Additionally, the platform has a "real-name authentication" scheme, requiring the applicant's friends and relatives to verify the applicant's stories and experience.

However, friends and family members can be purchased from illegal business dealers hidden in social media platform QQ's group chats. Each verification costs 50 yuan.

After passing the verification process, the next step is to promote a fake story to attract people's sympathy and money.

The success of a fundraising campaign largely depends on the story's strength.

On Taobao, it is not hard to find businesses offering to package and promote the crowdfunding projects. The businesses normally employ different teams such as bloggers to design "a great story" and college students to spread the story, and charge a few hundred yuan.

Someone even launched a 75-minute training video promising to guide applicants on "How to raise 100,000 yuan in 35 hours using QFund." The video, which does not advocate fraud or lying, shows various tricks and techniques about how to produce a heartfelt story and promote it successfully.

Donors' disappointment

Criticism about online fundraising has been nonstop in China. People are not only skeptical of whether the fundraisers are telling the truth, but also of whether people with legitimate needs use the money properly.

This May, the family of Wang Fengya, a three-year-old baby girl who died from an eye tumor, was questioned by netizens for allegedly using the money raised for the girl on a fundraising platform to treat her brother's harelip instead. Even though the doubts were proved invalid later, the incident aroused discussion over fraudulant online fundraising and the duty of supervision from such platforms.

In 2015, media reported that parents of a sick baby girl came under fire for abusing money they received from crowdfunding. The parents of Luoluo, an 11-month-old girl hospitalized for a serious illness, collected over 100,000 yuan to cover the infant's medical expenses. Months after the tragic death of the girl, her parents posted photos of a vacation in Malaysia, drawing a storm of criticism.

Bianbian, a web user who donated 50 yuan to help Luoluo, told the Global Times, "After that, I could no longer believe in any online crowdfunding program. Even though I did not donate much, I felt deceived."

Bianbian suggested that QFund did not fulfill its responsibility of checking the reliability of the fundraising campaign and also the use of the donations.

QFund told the Global Times it welcomes skepticism and oversight from the public and media, and it is always extending ways to identify if a campaign is real or not.

Yu Liang, co-founder and chief operating officer of QFund, told the Global Times that if someone launches a fundraising campaign based on a true story but exaggerates the details or asks for too much money, a relative, friend or acquaintance is likely to report it, triggering an investigation.

If someone is paid to forward fake stories on their social networks, people will notice the stream of unrelated appeals, and ignore them or report it.

Yu said the platform is now encouraging direct payment of donations to hospitals. It has a team of volunteers that can investigate certain cases.

The company has also started using blockchain security features to track the data from fundraisers and prevent fraud.

Legal ambiguity

Although QFund would like to follow up and supervise how the funds raised on its platform are used, Yu said, "The lack of legal basis makes it impossible to track the personal donations."

Wang Weiwei, the senior partner of Beijing Zhongwen Law Firm, told the Global Times, "There is no denying that China's laws and regulations in this area are not mature enough."

He said most fundraising campaigns are launched by individuals, making them beyond the scope of China's first charity law, launched in 2016.

"Whether the platforms are managed improperly or not, it is difficult for donors to protect their rights based on the law."

However, people publishing fake information online can face criminal charges, Wang warned.

He pointed out that the government is starting to regulate the area. In August 2016, the Ministry of Civil Affairs examined 29 internet fundraising platforms, choosing 13 of them including Tencent Foundation and QFund to be listed in the first batch of eligible platforms.

In June, this was extended to 21 internet platforms.

This was seen as an effort to explore the standardized management of online crowdfunding. Unapproved companies that do crowdfunding face big fines.

Wang feels that crowdfunding should not be abandoned because some problems have come up. "We should be patient and confident in the development of non-public welfare undertakings," he said.

A person who is in charge of publicity at QFund but refused to reveal his name said that people should feel comfortable using crowdfunding platforms despite the risk of fraud.

"After all, fake cases are very rare," he said, noting that the platform will automatically refund donations if fraud is discovered.

He added that donation-based crowd funding is based on strong social relations, which are generally based on the contacts of the claimant.

"Mutual verification and endorsement between friends play a significant role and are an important source of trust," he said.