China improves Qinghai-Tibet railway, moves to benefit China-Nepal trade
Global Times
1530133632000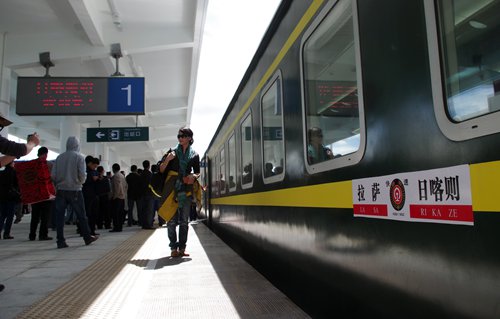 Passengers walk past a train stopping at the Xigaze Train Station in Southwest China's Tibet Autonomous Region. (Photo: VCG)
The Chinese government is beefing up efforts to update construction of the Qinghai-Tibet railway, which experts say is a positive stimulus for trade between China and some South Asian countries like Nepal.

"The transport capacity of the Qinghai-Tibet railway has significantly improved since it was built, whether in terms of speed or load capacity," Song Zhongping, a military expert, told the Global Times on Wednesday.

The first phase of the railway, stretching from Xining, capital of Northwest China's Qinghai Province to Golmud, also in Qinghai, started operation in 1984, while the second phase, from Golmud to Lhasa, capital of Southwest China's Tibet Autonomous Region, was completed in 2006. The railway also links Tibet with cities like Beijing.

A blog post on xuite.net in May 2016 noted that in 2006, it took about 48 hours to travel by rail from Beijing to Lhasa. Now it takes about 40 hours, according to kyfw.12306.cn, the official railway ticket-buying website.

Data from a Xinhua report in June 2016 also showed that the railway handled 44 million tons of freight and 23.4 million passenger trips in 2015, up from 24.9 million tons and 6.48 million passenger trips in 2006.

The rising capacity has been a result of the government's years-long efforts to update the railway, with the recent measure being the use of domestic locomotives in the Golmud-Lhasa section. In the past, locomotives made by US-based GE Transportation had been used on the section since 2006, the company confirmed to the Global Times Wednesday.

Currently, the HXN3 locomotives produced by CRRC Dalian Co are working with the GE locomotives on the railway as part of a transition period, but the government wants to gradually replace all US locomotives with domestic ones in the future, as the US locomotives are "aging in performance," an expert at CRRC Dalian told the Global Times on condition of anonymity.

The expert noted that the domestic locomotive won't largely increase trains' speed, but it will make train operations more stable because of better bogie technology.

Data provided by both GE and CRRC Dalian showed that their locomotives for the railway both operate at a maximum speed of 120 kilometers per hour.

The government has taken other measures in recent years, such as changing the railroad tracks for the Golmud-Lhasa section as well as adding new stations along the route, according to media reports.

Experts said that updating the Qinghai-Tibet railway might significantly boost China's trade with Nepal, as the two countries are working on extending the railway into Nepal.

Media reports last week noted that China will build a railway connecting the western region of Tibet with Nepal, one of several bilateral deals signed during Nepali Prime Minister Khadga Prasad Sharma Oli's visit to Beijing. The link, an extension of the Qinghai-Tibet railway, will connect the Tibetan city of Xigaze with Nepal's capital.

Zhao Gancheng, director of the Shanghai Institute for International Studies' Center for Asia-Pacific Studies, said that currently most Sino-Nepal trade is done via highways.

"But train transport is not only cheaper but also less sensitive to natural conditions," he said.

Xigaze is about 100 kilometers from Doklam, a border region between China and India. The government construction of the Qinghai-Tibet railway has raised some market speculation about whether Sino-Indian trade via railway can be boosted as a result.

But Song said for Sino-India trade, trains are not likely to replace sea transport, which is now the main mode of transport for trade between the countries and costs much less than other methods.

Zhao said that although there are several land ports between India and China, India has been cautious about the range of goods or amount of commodities that can be transported by land.