China vows strong countermeasures: MOC
People's Daily app
1529375109000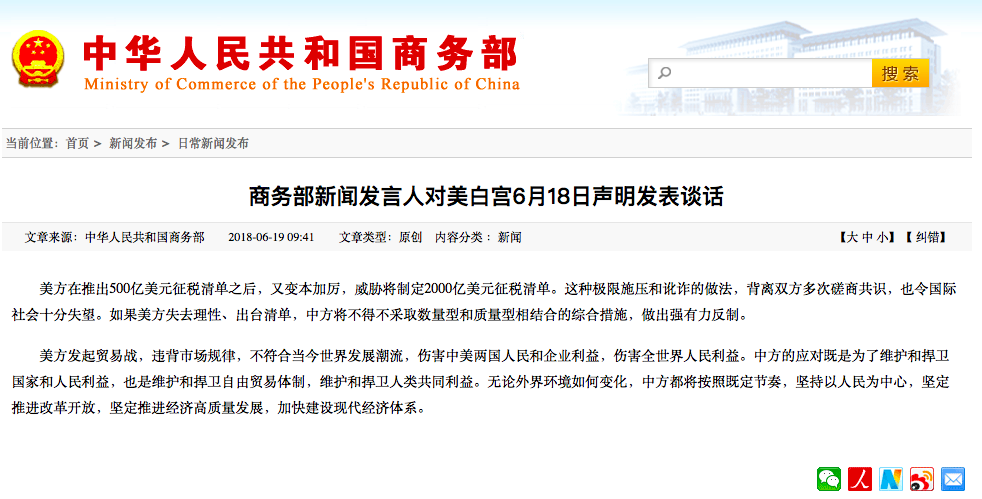 Screenshot of the statement released by the Chinese Ministry of Commerce Tuesday (File photo)
The Chinese Ministry of Commerce (MOC) vows strong retaliatory measures in a statement released on Tuesday morning to counter the US' additional $200 billion tariffs on Chinese products after it released a tariff policy worth $50 billion.
US President Donald Trump has requested the United States Trade Representative to identify $200 billion worth of Chinese goods for additional tariffs at a rate of 10 percent in retaliation for China's decision to raise tariffs on $50 billion in US goods, according to US media.
Such practice of imposing extreme pressure and blackmailing is contrary to the consensus the two sides have reached through rounds of consultations, and disappoints the international community, said the Chinese MOC's statement.
The statement vows that if the US loses its senses and releases the list, China will have to take a strong countermeasure equivalent to the amount and effect.
The US has violated market rules, turned against the development trend of the contemporary world, and has harmed the interests of the people in the two countries, the enterprises of both countries, as well the rest of the world by waging a trade war.
China's response is to safeguard the legitimate benefits of the country and people, protect and defend the free trade mechanism, as well as protect the common interests of human kind, said the statement.
In the end of the statement, the MOC expressed that no matter how external environment changes, China will follow its established rhythm, stick to the vision of making development people-centered, resolutely advance reform and opening up, resolutely promote high-quality economic development, and accelerate the development of a modern economy.
(With inputs from Xinhua)