Cargo throughput of Guigang port exceeds 100 million tons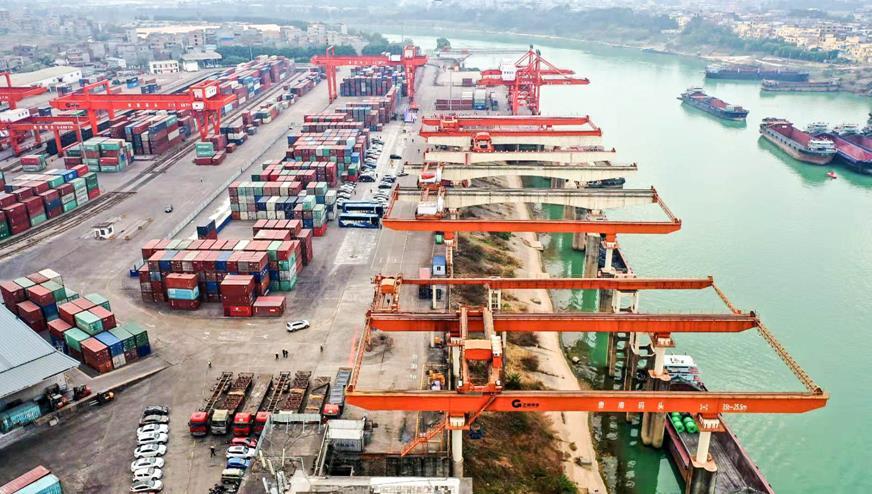 The release ceremony marking cargo throughput of Guigang Port exceeding 100 million tons was held at the Beibu Gulf Port container terminal on Tuesday.
In 2020, cargo throughput of Guigang port exceeded 100 million tons, reaching 105.52 million tons.
Guigang Port is in the midstream of the Xijiang shipping trunk line. It is divided into three ports: Central Port, Guiping Port and Pingnan Port. In the past five years, Guigang city has invested 31.8 billion yuan ($4.9 billion) to strengthen its shipping infrastructure. For now, Guigang Port has 155 cargo terminal berths, with an annual throughput capacity of 70 million tons.
At present, the port is navigable by 3,000-ton ships all year round and container liner has realized a "daily shift ". With the help of the "water highway" Xijiang, the logistics of Guigang Port cover the Pearl River Delta, Yungui and other places, and transship goods to Dalian, Shanghai, Fuzhou and other major ports in the country and Southeast Asia.
"Cargo throughput of Guigang Port exceeding 100 million tons in 2020, a juncture where China will wrap up the plan for the 13th Five-Year Plan period. It is an important breakthrough in the development of water transport in Guigang City," said the mayor of Guigang, He Huichun. "Guigang will transform road transport to water transport and carry out inter-modality to promote the development of large-scale and professional ships."