New rice strains offer brighter future for nomadic herders in Xinjiang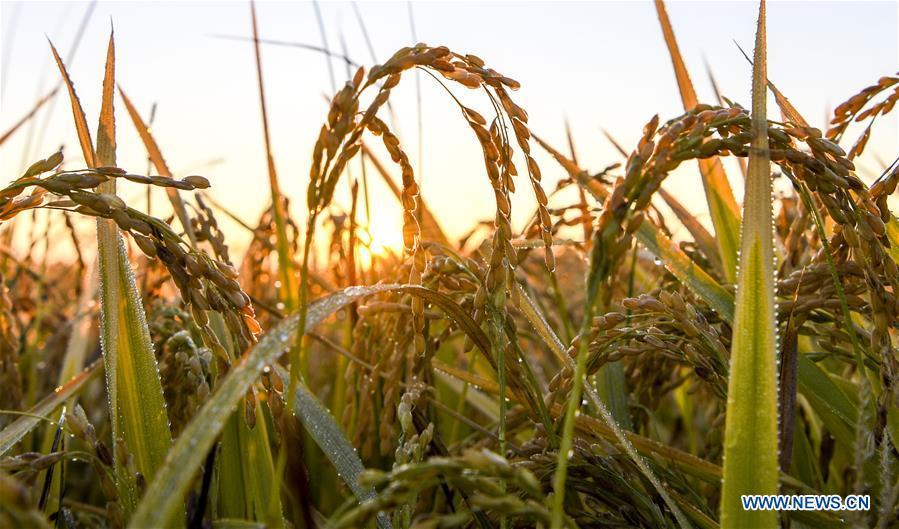 Photo taken on Sept 26, 2018 shows rice crops ready for harvest in Qapqal Xibe autonomous county, Northwest China's Xinjiang Uygur autonomous region. (Photo: Xinhua)
Large swathes of barren salty land in Akto county, in the southwest of the Xinjiang Uygur autonomous region, were close to worthless for members of the nomadic Kirgiz ethnic group.
However, this year more than 660 hectares of saline-alkaline soil are being cultivated with new rice varieties that can tolerate high salt concentrations in soil, putting the nomadic herders on track to embrace a more secure way of life.
The area planted with such rice strains in Akto will eventually be expanded to about 6,667 hectares to diversify sources of income for the traditional herders and foster the development of a production model that combines herding with farming, said Mi Tiezhu, deputy director of the Qingdao Saline-Alkali Tolerant Rice Research and Development Center, which is based in Qingdao, Shandong province.
Akto is just one of many regions across China pinning their hopes on saline-alkaline tolerant rice to transform arid, salty areas into productive rice fields, and the prospects for scaling up cultivation of the advanced rice strains have never been brighter.
Nationwide, about 1,300 hectares of experimental fields sown with the resilient rice strains have averaged yields of nearly 6 metric tons per hectare, crossing the threshold that determines if total profits gained from selling rice can balance out production costs, Mi said.
"In addition to the expanding fields in Xinjiang, in Inner Mongolia autonomous region, the Tumd Left Banner of Hohhot and the Hanggin Banner of Ordos will each see nearly 10,000 mu (667 hectares) of salty land being planted with the highly tolerant rice seeds this year," he said.
The two banners-similar to counties in terms of administrative level-are home to thousands of hectares of saline-alkali soil.
Trial planting on a smaller scale will also be carried out in South China, including Beihai in the Guangxi Zhuang autonomous region, to test the tolerance of rice strains in infertile soil in coastal areas.
"From the very beginning, our goal has been to achieve commercialization of the technology, and the improved average output is a key determinant and will accelerate commercial production in the future," Mi said.
The average output has already outstripped goals set three years ago by renowned Chinese agricultural scientist Yuan Longping.
During the Fourth International Saline-Alkali Tolerant Rice Forum held last week in Sanya, Hainan province, Yuan, who is also a chief scientist of the R& D center, lauded the progress.
"Crops planted in test fields in Dongying, Shandong province, are capable of yielding as much as 11.99 tons per hectare," he said.
"In Taizhou, Zhejiang province, the average output was about 10 tons per hectare despite an onslaught of typhoons.
"The momentum of improvement is truly miraculous."
To further facilitate use of the new rice strains, research into effective processing and sales methods that will help maximize profits for farmers is also underway.
"The age-old image of one lone laborer tending to small parcels of land is no longer applicable," Mi said.
Applications to agriculture authorities for certification for several saline-alkaline tolerant rice strains are in the pipeline.
Mi said about three to five strains are expected to be approved early this year, meaning "more people and enterprises can access this innovation".