China's Bordeaux: The Liquor Golden Triangle on the upper reach of Yangtze River
People's Daily online
1532917522000
In the border region of Southwest China's Guizhou and Sichuan Province, three major cities of Yibin, Luzhou and Zunyi – home to some of the country's landmark liquor brands, such as Moutai, Wuliangye, Langjiu and Luzhou Laojiao - are now building up in the region to create a Liquor Golden Triangle, as the Chinese equivalent of the French Bordeaux region.
A statue of a wine gobblet stands on the street of Luzhou, southwest China's Sichuan province. (Photo by Yang Yang/People's Daily Online)
Good water brews good wine
Although grain-based spirit, or baijiu, is produced throughout China, the triangle region accounts for the largest proportion of production facilities and baijiu distilleries.
Situated in the Sichuan Basin, the region's subtropical climate, humid weather, clean water, rich soil and basin landscape create ideal environment for brewing good baijiu made from sorghum, wheat or rice, forming centuries-old of wine culture and tradition of brewing history.
As the Chinese saying goes, good wine is brewed where there is good water. Since the Tuo River, Chishui River, Min River and the Yangtze River all flow through the triangle area, its abundant and clean water resource serves as fundamental material for wine making in the area.
"This natural environment is a special ecosystem with various contributing factors and therefore is unduplicated and inimitable, " said Peng Zhifu, deputy Chief Manager of liquor giant Wuliangye Group Co Ltd in Yibin.
"Moutai would not have existed without the healthy ecosystem along the Chishui River. The river is Moutai's life," agreed Li Baofang, chairman and general manager of Moutai Group in Guizhou. Bacterial and archaeal diversities in Maotai section of the Chishui River and the grain cultivated with the river water produce the unique flavor of Moutai.
The precious ecosystem that breeds the wine is also under careful protection by these companies along with local authorities.
In an effort to protect the ecosystem along the river, Moutai company has invested 468 million yuan to build five sewage-processing plants with an annual capacity of over two million tons.
Since 2006, Luzhou began to build the China Liquor Golden Triangle Wine Industry Park, inviting in qualified upstream and downstream enterprises related to the liquor industry. The industrial cluster enjoys joint and standardized improvements in sorghum planting, wine brewing, wine storage, packaging, supply and logistics distribution. Meanwhile, by providing infrastructure and supporting services such as sewage-processing plants and national-standard quality supervision center at the industry park, it also helps guarantee that the whole chain is eco-friendly.
For the local cultivation of high-quality glutinous Southern Red Sorghum, a particular grain used as the raw material to make spirit, currently major wine companies such as Luzhou Laojiao ("laojiao" means "old cellar"), a well-known Luzhou-based baijiu producer, have started to build their own organic raw material base, a move not only help protect the quality of spirit products, but also to promote local agricultural industry, helping farmers to increase their incomes.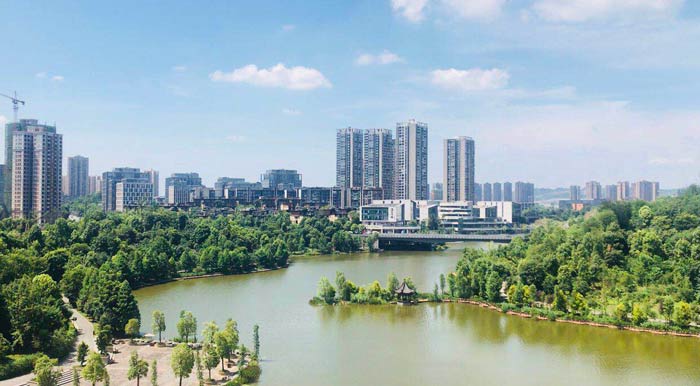 City view of Luzhou, Sichuan. (Photo by Yang Yang/People's Daily Online)
Wine culture, another business card
The history of baijiu brewing along the Yangtze River dates back to centuries ago when history record of Tang Dynasty (618-907AD), while the nation's wine drinking history can be traced back even further to Shang Dynasty (1600-1046BC).
Baijiu, the most famous kind of liquor and spirits in China, rules almost every festive occasion in China, where it's the tipple of choice for everything from wedding receptions to business banquets. Many ancient Chinese poets such as Li Bai and Du Fu also had their legendary life and all-time popular works associated with drinking baijiu.
The unique wine culture has made the companies' brewing techniques and materials a must-see for tourists traveling in the region. They are also listed as national intangible cultural heritage.
Luzhou Laojiao is one of the oldest producers in the triangle region, whose biggest attraction is its legendary liquor cellars, which dates back to the year of 1537.
Using techniques and even brewing pits that originated in the Ming (1368-1644 AD) and Qing (1644-1911 AD) dynasties, the brand continues to make baijiu the same way 23 generations later.
"The older the cellar is, the better the brewed liquor is," said Zeng Na, the 23rd generation inheritor of Baijiu tasting at Luzhou Old Cellar.
By 2013, the city of Luzhou has 1,615 century-old brewing cellars, 16 baijiu workshops which date back to the Ming and Qing dynasties, and 3 natural wine caves, making the city a special tourism destination for wine culture experience.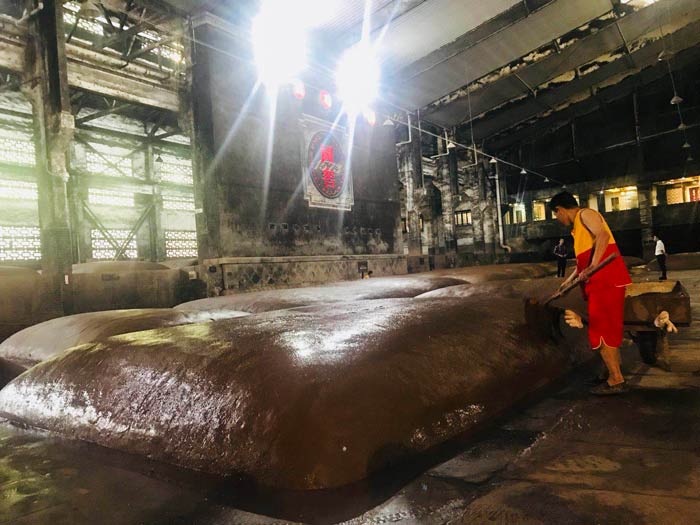 A worker inside a cellar of a wine maker in Luzhou, Sichuan. (Photo by Yang Yang/People's Daily Online)
Baijiu going global
Although it is the most widely drunk hard liquor in the world, baijiu takes up less than 10 percent of the global market and is rarely found on cocktail menus along with other spirit.
In an effort to attract a wider range of consumers, especially in the overseas market, Chinese wine makers are introducing new technology and creativities products besides carrying on the ancient tradition of wine brewing.
In Yibin, the home city of Wuliangye, an academy has been set up to train talents for the industry, while in Luzhou Laojiao, wine taste masters like Zeng Na are developing spirit and fruit juice mixed cocktails to cater the lighter taste of beginners.
In recent years, Luzhou Laojiao has been dedicated to rejuvenating the fine traditional Chinese culture and promoting the spread of traditional culture on a global scale.
In 2017, Luzhou Laojiao launched a series of global charity events such as Guojiao 1573 "Let the World Feel the Taste of China" and an international poetry culture conference, and actively participated in the national events to promote the outstanding Chinese traditional culture on the world stage.
"Foreign markets are still wide-open for Chinese liquor producers, and Chinese baijiu will make a breakthrough in the global market in the next five to ten years," said Lin Feng, general Manager of Luzhou Laojiao.