Xi arrives in Senegal for state visit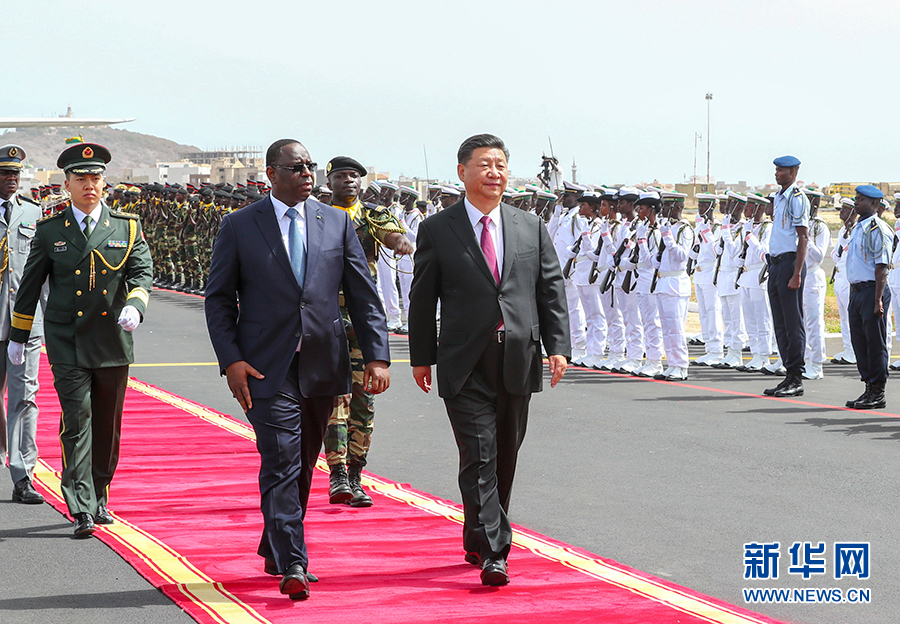 Chinese President Xi Jinping, accompanied by Senegalese President Macky Sall, reviews the guard of honor during a grand welcome ceremony in Dakar, Senegal, July 21, 2018.(Photo: Xinhua)
President Xi Jinping arrived here Saturday for the first state visit to Senegal by a Chinese head of state in nine years.
Xi and his wife, Peng Liyuan, were warmly received by Senegalese President Macky Sall and his wife Marieme, as well as Prime Minister Mohammed Dionne at the airport.

Sall held a grand welcome ceremony in Xi's honor.

Xi, on behalf of the Chinese government and the people, conveyed cordial greetings and good wishes to the government and the people of Senegal.

He said it is his fourth visit to Africa since he assumed office as Chinese president in 2013, and that Senegal is the first stop of his ongoing African tour and his first visit to a West African country as Chinese president.

China and Senegal are good friends and good partners, he said, adding that in recent years, bilateral relations have enjoyed rapid development with fruitful results in cooperation in various areas.

China and Senegal, he said, have witnessed close political exchanges, ever increasing mutual trust, steady advancement of mutually beneficial cooperation, rich and colorful cultural and people-to-people exchanges and close coordination and cooperation on regional and international affairs.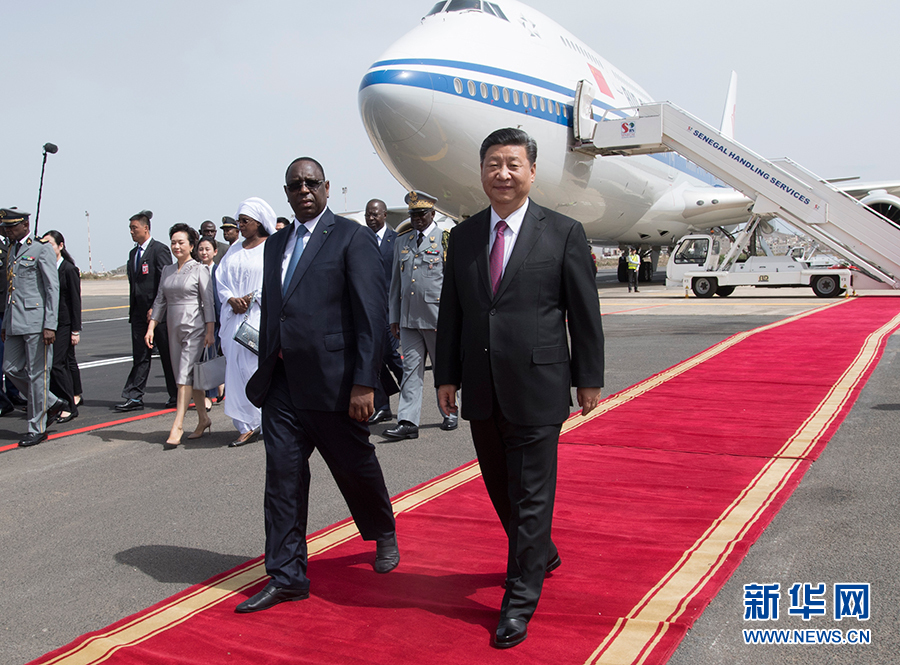 Chinese President Xi Jinping, accompanied by Senegalese President Macky Sall, reviews the guard of honor during a grand welcome ceremony in Dakar, Senegal, July 21, 2018.(Photo: Xinhua)
Xi noted that he and Sall agreed to elevate the two countries' ties to a comprehensive strategic cooperative partnership and reached many consensuses on expanding bilateral cooperation in 2016.

The Chinese president said he was glad to see that those consensuses have been implemented step by step to the benefit of the two peoples.

He said he looks forward to having an in-depth exchange of views with Sall on bilateral relations and regional and international affairs of mutual concern.

Sall extended warm welcome to Xi on behalf of the Senegalese government and the people. He said the arrangements of Xi's visit testify that the Chinese side attaches great importance to its relations with Senegal.

The visit will play an important role in promoting the development of Senegal-China relations, as well as Africa-China ties, Sall said.

China has made remarkable achievements in development, he said, adding that his country looks forward to learning more from China's success and deepening cooperation between the two countries.

The Chinese president arrived in Senegal after finishing his state visit to the United Arab Emirates (UAE) on Saturday. Crown Prince of Abu Dhabi Sheikh Mohammed bin Zayed Al Nahyan, leading ministers and members of the royal family saw him off at the airport.

Calling the visit to the UAE a complete success, Xi said upon departure that it further consolidated and lifted the friendly relations between the two countries and deepened the friendship between the two peoples.

Xi said he believes the UAE will make greater achievements in national construction, and that China is ready to constantly deepen practical cooperation with the country and advance their comprehensive strategic partnership.

The Crown Prince of Abu Dhabi said the visit will further promote the mutually beneficial cooperation between the UAE and China. He wished China prosperity and progress.

Senegal is the second stop in Xi's first overseas trip after being re-elected Chinese president in March. He has already visited the UAE and will pay state visits to Rwanda and South Africa, attend the 10th BRICS summit in Johannesburg, and visit Mauritius during a stopover.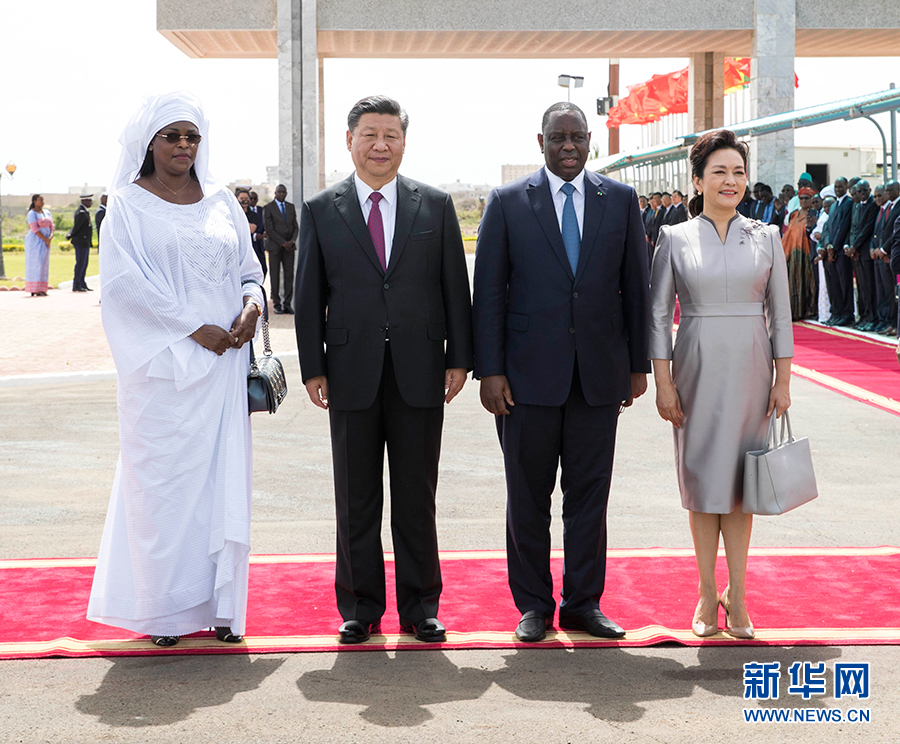 (Photo: Xinhua)