Asymptomatic cases continue to be found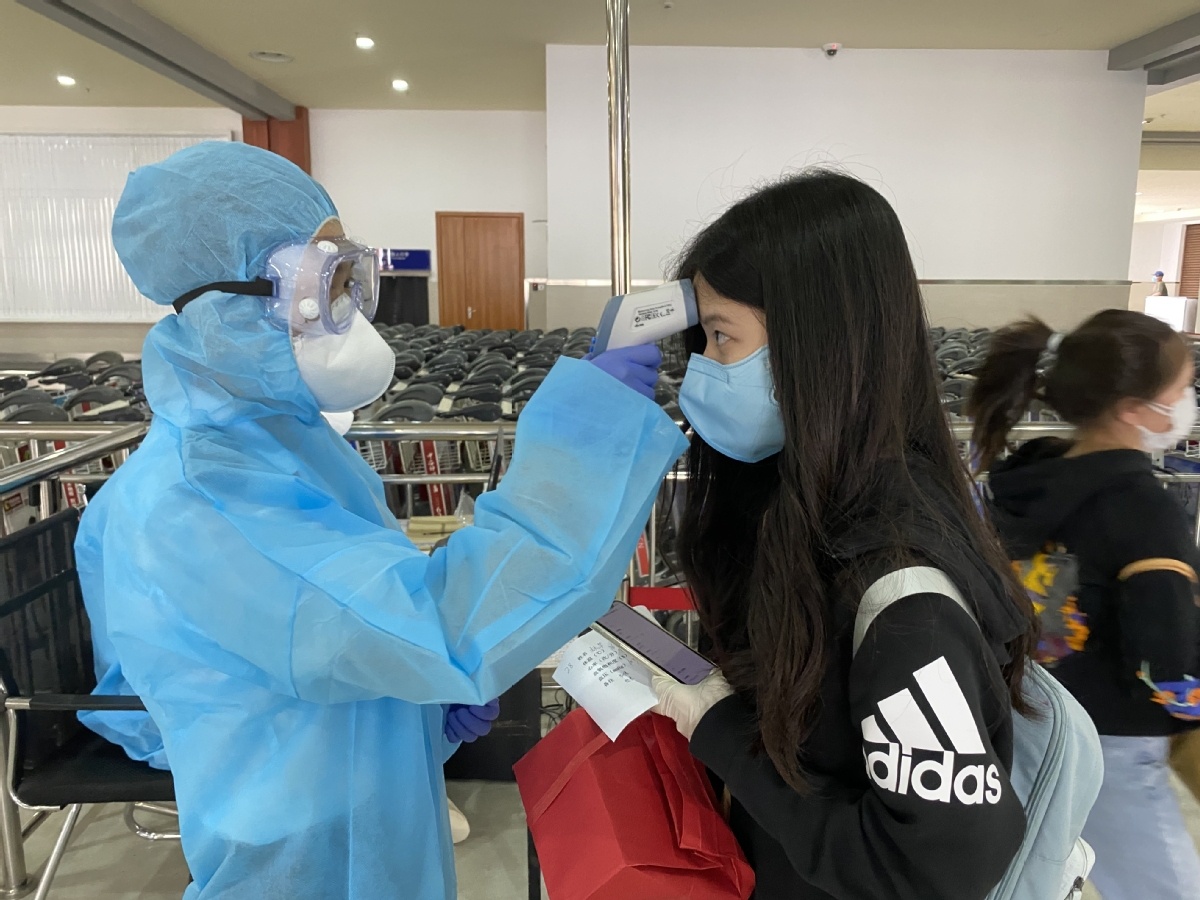 An airport worker checks the temperature of a passenger at Sanya Phoenix International Airport on the morning of April 8, 2020. (Photo: China Daily)
Likelihood of fresh outbreak triggered by such infections is low, experts say
Wuhan, Hubei province, said it had detected 447 asymptomatic cases from March 23 to April 10, though no new infections were found among their close contacts.
In addition, a screening program targeting over 143,000 local workers who have recently resumed work shows that 113, or 0.08 percent of them, are infected but asymptomatic, the Wuhan city health commission said on Sunday.
Nationwide, the Chinese mainland reported 61 new asymptomatic cases on Sunday, including 12 cases found in overseas arrivals. A total of 1,064 symptom-free cases were under medical observation, according to the National Health Commission.
While the data speaks to the threat of people who are infected but show no symptoms, experts have said that the likelihood of a fresh outbreak triggered by such cases is low.
"Whether asymptomatic individuals will cause a virus rebound is up to the strength and scale of epidemic control work. If taken lightly, a small number of them are likely to lead to wider transmission, but if we pay great attention to them and take solid management measures, asymptomatic cases will not be an issue," Li Qun, head of the Chinese Center for Disease Control and Prevention's emergency operations unit, told Xinhua News Agency.
China has attached great significance to curbing the spread of the virus carried by asymptomatic individuals through strengthening monitoring, upgrading management procedures and launching targeted screening programs, according to Li.
Last week, the Joint Prevention and Control Mechanism of the State Council published a circular stressing that in addition to 14 days of centralized quarantine, asymptomatic cases, after being released, are required to self-isolate at home for another 14 days and visit hospitals for follow-up checks. Their close contacts will also face centralized quarantine.
"The handling of asymptomatic cases is aligned with confirmed cases. They will go through very strict quarantine and medical observations upon discovery," Li said.
Coupled with heightened control and monitoring in key regions, "we intend to find more undetected virus carriers and reduce the chances of them spreading the virus," he said.
Tong Zhaohui, vice-president of Beijing Chaoyang Hospital, added the existence of asymptomatic cases is a natural pattern of infectious diseases, occurring with measles, flu and SARS, which also belongs to the coronavirus family. No large outbreaks have been found to be caused by the asymptomatic group.
Health experts have also said multiple times that due to a lack of symptoms such as sneezing or coughing, the contagiousness of asymptomatic patients is believed to be weak.
However, Wei Sheng, an infectious disease professor with the Tongji Medical College's School of Public Health in Wuhan, noted that imported asymptomatic cases are much more infectious.
"For asymptomatic individuals in Wuhan, where a lockdown had been imposed for quite a long time, their ability to transmit the virus is very low, but for returnees from overseas regions where the virus is still raging, they could be highly contagious and require a different set of criteria," he told Xinhua.
Wuhan began cutting off all outbound travel routes on Jan 23 and lifted these restrictions on Wednesday. Health authorities said on March 29 that local transmission of the virus in the country was basically stemmed.
With the dwindling number of domestic confirmed infections, the proportion of asymptomatic cases that were later converted to the confirmed category-meaning they started exhibiting relevant symptoms-is also dropping, according to research led by the National Health Commission.
The ratio has been kept under 11.2 percent since March 10 and in some regions, the ratio is lower than 6 percent, the commission said.
All 28 asymptomatic cases that were re-diagnosed as confirmed infections on Sunday involved travelers from overseas, according to commission data.
In Wuhan, only one of the 447 asymptomatic cases found from March 23 to Friday was later classified as a confirmed case, the local health commission said.