Special teams to investigate vaccine scandal
Global Times
1532508258000
Provincial discipline watchdogs in Northeast China's Jilin and East China's Shandong provinces announced on Tuesday that they have established special teams to investigate possible corruption-related activities linked to the illegal vaccine production which had sparked a public outcry.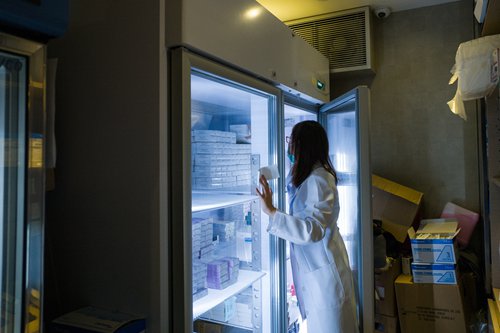 A nurse searches for vaccines in a refrigerator at a private clinic that performs vaccinations in Hong Kong on Tuesday. Hong Kong clinics said they have witnessed a surge in demand for children's vaccines on Tuesday following a safety scandal in the Chinese mainland. The mounting scandal has led some parents to seek treatment in Hong Kong. (Photo: AFP)
The provincial discipline watchdogs vowed to impose severe punishment on those responsible, the Communist Party of China (CPC) Central Committee of Discipline Commission (CCDI) website said on Tuesday.

The Jilin provincial commission for discipline inspection (CDI) published an article on the website of the CCDI on Tuesday, saying that it will resolutely implement orders and instructions from the Communist Party of China (CPC) Central Committee leadership and the provincial Party committee to conduct a thorough investigation into the case and will impose serious punishment to those found responsible.
The Jilin provincial CDI has formed a special team to detect possible corruption issues at the Changchun Changsheng Life Sciences Limited's (Changchun Changsheng) operations, the article said.
The company, based in Changchun, Jilin, has been accused of illegally manufacturing fake and invalid rabies vaccines for human use, as well as substandard DPT vaccine which targets diphtheria, pertussis or whooping cough and tetanus for children.
The Shandong provincial CDI has also established a special team, headed by a deputy head and a member of the standing committee of the commission, to investigate the substandard vaccines in the province.
The provincial CDIs' actions came right after President Xi Jinping's instructions early Tuesday. Xi ordered "a thorough investigation into an illegal vaccine production case and serious punishment for those found responsible," Xinhua reported. Xi, also general secretary of the Communist Party of China Central Committee and chairman of the Central Military Commission, said this in an instruction while on overseas visits.
'National-level disgrace'
Chinese experts urged that all investigations of drug- and medicine -producing firms, relevant company personnel and officials must be transparent.
"The incident creates an extremely bad impression within Chinese society and aboard, and has impaired the Party's and government's credibility, as it is another food and drug safety issue to surface over the past few years," Su Wei, a professor with the Party School of the CPC Chongqing Municipal Committee, told the Global Times.
Investigations should be timely, and the public should be informed about developments to assure them, said Zhu Lijia, a professor of public management at the Chinese Academy of Governance in Beijing.
The vaccine incident could not have taken place without a power-interest exchange, and it shows there is a long way to go before socialist rule by law in China can be fully implemented, Zhu said, adding that "the government and the Party must prevent similar cases from happening again." Both experts called for maximum punishment in accordance with Chinese laws and regulations on those found responsible.