Crews' self-sacrifice keeps planes flying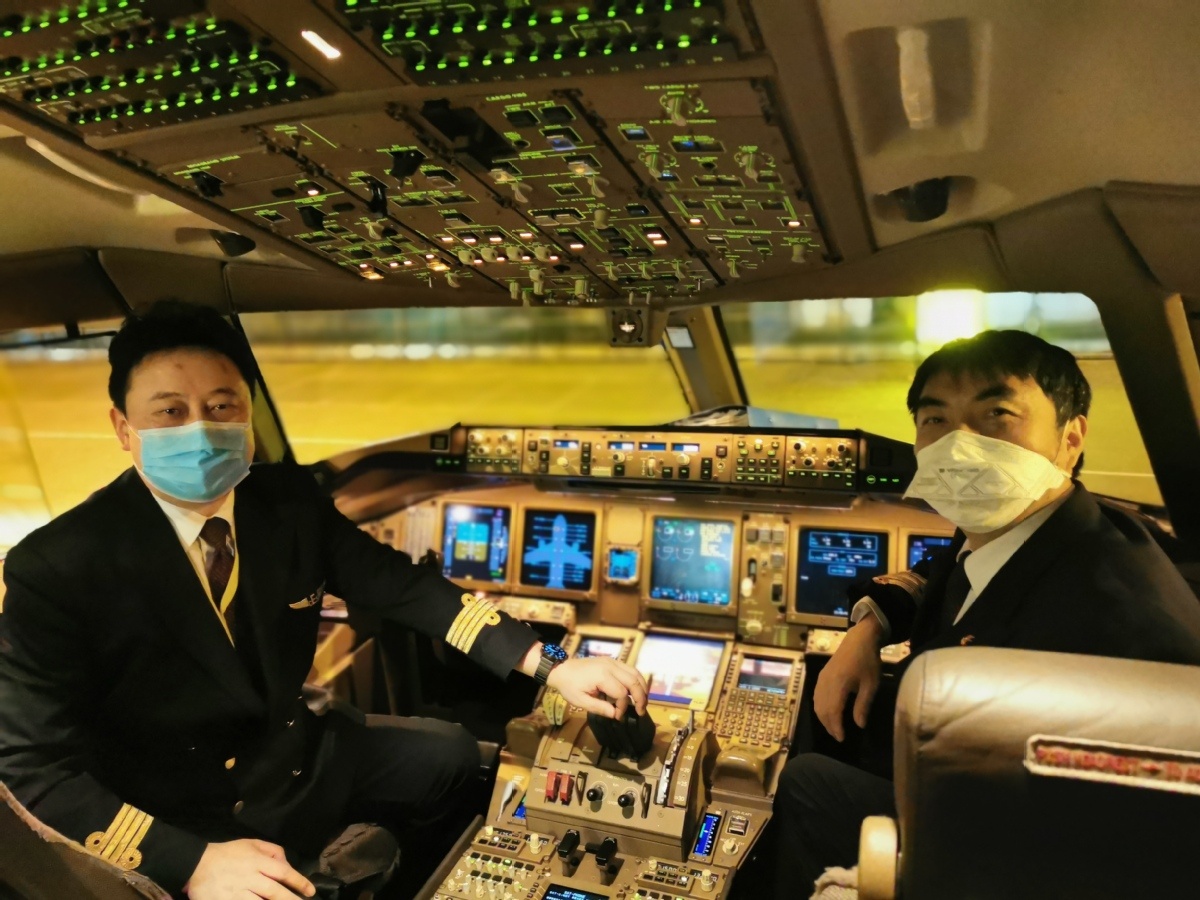 With the COVID-19 pandemic creating tight restrictions on travel, most people spent little to no time in a hotel room in 2020.
Chen Sen and his colleagues, however, were an exception.
Chen, a pilot with China Eastern Airlines, spent a quarter of last year living in hotels.
But his situation wasn't one to be envied. These hotel stays weren't part of a getaway-they were for mandatory quarantines.
In accordance with national regulations to prevent the spread of the virus, pilots and cabin crews must be quarantined for 14 days following an international flight. The duration for those working on cargo flights is seven days.
Chen said his colleague Wu Jianhui holds the company record for the most days spent in quarantine last year-154.
In March, Chen flew a B777-300ER aircraft carrying 12 medical experts, an official from the National Health Commission and medical equipment from Shanghai to Milan, Italy. He and his flight crew members were among the first aviation crew members in the city to undergo a 14-day quarantine.
Because pilots are allowed to take on cargo flights while they are in quarantine-the rationale being that they have minimal contact with people apart from their own colleagues-the combination of flight assignments and cumulative quarantine days can sometimes result in their being away from home for long periods of time.
Chen, for example, once spent 32 days either in quarantine or flying.
To deal with the isolation, some pilots set fitness goals. Zhang Jinyu said his objective was to clock at least 13,000 steps in his hotel room daily. Pacing up and down a narrow aisle helped him achieve this.
Others like Hu Dongcheng, who is also an aerospace engineering management undergraduate at Shanghai Jiao Tong University, made the most of the quiet environment by studying.
Loneliness, however, is something that cannot be avoided no matter how many steps are accumulated or books read.
"One day, while I was doing my homework in the room, I heard someone walking along the corridor. I was so excited that I stopped whatever I was doing and rushed to the door to speak to him-while standing six feet away. That was the first person I talked with in person in more than 10 days," Hu recalled.
Aware of the hardships that their employees have to face, China Eastern has taken special measures to ensure their welfare.
"Our company prepares everything that we need for the quarantine period. It also will go the extra mile to get us something specific if we need it while in quarantine," said Tong Yueyue, a cabin manager.
"They even send us their greetings from time to time. It was so impressive that the company held birthday celebrations for two of our crew members, who cried like little girls because they were so moved by the gesture."
Staff at China Eastern's offices also stay in constant communication with their quarantined employees through WeChat. In December, the airline launched a smart psychology platform that provides round-the-clock psychological support for its employees.
Other challenges faced by airline crews include having to don protective clothing and two layers of masks, gloves and goggles just to serve passengers on international flights. They also have to undergo many nucleic acid tests.
"Couples who are both working in the aviation industry have suffered, too. Now, they hardly see each other because of different shifts and the quarantine requirements. A colleague of mine recently broke up with his girlfriend because of this," said Chen.
"But I feel our sacrifices are worthwhile every time I see families being reunited."
Despite the pandemic, China Eastern in 2020 operated more than 24,000 flights that transported 50 million passengers, 23,000 medical workers and more than 70,000 metric tons of medical supplies.
Not a single China Eastern employee has tested positive for COVID-19.