Leehom Wang kicks off world tour in Beijing
Global Times
1516490154000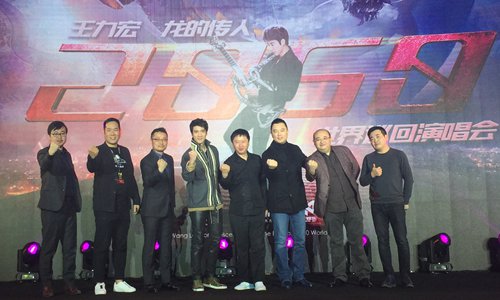 Leehom Wang (4th left) and other guests at the press conference Photo: Shi Haohong/GT
US-born Chinese pop singer Leehom Wang announced the start of his world tour concert The Descendants of the Dragon 2060 at a press conference in Beijing on January 11. Homeboy Music, Wang's brokerage firm; Lead Eastern, the sponsor of the concert; and Young Magic Ent., the exclusive concert operator attended the event.

The culmination of four years of preparation, the tour will commence with two shows at the Cadillac Arena in Beijing on April 13 and 14. The theme of the concert tour gets its name from his hit song "Descendants of the Dragon," and according to Wang, it is meant to pass on the spirit of Chinese nationhood and culture to the diaspora around the world.

The story between Wang and the song dates back to The Year of the Dragon in 2000 when he rearranged the original 1978 composition by Taiwan singer and songwriter Hou Dejian by adding elements of hip-hop and rap. Wang recomposed the song again in 2012, another Year of the Dragon, when he was invited to perform it for the annual CCTV Spring Festival Gala that year. Since then, Wang plans to recompose the song in every Year of the Dragon until 2060.

Descendants of the Dragon 2060 stands for Wang's unchanging curiosity and insistence on creating music that resonates with people across time and space. Wang's concert tour is jointly presented by Lead Eastern and Wang. Lead Eastern, a pacemaker in the entertainment industry, has three primary units: content, channel and derivatives. It is committed to building a transnational enterprise focusing on movie and television culture and plans to enter emerging fields such as big data, media technology, culture and finance.

Wang's world tour not only forges an alliance between pacemaker Lead Eastern and the music legend but also an alliance with other top-ranking music production teams around the world to present a wonderful musical feast for fans.